She tied the knot up in the sky, now she will teach you to dive from there
Quaid Najmi
&nbsp | &nbsp Mumbai
29-November-2013
Vol 4&nbsp|&nbspIssue 48
It's known for its grapes and dairy products. Now, Baramati in Maharashtra has acquired another distinction, being the place from where one can skydive from a light aircraft from a height of 4,000-10,000 feet.
Ace skydiver and Padma Shri awardee Shital Mahajan will organize the state's first skydiving Camp in Baramati in early December, enabling everyone to try their endurance and skill in this breathtaking adventure.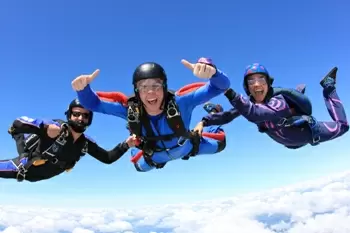 Mahajan plans to introduce skydiving in Latur, Jalgaon, Solapur and Kolhapur also(Photo: IANS)
"We have named it as Baramti Skydiving Festival and it will be held at the Baramati Airport from Dec. 11-15. We are expecting at least 60 enthusiasts from all over India for the event," said Mahajan - who holds four World records and 10 national records.
The camps will be held for three different types of skydives - solo static line jump (4,000 feet), tandem jump and accelerated free fall jump (from 10,000 feet) through Mahajan's Phoenix Skydiving Academy, a member of the Indian Skydiving & Parachute Association (ISPA).
"The participants will be given ground training, a test and a medical checkup before they board a Cessna 172 aircraft, soar to the required height and jump out as the parachute opens," Mahajan said.
Starting at Rs.20,000 per jump, the package will include all gear and equipment, a certificate of the jump and a log book signed by an instructor which is valid worldwide.
In the static line solo jump, after exiting, the parachute inflates automatically with the help of a static line attached to the aircraft. Thereafter, the student would have to handle the parachute on his or her own with instructions relayed by the instructors through a walkie-talkie.
In the tandem jump from 10,000 feet height, the student would be attached to the instructor with the help of a harness from the start to the end of the experience.
The accelerated free fall will see students jumping from over 10,000 feet with the help of two instructors who will teach the students "how to fly the body in the air" and then open the parachute at 5,500 feet.
"I am trying to popularise and make this sport affordable in India as many go to Europe to experience the thrill," said Mahajan, 30, a mother of two children and settled in Finland with her husband Vaibhav Rane, who works for mobile giant Nokia.
On selecting Baramati for launching skydiving, she said that it had a proper airport from where small planes can take off and conduct sorties, besides which there are no natural or manmade obstructions within a five-km radius.
With the support of Deputy Chief Minister Ajit Pawar, Mahajan said that similar camps will be organised in Latur, Jalgaon, Solapur and later Kolhapur.
Mahajan and her husband made the headlines in 2008 when they had entered into wedlock in a huge hot air balloon, accompanied by a Hindu priest and her father, 600 feet above Pune. - IANS

Trending Now: