Illustrator, designer, film maker, animator, she is all these and more
V Radhika
&nbsp | &nbsp Toronto
18-October-2013
Vol 4&nbsp|&nbspIssue 42
Typically, in an Indian context, the mention of animation films conjures up images of Disney cartoons or its clones thereof. Animator Shilpa Ranade strives to demolish these notions though her work.
After helming several shorts, this filmmaker, who is also an illustrator and assistant professor of design at Indian Institute of Technology (IIT), Mumbai, has presented a famous and much loved children's story into a feature length animation.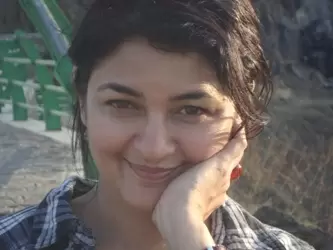 Shilpa Ranade has turned a much-loved children's story into a feature length animation (Photos: WFS)
Ranade's 'Goopi Gawaiiya Bagha Bajaiyya' (The World of Goopi and Bagha) was premiered at the recently held 10-day Toronto International Film Festival (TIFF). Penned by Upendrakishore Ray in 1915, the classic story was first brought to the marquee by his illustrious grandson and India's only Oscar winning director, Satyajit Ray.
Many versions have followed but Ranade's is the first animation feature albeit with some tweaks to the original narrative.
The beginnings of this project lay in a book illustration. Noted lyricist and filmmaker Gulzar had written a Hindi version of this story that Ranade illustrated.
Said this gold medalist in Applied Arts from Mumbai's J.J School of Art, "I did about 50 illustrations and that is when I thought this story is absolutely given to animation. It had everything an animated film could want and that is where the idea took root.
"I thought it would be particularly interesting for today's kids who have more exposure to animation. So a classic tale that we grew up on could be made accessible to today's children too." In a sense, this project witnessed the coming together of her diverse talents and interests – illustration, animation and film making.
"The story's skeleton can never be outdated. We have retained its narrative but added some twists and turns," said Ranade during the film's premiere at the TIFF.
Apart from an element of adventure and a fast-paced storyline with bright visuals, it is also infused with contemporary themes of peace, democracy and giving a voice to the voiceless. And, therefore, its appeal should cut across ages, particularly in India where these issues have an immediate relevance, she averred.
Ranade, however, was not very sure of its reception among Canadian audiences as the story is rooted in an Indian cultural setting, with rich visuals, background score drawn from the country's musical reservoir and Hindi-speaking characters.
She need not have worried – the assembled crowd enthusiastically lapped up the film. "It was refreshing to see the reaction of local children and heartening to see that our stories have an international reach," she said.
'Goopi Gawaiiya Bagha Bajaiyya' revolves around two musicians, who find each other in a forest after being banished from their respective kingdoms. They are awarded three wishes by the king of ghosts (Ranade's version has the fourth one: of lending their voice to whoever they wish) and so their adventures begin.

They go to two kingdoms whose rulers are at war with each other and they are able to unite the brothers. The story has an anti-war message and they exercise their last wish by giving voice to the voiceless people.
Ranade's creative sojourn began as a student of Applied Arts with specialisation in illustration/video and her interest in animation helped combine her twin interest in cinema. After completing her Masters from IIT Mumbai she headed to the Royal College of Art in London where her M. Phil thesis was on 'Indigenous Images and Narratives for Socially Relevant Animation.' She subsequently returned to her alma mater where she set up the Industrial Design Centre.
Her academic career has always been complemented by film assignments. She has made many short films that won critical acclaim. 'Goopi...' is her first feature length and the journey has been a tough one.
The film took almost two-and-a-half-years to complete and, according to her, "it is challenging to make feature animation in India. We do not have that culture and good films are few and far between. Apart from funding, it is also challenging to find the right people doing the quality of work we expect, to work within our constraints we operate in, including those of time."
Relief on one front came in the form of Children's Film Society of India stepping in to fund the film because it is a children's film. But Ranade emphasises that it is a "tough journey for animation right now. The field is not mainstream and even dissemination is not very well thought of. There aren't many platforms readily available. We have to make our way."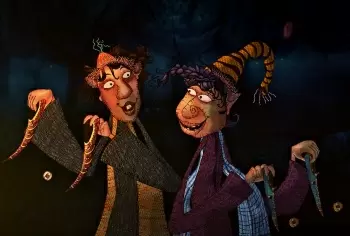 Shilpa Ranade's 'Goopi Gawaiiya Bagha Bajaiyya' (The World of Goopi and Bagha) is infused with contemporary themes of peace, democracy and giving a voice to the voiceless
Part of the reason for this state of affairs is also because of the "baggage" where animation is concerned. Animation in India has almost always been associated with Disney cartoons and, by extension, with fun and children. This, in turn, translates into stuff that is colourful and saccharine.
As Ranade pointed out, "to have things with shades and darkness, all that is certainly difficult for our local viewers to digest." And lack of funding is a huge disincentive. She cited a multitude of examples from Europe and North America where government funding and institutional support have birthed a thriving industry.
In India, animation currently has taken on the role of a back end industry with big western studios back ending their work to India. Through her department, Ranade and her colleagues have been re-attempting to foster the idea and practice of a creative field that has immense potential.
For now, Ranade is looking forward to the movie's India premiere at the Mumbai International Film Festival and will subsequently attempt a theatrical release. Her next, on which she hopes to start work in a year, will also be a children's film. - Women's Feature Service

Trending Now: