A walk through clay, kiln and pottery could be entertaining as well as educative
Shilpa Raina
&nbsp | &nbsp Kumhar Gram
12-October-2013
Vol 4&nbsp|&nbspIssue 41
At first there seems to be nothing unusual about this village at the edge of Delhi till you meander through untarred and uneven lanes with houses on both sides and realise they all have one thing in common: each house is dotted with clay pots of several sizes and colours, along with flower pots and many more earthen items.
This isn't a happy coincidence, but the age-old profession of pottery that binds together 700 families of the Kumhar Gram, the capital's largest potter's colony in west Delhi.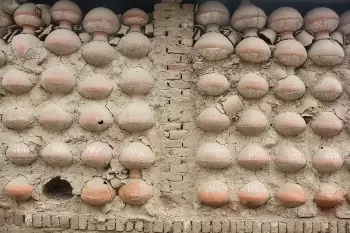 A house made of pots, kiln and mud. (Photos: Shilpa Raina)
Oblivious to many, the village, officially known as Sainik Vihar, on the outskirts of Delhi, has for decades now been a source of earthenware and diyas for roadside stalls, nurseries, eateries and five-star hotels.
These families, with no formal training, have passed on the art from generation-to-generation as most of them belong to Alwar in Rajasthan and shifted here in the early 1970s for better prospects.
"I grew up with the wheel and kiln. So, automatically I picked up the craft," said Dharamveer, 27, a miniature pottery artist.
He switches on the electric pottery wheel to demonstrate his skills. He puts freshly kneaded clay on the wheel, deftly uses his fingers to give it a distinct shape, applies soft pressure where required and in a few seconds creates a beautiful miniature.
"I do this to feed my family, but for my own artistic quest I create different items that might not be in demand, but they help me to grow in this field," he added. He sells earthenware products for anything between Rs.60 and Rs.2,500.
These days the inhabitants are busy getting ready for Diwali, a major Hindu festival known as the festival of light and which will be celebrated Nov 3.
Most of the people, especially women and children, are working day-and-night to create beautiful earthenware diyas used to lit-up houses.
Most of the clay for the pottery comes from Haryana's Jhajjar district. It is first beaten with a stick to make it even and sieved to get rid of stones and other unwanted material. After this, it is soaked in a water pit for half-a-day, followed by foot-stamping to remove air bubbles. It is stored under plastic sheets for curing and is ready to be used for two-three months.
It is ardous work and surprisingly, it's the women and children who do all the manual work. Men generally helm the wheel.
But, if one is curious to see them at work, it is not easy to reach the place, and even residents living nearby don't know its location.
The best way is to be part of the half-day tour with Piyush Nangru, founder of Indomania Cultural Tours, who conducts tours to such artisans' households so that people could see for themselves how they live and work.
Nangru said the walk includes chatting with the locals, hearing about their works and also trying a hand at the potter's wheel. The tour also includes a visit to an artisan's house to savour snacks and hot tea.
"I usually tell the group members that they are free to ask questions. Also there is no compulsion to buy anything, but before clicking a picture, I just tell them to seek their (potters') permission," said Nangru.
Diyas in the making for Diwali
He has been organising the walk for the past three years in collaboration with South Asian Foundation, an NGO working to improve their lives.
"It was very important to reach out to them through someone they already know. It helps to break the ice," he noted, adding he works on a revenue-sharing basis with the community, and 30-50 percent of the profits are ploughed back to them.
Although, diyas occupy space in almost all houses here, some are involved in specialised work.
Mihir is the only one in village who is a master of fibreglass sculpting.
A taxing and tedious process, he is credited with making floats for the Jan 26 Republic Day parade every year along with life-size sculptures.
"Fibreglass sculptures are light. We do floats for Republic Day, so if you come here in December you will know in advance what some states have to offer," he said, adding he provides at least 3-4 floats for the parade.
Kajor Ram has been providing 'handis' to all branches of Al Kauser restaurant for their famous biryani's. He has also been providing earthen pots for 'phirnis' to many in the city.
"It is not just the recipe that makes biryani's special. It is our special touch too," he chuckled. - IANS


Trending Now: