Once the palace of Tripura kings now houses a museum, realizing a century-old dream
Sujit Chakraborty
&nbsp | &nbsp Agartala
27-September-2013
Vol 4&nbsp|&nbspIssue 39
In realisation of a century-old dream, the country's biggest royal mansion in the northeast, the Ujjayanta Palace, became home to the biggest museum in the region. Vice President Mohammad Hamid Ansari formally opened the museum early this week
The museum would showcase northeast India's art, culture, history, tradition and ethnic diversity.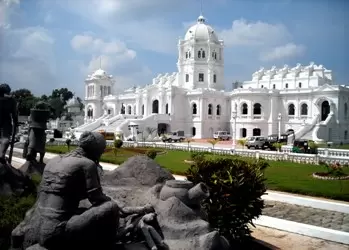 The sculptures in the museum mostly date back from 9th century to 13th century (Photo: IANS)
Ujjayanta Palace was built by the then maharaja Radhakishore Manikya Bahadur in 1899-1901. It was the command centre for the Tripura kings until the northeastern state joined the Indian union in October 1949.
It was purchased from the royal family by the Tripura government in 1972-73 and housed the Tripura legislative assembly until July 2011.
"To protect the royal palace from major earthquakes, the 112-year-old mansion has been renovated with seismic retrofitting at a cost of Rs.10 crore," said Kishore Ambuly, Tripura's higher education department secretary.
The Tripura government's museum, which was established in 1970 at the heart of Agartala city, along with the state archive has also been shifted to the new museum.
Ambuly said: "The museum will showcase the lifestyle, arts, culture, tradition and utility crafts, beside the customs and practices of various communities residing in the northeast India. The state museum will exhibit cultural tradition and cultural perception of spiritual life and rituals, religious beliefs, utility articles and aesthetic creative forms."
The collections displayed in the museum include sculptures, terracotta, coins, copper and stone inscriptions, bronze images, textiles, oil paintings, sketches and drawings, tribal ornaments and musical instruments, art and craft objects, folk articles and a number of other antique treasures.
"The sculptures mostly date back from 9th century to 13th century. A low relief Dasavatara panel (stone) belonging to 18th century is an exquisite piece of local craftsmanship," Ambuly added.
A senior official of the Tripura government said: "The two-storeyed Ujjayanta Palace has been made the museum, as per an agreement signed with the erstwhile separatist outfit All Tripura Tribal Force (ATTF) in March 1993."
Historian Mahadeb Chakraborty said: "The grandeur of Ujjayanta Palace provides a glimpse of amazing icons of art and architecture of the royal past.
"The palace, which was built by British construction company Martin Burn with a bank loan arranged by Nobel laureate Rabindranath Tagore, is just one of the several landmarks that the Tripura government is planning to strengthen," said Chakraborty, who headed the planning committee of the museum.
Tribals, comprising more than 200 different tribes, constitute 27 percent of northeast India's 45.6 million population.
The natural heritage of the mountainous northeastern region would also be conserved in these museums, being constructed at a cost of around Rs.16 crore, another historian and writer Panna Lal Roy said.
He said: "Ujjayanta Palace was originally built in 1862 by then king Ishan Chandra Manikya (1849-1862) and it was devastated by a massive quake in June 1897. Ishan Chandra's descendant Radhakishore Manikya Bahadur rebuilt the palace in 1899-1901."
"The palace has three large domes, the largest of which is 86 feet high, and it reflects the combined influence of Mughal, Roman and British architecture," Roy added.
Lalit Kala Academy's chairman K.K. Chakraborty and experts from various parts of the country have guided the authorities in setting up the museum in the royal palace. - IANS

Trending Now: