Punjab University's 'hot-spot' still a big draw for students
Mannat Mundi
&nbsp | &nbsp Chandigarh
13-September-2013
Vol 4&nbsp|&nbspIssue 37
It has seen generations having fun and passing out and yet it hardly gives the feeling of being worn out or being old. A 'hot-spot' among students, the Punjab University Students' Centre continues to attract youngsters despite many other alternatives now being available.
Popularly known as 'Stu-C' it has only grown over time and the number of students coming there daily has also continued to swell.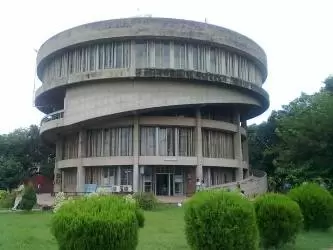 The circular structure of the Students' Centre building (Photos: IANS)
While nearly a dozen small eating outlets around it do brisk business at all times, the Stu-C itself is a circular, three-storeyed building that was built in the late 1960s. With its grey facade, the building stands tall even today.
Housing one of the oldest coffee houses in the city, it is still abuzz with students, staff and other visitors to the campus. It also has a recreation room and offices of the Students' Council and the dean-students welfare (DSW).
"Many might call it a casual hang-out spot, for many it might be a walk down memory lane or for many it might just be a better spot than the city's famous Geri route for girl-watching, but not one student on the PU campus would deny being there at some time or the other," former PU Students' Council chief Rajan Chadha pointed out.
The Stu-C building was designed by Chandigarh's founder-architect Le Corbusier. Over the years, a range of shops have opened up in the complex, providing an ideal place for daily treats at very competitive and student-friendly prices.
"The quality that makes Stu-C popular is the variety of meals, snacks, street food and drinks available at reasonable rates. Ranging from south Indian, Chinese and fast food to north Indian to sandwiches, burgers, shakes and much more, Stu-C has it all," said Jaspreet Kaur, a student.
Except for a few, most of the items are priced below Rs 40.
"This place has changed over the past years. I remember the coffee house being the heart and soul of the university. We could never find a place to sit in the cafeteria at that time," said retired army officer Captain Rajneesh Talwar, owner of a popular gift and cards shop at Stu-C.
"Earlier this place was more calm and serene. One could come and relax here. But now with the new shops around the building, the place is always crowded," said Jayanth Narayanpethkar, chairperson of the School of Communication Studies.
"Students have made this an area for holding protests and conducting violent acts, due to which it has lost its sanctity," he added.
"I still visit Stu-C with my friends, having passed out five years back. It always revives beautiful memories. It has been a famous place for all," said Brinder Dhillon, an alumnus of the laws department.
Joy, the head waiter of the Indian Coffee House, has spent more than a decade there.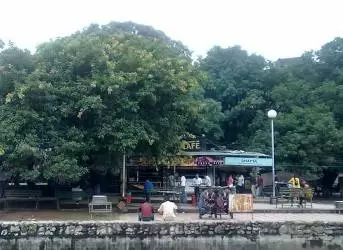 Eateries at the Students' Centre
"The tastes and preferences of the students have changed over the years. Every year there is a decrease in the number of students that come to the cafeteria. Earlier people had to wait in long queues to get a place," he said.
"Usually it's the older faculty members that come here. This place is not very popular amongst the present generation," he noted with disappointment.
"The taste of south Indian food has not changed in these years. It is my all-time favourite spot," said Sarita Jindal, alumnus and faculty member at PU.
During festivals like Lohri, Diwali and Holi, the Stu-C has its own charm with a celebratory atmosphere. Hundreds of students and visitors converge here and scores can be seen shaking a leg to the loud music played by a DJ. - IANS

Trending Now: