A 'people's university' in the rice bowl of Tamil Nadu trains not just its students

P C Vinoj Kumar
&nbsp | &nbsp Thanjavur
30-August-2013
Vol 4&nbsp|&nbspIssue 35
It is a one of its kind educational institution in the country. Located in a beautiful green campus with an estimated population of 26,000 native trees that are home to hundreds of birds, Periyar Maniammai University (PMU) is making its mark in Thanjavur district through its community oriented programs.

The university has blended quite nicely its academic commitments with its social action programs.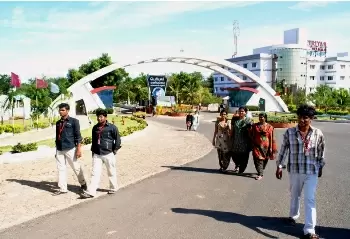 Periyar Maniammai University works for the socio-economic development of 67 villages (Photos: Ganesan Duraisamy)
For several years now, away from the media spotlight, PMU students and faculty members have been closely working with neighboring villages for their social and economic upliftment.

At Rayarampatti village, about 30 km from Thanjavur, a group of women trained by PMU's electrical and electronic engineering department demonstrate their newly acquired skill in making LED strips.

"We are now ready to market our pieces," says Keerthiga, one of the members trained under the program.

The women will soon be supplying the LED strips to PMU, which has drawn up a plan to convert its whole campus to the energy efficient LED strip lights as part of its green policy.

A beginning has been made by installing the LED lights made by the women at the Vice Chancellor's office.

"We have various programs for the local population. Both our students and staff take active part in the programs," says Professor N Ramachandran, PMU's Vice Chancellor, who's been with the institution since its inception in 1988 as Periyar Maniammai College of Technology for Women, which had the distinction of being the world's first engineering college for women. The college got university status in 2007.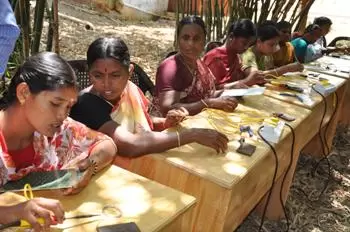 The university has trained about 15 villagers in making LED strip lights
Named after the social revolutionary Periyar and his wife Maniammai, the university has lived up to their names.

Under its flagship program called Periyar PURA (Providing Urban Amenities in Rural Areas), it has adopted 67 nearby villages and is working for their socio-economic development.

At PMU, it is mandatory for students to participate in rural programs. "Students are required to complete 250 hours of rural service before they can get their degree," says Ramachandran. The community oriented initiatives have earned PMU the sobriquet 'People's University.'

Through Periyar PURA, PMU works with government agencies to ensure that the villages are provided with basic amenities like roads, drinking water and health care. Villagers are also provided vocational training in carpentry, masonry, and electrical work.

At the end of the training, the participants are required to write exams and given certificates issued by the government of India's National Council for Vocational Training. This program has benefitted several villagers, who now possess a skill to earn their livelihood.

The NSS students have helped in repairing and relaying of many village roads that were in bad shape. The institution erected a water purification plant in one village with assistance from San Diego State University, California.

PMU's range of social activities extends to the medical field as well. The university conducts periodical health camps at villages. Medical staff from the PMU Hospital located at the campus along with faculty members and volunteers are involved in the program.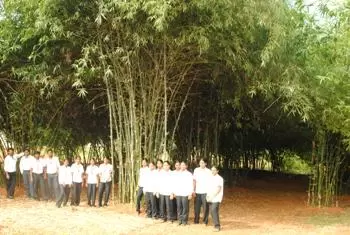 There are about 26000 trees in the campus
"Free medicines are provided in such camps. We refer complicated cases to the nearest government hospitals," says professor M Gabriel, director, centre for rural Development, who is part of the medical team.

This year around 50 students from the Periyar PURA villages received scholarships entitling them for fee waiver of 50 percent to female students and 30 percent to male students.

The university also runs a driving school for the benefit of students and locals.
"The Periyar Driving School was started in 1997. In the last 3 years, around 450 persons have obtained 4 wheeler and 2 wheeler driving licenses through our institute," says Santhana Krishnan, the driving instructor.

Another striking feature at the university is that each of the faculty members is connected with at least one social project of the university in addition to their teaching work.

"The faculties are assigned to projects based on their skills and interest," says Anand Jerard Sebastine, a professor at department of social work, who holds additional charge of Child Line, a child helpline project of the ministry of women and child development, government of India.

PMU is the nodal agency for the project in Thanjavur district. It coordinates with SHED India, an NGO that does the field work in rescue of abused children. PMU students and faculty play an active role in the program.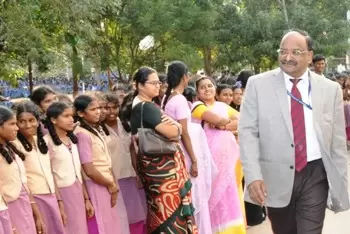 The university's VC N Ramachandran spearheads the Periyar PURA project
Jerard cites a recent example. "Last year in a brutal incident, a man stabbed his four children and wife. Mother and a child died in the incident. We are now taking care of one of the children who survived the attack and have put him in a government home," says Jerard.

The university has purchased about 250 pieces of the low cost Aakash Tablets to give children of Periyar PURA villages an exposure to e-education.

A team of PMU professors and students are developing an application to train the children in Basic English, Maths, and Science.

"Our broad objective is to provide physical, electronic, knowledge, and economic connectivity to Periyar PURA villages," says Ramachandran, the VC.

In another first kind of its initiative by a non-agriculture university in the country, PMU is organizing a national workshop on agrotechnologies in the last week of August for "progressive farmers, students and researchers, faculty in agriculture and allied fields."

"We are expecting around 2000 farmers," says Ramachandran, adding, "The whole idea of Periyar PURA is to arrest migration of villagers to cities. The cities are bursting at their seams already. If the rural population has all its needs met, it would solve a lot of problems."


Trending Now: