The Oxford trained teacher facilitates rural Kashmiris to excel in studies
Shazia Yousuf
&nbsp | &nbsp Baramulla
09-August-2013
Vol 4&nbsp|&nbspIssue 32
When Asiya Zahoor was a child, she taught the pansies that grew in her garden. The flowers, she believed, were tiny human beings, paying attention to everything she told them.
Every day after school the young girl would teach them what she had learnt in class. Then, when she turned seven, she began teaching girls at a local orphanage.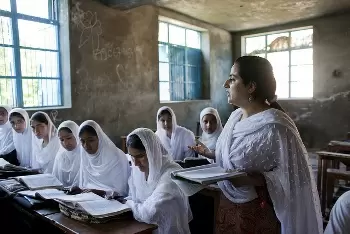 As a professor at the Government Degree College in Baramulla, Asiya is creating a platform for young Kashmiris to excel academically as well as in the workforce (Photos: WFS)
The orphanage adjoined her home in Khanpora village of Baramulla, a picturesque town in north Kashmir, about 55 kilometres from the capital city of Srinagar. The institution was operating from a building owned by her family who were well-to-do landowners of the area.
Her mother, who worked in Social Welfare Department of the Government of Jammu and Kashmir, served as the superintendent of the orphanage and Asiya spent most of her free time there among its wards, who unlike her couldn't read or write English.
She would read out the English rhymes she had learned at school to them. "I wanted them to learn everything I knew," she remembers.
Today, Asiya may be the Oxford university graduate who has taught in a small nondescript government school in Nowpore, a village smaller than her own, and now heads the Department of English at the Government Degree College in Baramulla but her attitude towards imparting knowledge remains the same: she has the same desire to reach out to those who don't have access to quality learning, and English literature is her favoured medium to enliven young minds.
As a child, Asiya had got a chance to observe the gap that existed between the rich and poor during her trips to the orphanage.
Says she, "I realised that the girls at the orphanage studied at government schools where the quality of education was not at par with private institutions. I also figured out that they would never have access to the kind of books I had as a student of St Joseph Missionary School, one of the best missionary schools in the Valley."
She was only 10 when she decided she wanted to become a teacher. She made up her mind to, first, pursue English literature and then later teach it too, after her mother – an ardent reader – introduced her to the joys of a good novel. She would tell Asiya how reading satisfied her soul and helped her unwind after a hectic day of work.
Although she was studying in the best school around, Asiya knew that if she wanted to impart the good education she would need to equip herself accordingly.
She settled on Oxford in the UK after hearing on a radio programme that the former prime minister of Pakistan, Benazir Bhutto, had studied there.
Getting into the university of her dreams involved years of hard work but Asiya was ready for that. After graduating from Government College, Baramulla, and topping in her district, she shifted to a relative's home in Srinagar where she enrolled for her Masters in English Literature from the University of Kashmir.
When she completed her course in 2006, she applied for an MPhil in Caribbean Literature. But that same year she was chosen as a Ford Foundation Fellow.
She recalls, "I was placed in a dilemma like a child in a sweet shop. I had worked day and night to get into the MPhil programme and when I finally got in I had this prestigious fellowship in my hand."
Asiya saved her MPhil by completing her residency period of one year. After that, she applied to various universities in the UK, including Oxford. "It was a dream come true when I was accepted in Oxford. I just wanted to go there, get enriched and come back as soon as I could to teach the kids in my hometown."
Asiya arrived in Oxford on a Ford Foundation Fellowship in 2007 to do her Masters in Applied Linguistics. While the rigorous programme kept her busy during the day, she burned the midnight oil writing her MPhil thesis. In 2009, when Asiya came back with a degree from Oxford, she submitted her thesis and received her MPhil degree from the University of Kashmir.
When Asiya returned from Oxford, her family members had great expectations. They thought she would do something "really big" and make her name in the world.
What Asiya chose to do instead came as a big surprise to many. She joined a local government school in Nowpora, a small village, to teach English to children.
Every day she walked uphill to a tin shack on a mount that housed the school. "People asked me what was the fun of going to Oxford, if I was to return to this small shack. But I knew what I was doing," she says.
Asiya got a lot of support from her students and school authorities to experiment with teaching techniques.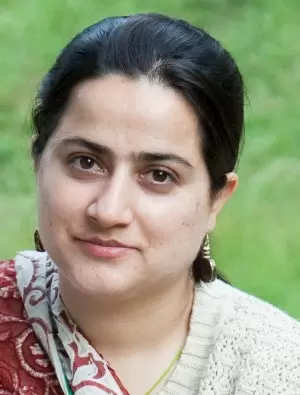 Asiya wishes to improve lives in Kashmir through quality education
"It was a very rewarding experience being with them. I was able to bridge that gap between private and government schools which had haunted me since my childhood," she reveals.
After being in Nowpora for about three years, Asiya thought it was the time to teach the higher classes. She took up the job of Assistant Professor in the Government Degree College in Baramulla where she is currently head of the English Department.
With her undergraduate pupils she has noticed that there is a certain anxiety about knowing perfect English.
"I keep telling them that they will still do very well even without knowing the language perfectly." She understands well the yearning in Kashmiri youth for opportunities to excel academically as well as in the workforce.
This was why she founded the Kashmir Centre for Art, Culture and Language, a platform for youngsters to share their works of art and literature and exchange ideas with each other.
She now wants to use her research to aid government and private institutions to formulate effective educational policies.
This, after all, had been her long cherished mission: improving lives in Kashmir through good quality education. - Women's Feature Service

Trending Now: