It has been such a long musical journey for Shreya Ghoshal
Santosh Mehta
&nbsp | &nbsp Mumbai
02-August-2013
Vol 4&nbsp|&nbspIssue 31
The lights of the television studio were bright. It was hot and the eyes of many people – fellow contestants, the judges, the anchor and the studio audience – were on her. She was nervous but looked calm. Then the winner's name was declared and she broke out in a big smile.
Her face reflected her emotions - disbelief, relief, happiness, pride, humility... This was the night that changed young Shreya Ghoshal's life. She was just 14 years old, but she had won a prestigious musical talent hunt show on television.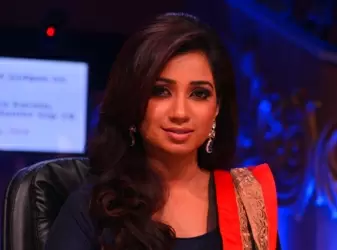 Hindi film playback artiste Shreya Ghoshal has several hit songs to her credit (Photos: WFS)
It was her father, who had first encouraged her to enter her name in the popular show when she was 11. Kalyanji, the music director from the famous Kalyanji-Anandji team, was one of the judges on the show and not only did the young girl end up winning the children's special, she also impressed the judge immensely.
Kalyanji advised her family to move to Mumbai, which they did, and she even got the opportunity to learn the finer nuances of singing from Kalyanji for one-and-a-half years.
From then on she has never looked back. Recalls the 29-year-old, "I started out as a kid contestant on the talent hunt and it was film director, Sanjay Leela Bhansali who gave me a break in 'Devdas' in 2000. I was 16 when I sang my first Hindi film song, 'Bairi Piya'. The music of the film was a runaway hit and it was a big turning point in my life."
Ghoshal belongs to a Bengali family of Baharampur in West Bengal. Her father, Bishwajit, is a nuclear power plant engineer and her mother, Sarmistha, has a post-graduate degree in literature.
She grew up in Rawatbhata, a small town near Kota, Rajasthan, and lived there for 13 years until she completed Class Eight. It was her mother who started her off on music when she was four, accompanying the little singer on the harmonium.
Her formal training in classical music began under her first guru, Mahesh Chandra, in Kota. It was during this time that Ghoshal entered the talent hunt. Once she moved to Mumbai she learnt under the watchful guidance of Kalyanji and, later, Mukta Bhide.
Today, Ghoshal's name is taken to be among the who's who of Bollywood singers. She is often hailed as the true successor of the musical living legend, Lata Mangeshkar.
Over the recent years, she has lent her voice to heroines, sizzling sirens, even the bhajan-rendering grandmothers on screen - that's the kind of range and expression her voice has.
Recall her hits – be it the lilting 'Piyu bole' (Parineeta, 2005), the youthful 'Zubi dubi' (3 Idiots, 2009), the playful 'Oo la la' (The Dirty Picture, 2011), the soulful 'Kahani' ('Kahani', 2012) or the sensuous 'Chikni Chameli' (Agnipath, 2012).
Give her a melody in any language – Assamese, Bengali, Bhojpuri, Gujarati, Kannada, Punjabi, Odiya, Tamil, Telugu – just take your pick - and she can make it her own.
Says the singer, who was featured among Forbes' Top 100 celebrities of India in 2013, "I love to sing and enjoy rendering songs in different languages. However, I must admit that I am most comfortable singing in Bengali because it is my mother tongue. It is a challenge for me to sing in other languages but I like it just the same."
It's been raining offers and awards for Ghoshal, who like any average youngster enjoys shopping, reading and dressing up on special occasions.
Indeed, the singer, who has won several National Film Award trophies for Best Female Playback Singer, besides bagging numerous popular choice awards over the years, is well known for her eclectic yet feminine fashion sense.
Having established herself in the recording studios of Mumbai, Ghoshal is also mentoring youngsters who want to make it big on the Bollywood music scene. As a judge on different reality music shows – Voice of India, X-Factor and Indian Idol Junior – her mantra is to encourage new talent.
About her innings on TV, she says, "It's challenging when one has to judge children between 5 and 15 years. The contestants are innocent and full of positive energy. Although I still do not think I am capable of sitting in judgement of anyone's talent, I see it as a job, and I get to learn from the small children as well."
In fact, every time Ghoshal sits on the judge's chair listening to new talent she is immediately transported to the time when she was a contestant.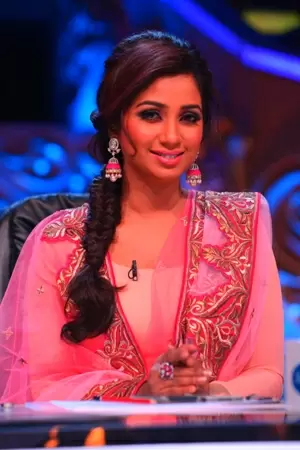 These days Shreya is mentoring young talent as a judge on a popular television show
She adds, "Those were simpler times. There were no other shows on TV and one was judged purely on one's talent. Now there is a viewer's vote and things can get very competitive. It puts a lot of unnecessary pressure on everyone. I still believe that artists are born, not made."
Beyond music, Ghoshal loves to read and travel. "I was fortunate to have a literary atmosphere at home and I enjoy reading works of women writers like Jhumpa Lahiri. Travelling is my other love," she says.
That's the one perk of being on reality shows that she really likes. For Indian Idol Junior, she visited different cities across India with her co-judges, music directors Vishal and Shekhar.
Signs off the singer, who never travels without her precious iPod, "I started out as a kid but over the years have matured as a singer. My journey from being a contestant to a popular playback voice has helped me grow as a person. I had never imagined that one day I would be able to choose the songs I want to sing and I just love doing that." - Women's Feature Service

Trending Now: