Radio Jamia has grown into a community platform
Shradha Chettri
&nbsp | &nbsp New Delhi
26-July-2013
Vol 4&nbsp|&nbspIssue 30
Saba Raes, a middle-aged Muslim housewife, has her hands full seven days a week with household chores and her children but takes an hour out every Monday to record Hamd-o-Naat, a series of hymns in praise of Allah, for Radio Jamia.

It's the invocation that begins the daily broadcast of the campus radio station of the Jamia Millia Islamia, one of India's oldest universities, here.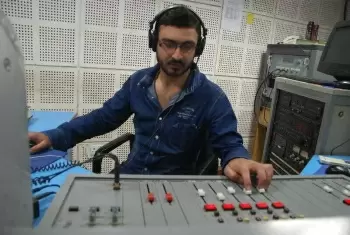 Campus Radio provides hands-on experience to students in broadcasting (Photo: IANS)
"I have been singing for Radio Jamia for over a year now. My husband encourages me and my children and the people in the neighborhood raptly listen to my singing," says a confident Saba Raes, sitting in front of a studio microphone.
As India is a year away from celebrating a decade of the campus radio's existence, it is evident that in this period, the concept has become a platform for the communities living around the colleges.
The government had issued guidelines in 2003 for educational institutions to set up campus radios and Anna University in Tamil Nadu was the first off the block in February 2004.
Today there are nearly a 100 campus radios in the country, but the actual number could be higher since there are no details about these in the northeast beyond Guwahati.
Transmission occurs through a four-way process. The audio from the microphone is transferred to the audio mixing console. From here, it goes to an amplifier. From the amplifier one signal goes to the transmitter and the other to a computer to be stored for repeat broadcast. The final process is the transmission of signal through an antennae, which is some 25-30 metres high.
It comes for about Rs.15 lakh (1.5 million rupees) and typically operates out of a room that can seat three to four people and the attendant equipment. Its range is 8-10 km and can even go up to 15 km.
Radio Jamia kicked off the process in the capital in 2004, followed by Apna Radio of the Indian Institute of Mass Communication (IIMC) and DUCR of Delhi University.
With the passage of time, Radio Jamia has become a platform for many like Saba Raes to fulfil their desires and interests.
"I anchor a programme called 'Arpan Yaqeen', which plays old and new Hindi songs on request by the listeners. Radio Jamia has let me fulfill my childhood dream of becoming a radio jockey (RJ)," said Arpan who has the show named after him.
"We organise workshops for the community members. We teach them about the functionality and the basic working mechanism and then they go on air with all the creative liberty given to them," says G.R Syed, professor-in-charge of Radio Jamia.
"I attended this workshop last year and since then I have been anchoring a show on Ghazals, because of my proficiency in Urdu," said Mohammad Samshad, who lives in Jamia Nagar.
Radio Jamia also plays a lot of Bhojpuri, Hindi, Punjabi and even Bengali songs for the migrant population that lives around the university.
"I listen to Radio Jamia on my mobile phone every day. Once I went and sang the 'Akhiyon se goli mareh' song," said Iqbal Kasim, a youngster who plies a cycle rickshaw to earn his livelihood.
While Radio Jamia provides a platform for the community to showcase its talent, volunteers of Apna Radio go into the field and work in the slums, raising awareness on health and hygiene.
"We send students to the area around IIMC where they teach the people about the working of community radio and in return the students get to know about practical experiences of the people," says Apna Radio head Raghav Chari.
"Once when we students were doing a show, a middle-aged man who lived in Jangpura came and asked us to air his complaint that the drains in his colony had not been cleaned," said Ruchi Pande, a student at IIMC.
The campus radios have proved to be very effective in solving the community's problems.
"I had been having a lot of problems with my menstrual cycle; so I called and spoke to the doctor who had come on DUCR because I just did not want to go the hospital," said Savita Rane, a housewife who lives in Kingsway Camp in north Delhi.
"Ubharte Kalakar and Success Mantra are the two shows that are quite popular on DUCR, where we promote local talent from around the community who have done some remarkable work," said Kirti Dua, an announcer with the station.
Though campus radios work for the community, their basic function of training students has not been forgotten.
"Every day we had students churning out programmes for Apna Radio. We were not allowed to play Bollywood songs but had discussions, skits and awareness programmes," said IIMC alumni Pallavika Ghising.
Echoing this, Jamia student Kamran Ahmad said, "Radio Jamia helps the students with hands-on experience in broadcasting with the different programmes it runs catering to careers, recreation and culture." - IANS

Trending Now: