"Our society does not understand women's vital role in sports"
Sana Altaf
&nbsp | &nbsp Srinagar
31-May-2013
Vol 4&nbsp|&nbspIssue 22
There are many firsts to her name – she is the first woman from Kashmir to become the national kayaking and canoeing coach of India; the first woman from the country to participate in the Spring Racing World Cup 2009; the first Indian to be selected as the International Technical Official for canoeing at the All Africa Games 2011 held at Maputo in Mozambique; and the first Indian woman to be inducted into the International Referee Panel.
Meet Bilquis Mir, 28, top-ranked female sportsperson, a champion in canoeing and kayaking.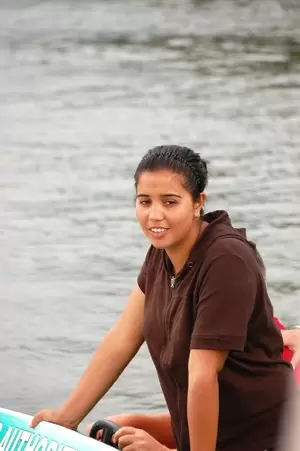 Bilquis Mir has made her mark in the world of canoeing and kayaking (Photo: WFS)
It's an unusual sport that Mir has excelled in considering that she belongs to a conservative society in a state where violence against women has recently seen a rise.
Like most female athletes in India it hasn't been easy for the young woman to make her mark and her professional journey has had its fair share of struggles.
Even when she was in school, the Srinagar-based Mir was more interested in pursuing sports rather than spending time in the classroom. She was just a child when she took a liking to water sports, but Mir has had to fight every step of the way ever since she began her training in canoeing and kayaking at the age of 11.
"I used to be taunted by my own relatives and friends. Later, even people from the field of sports, who instead of backing a fellow athlete were keen on placing hurdles in my way, joined in the negative rhetoric," recalls the young star.
It has been her parents' unwavering support – particularly her mother's – that has kept her going all these years.
She says, "While I would be treated as an outcast by most people, my parents always understood my interests as well as my potential. They wanted me to be at the top of my game."
According to Mir, what was particularly disappointing was the attitude of the Jammu and Kashmir Kayaking and Canoeing Association, the professional body in charge of promoting the sport in the state.
"Many a time there has been an attempt to overlook me or undermine my work and I think this is largely because I am a woman. In our society, it is not acceptable for a girl to have a career in sports. My relatives used to rebuke my parents for having allowed me to take it up," she remarks.
But even as her family learnt to turn a deaf ear to all the hurtful comments that came its way, Mir's resolve only grew. She wanted to prove herself - and that's what she did.
A national medallist since 1998, she worked towards establishing herself by participating in several national and international events.
The ambitious youngster even enrolled for the International Coaching Diploma at the Semmelweis University Institute of Coaching and Sport Education at Budapest, Hungary, where she graduated with an excellent Grade A.
She followed that up with a six-week certificate course in kayaking and canoeing conducted by the National Institute of Sports (NIS) in Roorkee and once again emerged with top honours. This paved the way for her to be inducted in the International Referee Office.
Mir was appointed as the national coach for canoeing and kayaking in 2007, a rare honour for a Kashmiri woman, and she held the post till 2010. She also represented India in the 2009 World Cup in Hungary.
The year 2011 proved to be a watershed one. Her moment of glory came when she was appointed the International Technical Official (ITO) for canoeing at the All Africa Games 2011.
During a media interview after the event, Mir described the opportunity as a "dream come true for an athlete like me", adding that it was indeed a "unique experience".
For now, Mir is the only Kashmiri woman to have achieved such heights in the world of canoeing and kayaking. But she fervently hopes that this will not be the case for much longer.
She is keen that, as in other professions where women from the Valley have held their own, they venture into the sporting arena in various disciplines.
Today, Mir continues to dream big – but at the same time, she fears she may be expected to quit the game if she gets married.
"Our society does not understand women's vital role in sports. I highly doubt if any family in Kashmir will accept a daughter-in-law who plays a sport, or even coaches," she states.
Of course, she wants nothing more than a life partner who recognises the significance of sports in her life although here too Mir is not very optimistic.
"I don't know who my future husband will be. But, unfortunately, the one thing I do know is that it's unlikely that a Kashmiri family is likely to understand and appreciate my hard work and dreams."
To girls who habour hopes of a successful sporting career, Mir's sincere advice is that they pluck up the courage to "rise above the social bindings".
At the same time, she also makes a fervent plea to society in general: "Let's support our daughters every step of the way." - Women's Feature Service

Trending Now: