A court order has prompted Sulabh International to take up a herculean task
Aasha Khosa
&nbsp | &nbsp Varanasi
25-May-2013
Vol 4&nbsp|&nbspIssue 21
Jamuna Devi became a bride at the age of nine and a widow at 18. Now at 80-plus, she has spent the last 60 years of her life by the banks of River Ganga in Varanasi, the ancient seat of Hinduism in Uttar Pradesh.
Jamuna's younger sister, Ratna Devi, has also been with her for many years now, although she is unable to recall her journey from her village in Nepal to the holy city after she was deserted by her husband who took a second wife.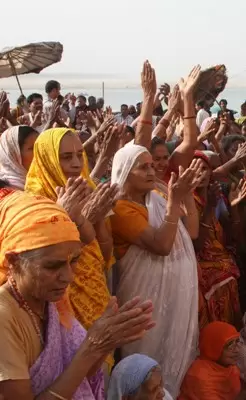 For centuries, the narrow bylanes of Varanasi - as well as other towns like Vrindavan and Mathura - in Uttar Pradesh have been a refuge for widows, shunned by their families Photo: Rajeev Tyagi)
The sisters have worn white saris – a symbol of widowhood among conservative Hindus – ever since they can remember and they live with 20 other Nepali women in a ramshackle house, appropriately called Nepali Mandir, located in a congested Varanasi neighbourhood.
They pray all day, sing bhajans (hymns) and live off the food and alms given by visiting pilgrims. Their sole ambition is to die on the banks of the holy river. Such a death, they believe, will cleanse their souls of the sins of their past lives and assure them an entry into heaven.
Sadly, Jamuna and Ratna are among the hundreds of widows in Varanasi, and towns like Vrindavan and Mathura, for whom death seems to be the only way out of a lifetime of sorrow and crushing poverty.
For centuries, the narrow bylanes of the city have been home to widows, many of whom hail from the eastern state of West Bengal. Shunned by their families, they seek refuge in homes supported by poorly-funded civil society organizations. Others survive by begging on the streets or at the ghats thronging with pilgrims all the year round.
Last year, when shocking reports of the inhuman disposal of the bodies of widows living in government shelters in Vridavan surfaced in the media, it caught the attention of the Supreme Court, which pulled up the state and central governments and ordered select non-government organisations to take charge of their maintenance.
A Bench of Justices D.K. Jain and Madan B. Lokur directed the Uttar Pradesh government to ensure that the last rites of these women are properly conducted.
In addition, it directed the National Legal Services Authority to contact organisations like the International Society for Krishna Consciousness and Sulabh International to find out whether they could come forward to help the widows living in appalling conditions in government shelters at Vrindavan.
Bindeshwar Pathak, who heads Sulabh International, has taken the court's directive quite seriously. And in a bid to restore dignity and purpose to the lives of these unfortunate women, has expanded his mission beyond Varanasi to Vrindavan as well.
Pathak does know a thing or two about working towards empowering women to fight for their rights.
After all, Sulabh International has been the driving force behind the toilet revolution in India, which has changed the lives of millions of girls and women. Today many poor families can afford a functioning toilet in their home thanks to Sulabh's cheaply built flush latrines.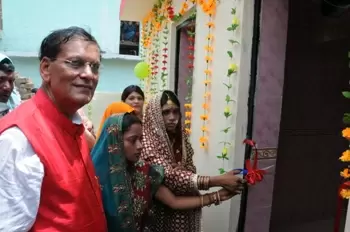 For Pathak (left), the cause of the widows is a top priority now (File photo)
Apart from improving sanitation, this move has also freed lakhs of manual scavengers, mostly poor dalit women, from their centuries-old 'job' of lifting human excreta.
Now it's the turn of widows to get their due in society. Of course, Jamuna Devi and her friends at Nepali Mandir are not sure why they are suddenly getting so much attention.
Just the other day, informs Jamuna, their third floor house had 'visitors', who offered to pay them a monthly pension of Rs 2,000. Moreover, they were also invited to the Ganga Ghat for a special prayer meeting.
Jamuna made it to that meeting. Bent with age and with a tonsured head, her deeply wrinkled face betraying a lifetime of struggle, she looked up as Pathak spoke and quickly identified him as one of the those visitors who had come to her home.
For Pathak, the cause of the widows is a top priority now. Over the last few months, his organisation has made available two ambulances for the widows of Varanasi, in addition to the promise of a monthly pension of Rs 2,000 to 150 widows who have already been identified under this scheme.
There are also plans to provide women with skills training. As he put it to Pranjal Yadav, the young District Magiastrate of Varanasi, "We need your patronage and not money, which can always be raised from the public."
According to media reports, Sulabh has even prepared a draft bill for the protection, welfare and maintenance of abandoned and destitute widows.

The proposed Protection, Welfare and Maintenance of Widows Bill, 2013, recommends a subsistence allowance of Rs 2,000 per month for each woman, in addition to free residential accommodation, education, vocational training and medical facilities. It adds that a widow shall not be evicted from the house of her in-laws or parents, and would be entitled to property as per inheritance laws.
Pathak's initiative has kindled the hopes of many. But how many widows can one man reach out to?
Pathak doesn't answer that question directly. All he says is that he is an innovator of ideas and not merely an executioner. But he believes that things can be changed using simple methods. - Women's Feature Service

Trending Now: