Together scrap collectors have changed their lives, standing united

Suchismita Pai
&nbsp | &nbsp Pune
10-May-2013
Vol 4&nbsp|&nbspIssue 19
As they sift through garbage, they have to fend off rodents and stray animals, their hands get wounded by shards of broken glass thrown carelessly in the rubbish, and harassment by the police is part of their daily routine.
In India, it's hard to miss the large numbers of waste pickers, who, armed with large plastic sacks, scour the city streets and garbage bins for recyclable waste to earn a few bucks.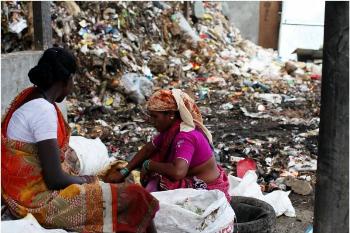 In Pune, waste pickers have discovered that there is strength in a union (Photo: Amit Thavaraj)
Scrap collection is considered socially relevant, economically productive and environmentally beneficial "work".
In fact, India has one of the highest recycling rates in the world, thanks mainly to this army of waste pickers, which are mostly women. In fact, as per World Bank estimates, 1 per cent of the urban population in developing countries earns a living through waste picking and recycling.
Unfortunately, despite their very significant function in society, these self-employed women occupy the lowest rung in the informal economy and are generally treated with contempt.
In Pune, however, waste pickers have discovered that there is strength in a union.
The process of transformation started in May 1993 when veteran labour leader, Dr Baba Adhav organised a first-of-its-kind 'Convention of Waste Pickers' in Pune in a bid to enable them to fight for their rights as legitimate workers and rally for a better future for their children.
This meet was attended by over 800 waste pickers from across the city, and from this process emerged the Kagad Kach Patra Kashtakari Panchayat (KKPKP), a union of scrap collectors. "Every woman in the union is amazing," remarks Lakshmi Narayan, General Secretary of KKPKP.
A chance meeting with a child waste picker during an academic exercise in 1990 led Narayan and Poornima Chikarmane, an activist and academic, to delve deeper into the lives of these workers. The women, they realised, did not even think of their back-breaking labour as 'work', but were keen that their next generation be educated.
What was needed was a change in their dismal working conditions as well as powers to negotiate a better income. Knowing that the collection and segregation of scrap at source could offer both, Narayan and Chikarmane helped 30 waste pickers to get an identity card from SNDT University, which enabled them to collect scrap from there.
As anticipated, not only did their earnings improve dramatically - because source segregated scrap fetched better rates - they had to put in fewer hours of labour and the physical working conditions became better.
"But individuals and small groups have no power to counter the threats from other claimants to 'wealth in waste' and there was an imminent need to establish an identity for waste pickers as 'workers'," recalls Narayan.
The KKPKP proved to be a perfect platform. Once registered as a trade union, it not only represented the collective identity and interests of scrap collectors, it also gave them a platform to voice their grievances and concerns. And unlike conventional unions, it has also focused on social development activities such as credit provision, education and child labour issues.
Suman Mariba More, who is in her 40s, recalls how she would toil from dawn to dusk, walking for miles with her sack to collect scrap and sort it with the help of her children.
"All that changed after 1993 when I joined the union. Now I work four hours and I get more money since I collect waste from door-to-door. The quality and condition of waste is much better," she says.
Door-to-door collection has social benefits as well. Simple pleasures like a cup of tea, a friendly chat or proper lunch breaks, in addition to getting soap to wash their hands and feet are just some of the unsaid benefits.
Over the years, the KKPKP has evolved with the growing needs of its 9,000-plus members, 80 per cent of who are marginalised women.
Their identity card, endorsed by the Pune Municipal Corporation (PMC), entitles them to benefits like interest-free loans and educational support for children. Two insurance progammes have also been started for them.
For life insurance, members pay a yearly fee of Rs 50 while the state government matches that sum and the central government contributes Rs 100. There is also a medical cover of Rs 5,000, the premium for which is paid by the PMC.
For More, a higher income and health insurance has meant that she can afford proper medical care instead of indulging in self-medication. Not only are her sons educated, her daughter-in-law is a computer engineer from a Brahmin family.
Even her daughter was married off only after she turned 18 and "that too with no dowry" declares More proudly. Where her work is concerned, she no longer segregates the waste at home but goes to her nearest municipal corporation provided sorting shed.
For the KKPKP, it has been hard work building up a reputation. Says Narayan, "Ensuring that waste pickers as well as the larger society saw this as work was the beginning. We had to quantify their actual contribution to the solid waste management (SWM) system.
A study to prove that they indeed save the Pune and Pimpri Chinchwad Municipal Corporations several crore rupees in waste handling costs was undertaken and it proved beyond doubt that these recovery operations were extremely valuable."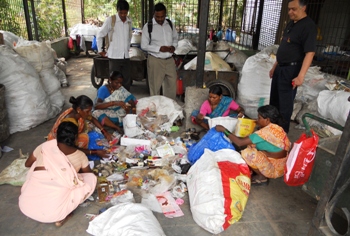 Waste segregated at source gets a better price for the waste pickers (Photo: Suchismita PaiWFS)
Armed with hard numbers, the KKPKP called for an integration of waste pickers in the waste collection/disposal system at the point of waste generation itself - that is, access to waste in homes, offices or businesses.
The Management of Solid Waste laws of 2000, requiring segregation of wet and dry waste, door to door waste collection (DTDC) and processing, proved beneficial. In 2005, the KKPKP launched a pilot programme with the PMC, where waste pickers were integrated in DTDC work, paving the way for the establishment of SWaCH, a wholly workers' owned cooperative.
The SWaCH DTDC initiative - based on recovery of fee from service users and provision of infrastructure support by the municipality - brings together two interests: Upgrading the livelihood of waste pickers and sustainable solid waste management.
Through its 2,150 members, most of who belong to KKPKP, SWaCH services over 390,000 households in 15 municipal administrative wards of the PMC.
Waste pickers have come a long way but many challenges still remain. Narayan says, "The fee for waste collection is as low as Rs 10 or Rs 20 and yet women do not get paid on time. People expect a high level of professionalism from these women without paying them their professional due." - Women's Feature Service

Trending Now: