The soccer queens of Rani score on the field to reach higher goals

Abdul Gani
&nbsp | &nbsp Guwahati
10-May-2013
Vol 4&nbsp|&nbspIssue 19
Saurabhi Rabha would have been just another girl in a sleepy hamlet called Natun Batabari in Rani, some 35 kilometres from Guwahati, Assam, if she had not started to play soccer two years ago.
She and her friends have had to brave numerous odds, including the stigma meted out by a patriarchal society as well as insults from the people of their own village.
Girls from poor families have braved numerous odds to represent Assam at the national level junior soccer tournament recently (Photos: Abdul Gani/WFS)
But these energetic young women, most of whom are from poor families, stuck to their game and rebuffed the derogatory comments that came their way to reach their goal, quite literally.
Thanks to their love and passion for soccer, 14 of them were able to represent Assam state at the national level junior tournament recently.
Nine members of Assam's Under-14 girl soccer team, which reached the semi-final stage in Mumbai in early 2013, were from this group, while five of them were part of the state Under-17 team in the national school tournament held in Pune.
Said an excited Saurabhi, as she got ready for another practice session at the Rani High School playground, "We are extremely happy and thankful to our sir (Hem Das) for making us believe in ourselves. This is definitely the biggest achievement for all of us. Without him this could not have been possible."
Saurabhi and her two younger sisters live with their mother, Santoshi Rabha, who looks after a stone quarry to earn a livelihood ever since their father passed away in 2011.
"Being a girl people used to ask why I go to play soccer instead of helping my mother in domestic work. But my mother was supportive and she never stood against my wishes," revealed Saurabhi, who was part of the U-17 team.
It all began when a group of 30-odd girls, studying at various local schools, had got together to play soccer on a sunny afternoon in 2010. They approached Hem Das, a veteran Guwahati-based coach who had represented the state at various national level tournaments in the 1970s and 1980s.
But ensuring commitment to the game was not easy. Saurabhi had lost her father and was expected to help out her mother. Her friend, Dulumoni Rabha was faced with even tougher circumstances. Her father had died when she was just a child and her mother had to take up domestic work or labour as a daily wage earner in order to keep the family going.
However, her brother, Manoj, also a daily wager, who was unable to finish his studies due to lack of money, was determined to provide Dulumoni with all the help he could.
Being there for the girls also meant protecting them from the cruel barbs of the community. Recalled Santoshi, Saurabhi's mother, "Very often our neighbours would say something unpleasant about our girls going to play soccer. But they did not have the courage to say this to my face. I would have given them a straight answer! I have never regarded my daughters as weak. I believe they are capable of doing what boys can do."
Although Dulumoni's family does not have a proper house to live in, her mother and brother ensure that she gets to play her soccer.
"I believe I can change the notion in our society that girls are not suitable for tough professions. I'm also confident that I can bring a good name to my family and region by excelling in this game," said the youngster, who studies at the local Rajadarbar Higher Secondary School.
For coach, Hem Das, who has dedicated his life to the game and its welfare, training the young girls has become one of the most important and perhaps the toughest missions he has ever undertaken.
"I knew the poverty their families lived in, the various daily problems they faced, but I took it as a challenge. They have the will and talent," said Das, who has been running the Young Star Football Coaching Centre in Guwahati since 1979.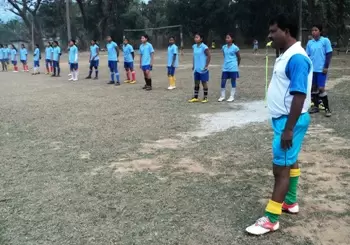 Coach Hem Das has helped the energetic teenage women of Natun Batabari pursue their passion for football
Given the financial status of their families, the coach provided his young female team with kits and balls. The authorities of the Rani High School also chipped in by offering the school playground for a makeshift camp.
"I need to spend nearly Rs 90,000 every year, which includes my transportation costs to the venue. I have some money saved up, so I'm doing this, but I'm afraid after a while others will have to come forward to sponsor these girls or they would have to bear the cost of the training themselves," he rued.
In fact, Das has already sought help from various sources including the state government and some private companies. But nothing has worked out so far.
The girls, who study at local schools like Rani High School and the Rajadarbar Higher Secondary School, walk or cycle their way to the grounds from their home every day – a distance of nearly four to five kilometers. It may be tiring for them, but it is also exciting.
Deepak Kumar Sharma, the principal of Rani High School remarked, "Now, these girls are like a ray of hope for the rest of the girls of the school. We can only hope that they will continue to train hard and excel!" - Women's Feature Service

Trending Now: