It is a win-win situation for the urban visitor and the hosting village community

25-April-2013
Vol 4&nbsp|&nbspIssue 17
A simple idea of providing a rural experience to tourists in the sylvan surroundings of Binsar in Uttarkhand led a young couple, Manisha and Himanshu Pande, to start a social enterprise called 'Village Ways' with the local villagers as partners back in 2004.

Founded on the principles of responsible tourism, Village Ways has proved to be a win- win situation for both the tourists and the village community.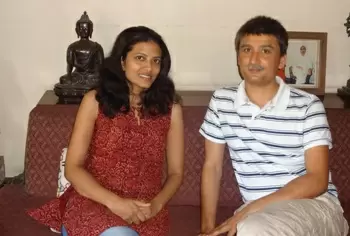 Manisha and Himanshu have developed Village Ways in such a way that it benefits both the tourists and villages
Presently, Village Ways has facilities at villages in Uttarkhand, Rajasthan, Kerala and Karnataka. Tourists stay in guest houses run by local village committees.

Manisha and Himanshu have not been keen on 'homestays' since they feel it would not give guests the privacy they would want.

Villages have liked the concept. Thanks to the encouraging response from local communities, Village Ways has set up facilities in six villages in the vicinity of Binsar, and five more in Saryu and Pindar valleys.

In Saryu, there is a tented campsite at Jakuni, which provides a wonderful view of the Himalayas. The campsite, at an altitude of 10,000 feet, is managed by the local community.

They have facilities in Hacra (near Jodhpur) in Rajasthan, Hulgul in Karnataka, Wayanad in Kerala, and offer a houseboat near Kochi that is managed by 5 coastal villages.

"Guests could see farming in the Karnataka village and then visit Kerala coastal villages where there are lots of fishing activities," says Manisha.

Village Ways has also entered Ethiopia with NGO Tessa, and has initiated projects in Kenya and Nepal. They have a marketing office at UK.

Manisha and Himanshu, who run a hotel in Binsar, got into rural tourism to create livelihood opportunities in the villages for the local youth who were migrating to cities for jobs.

With support of likeminded friends, they gave shape to the idea.

"A team of experts including some regular guests from England brainstormed on ways to mobilize the community and market the concept," says Manisha.

However, it took them two years to win the trust of the local community and get their support. The first group of tourists arrived in October 2006 and there has been no turning back since.

The project aims to involve at least one person from each household of the village, directly or indirectly in tourism.

In Binsar, the attitude of the villagers changed after introduction of the project and they started caring for the environment.

Earlier, there had been some tension between the forest department and the locals over declaration of Binsar as a wildlife sanctuary. The ban on cutting of firewood had angered the villagers.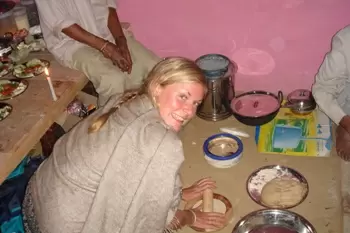 Tourists get a good exposure to life in rural India
There were indiscriminate forest fires. But Village Ways gave the local people a fresh insight into nature.

Villagers who used to throw stones at birds earlier, now want to identify a new bird that they come across, says Manisha. Those who migrated to cities are returning to the village and enrolling as tourist guides.

"We are getting direct benefit because of the project," says Pawan, Secretary of Kathdhara Village Tourism Committee in Binsar.

As most tourists are foreigners they love the feel of staying in a village. Manisha says that in recent times a small percentage of domestic tourists too have started visiting the villages.

"We really liked the Village Ways philosophy, and have been telling our friends about Hacra, Binsar and Saryu, and the warm welcome we received everywhere," says Phillip, a tourist from England.

Alan H, another guest, says he was pleased with the awesome sceneries, and the hospitality of the hosts.

Pawan says most tourists visit Binsar during March-April and October-November when the weather is clear and one could get a clear view of the Himalayas.

The affairs of the village committees managing the guest houses are conducted in a democratic manner.

"All decisions are taken in a democratic way after proper discussion in the village committee," say Dinesh Pande, a team member of Village Ways.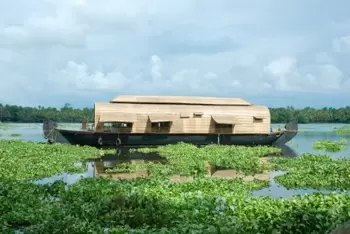 Houseboat in Kerala
He says any financial support received from tourists is ploughed into the village development fund and the profit of Village Ways is used for developing other destinations.

There are 7 directors, regional level coordinators and staff members in Village Ways and all of them work closely as a team.

UK residents Keith Virgo and Graham who were keen trekkers like Himanshu and a regular at their hotel liked the concept of Village Ways. They roped in their friend Richard who had experience in rural holidays in Europe and he now markets Village Ways in Europe.

"It is a great and often humbling experience for Western customers that their various hosts, guides and others who they meet during their stay may have so very little by way of material possessions but their warmth and genuine hospitality makes the social exchanges between the two parties an equal one.

"Both are keen to learn of the way of life of the others," says Linda Hearn, team member, Village Ways, England.


Trending Now: