Taking a call on social responsibility, call centres now reach out to the poor

Shudip Talukdar
&nbsp | &nbsp Gurgaon
25-April-2013
Vol 4&nbsp|&nbspIssue 17
Call centres have long been identified among the young with well-paying jobs and an aspirational lifestyle.

Now some of them are stepping out to help underprivileged children in India and fulfill their social obligations as well.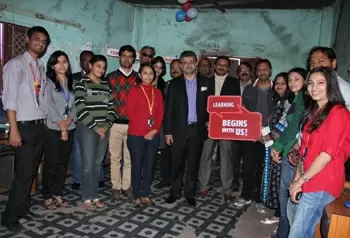 Teleperformance employees with their MD (India), Sanjay Mehta at the inauguration of a Computer Lab at a school in Indore
For instance, Teleperformance, a US global customer service call centre and social media company, encourages employees to create learning opportunities for less fortunate children across 49 countries.
The Indian subsidiary of Teleperformance, established in 2001, offers such children food, books, education and clothing to help them meet their basic needs and reach their potential, under the company's Citizen of the World (COTW) initiative.
"Our primary focus is to support education of underprivileged children within 10 kilometres of our office locations in Gurgaon, Jaipur and Indore. In the process, our employees embrace the concept of Giving and Citizen's Social Responsibility," said Teleperformance India managing director Sanjay Mehta.
"Teleperformance India believes that 'Citizen's Social Responsibility' is about tradition and culture, about imbibing responsible corporate citizenship," Mehta added.
Beginning with just six students in Gurgaon in 2006, the COTW programme has empowered 1,200 children from Jaipur and Indore as well.
In 2010, Teleperformance India partnered with the National Thalassemia Welfare Society (NTWS) to set up a NTWS primary healthcare centre focused on women and children at Gurgaon's Palam Vihar.
Daniel Julien, chairman of the Teleperformance Supervisory Board, formally launched the COTW India initiative in 2006 as a voluntary programme. Each employee donates Rs.100 every month towards supporting the initiative.
Teleperformance employee Ankit Khanna described his interaction with innocent kids as "mesmerising". "I have no words to describe the experience. It felt as if I was contributing to the growth of little angels."
"I am proud to be part of this initiative, spreading smiles on the innocent faces. I don't work only for myself but am also responsible for a child's education," his colleague Syed Ibrahim added.
The Teleperformance India team was voted as the Social Change Agent at the Asia Outsourcing Congress held in Mumbai last month.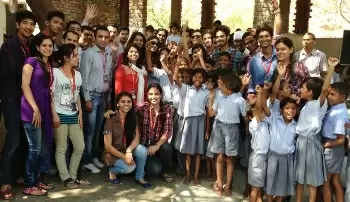 Employees (Teleperformance Jaipur) with school children at Chattarpathshala, Amar Sewa Samiti, Jaipur
Teleperformance India enrolled over 600 children in COTW programme in 2012, besides creating a 2-D Animation Lab with 10 light boxes in 2009 and a Computer lab, "TP Knowledge Centre", in 2007.
The same year it helped relocate the Gurgaon school from tented classrooms in Chauma village to a functional, self-contained building in Bajgera village. Teleperformers also set up the Gyan Patra, a library set up at Literacy India School to enhance knowledge.
Among the key initiatives since 2012 are monthly visits by the beneficiaries to meet Teleperformance employees, sharing meals and participating in day-to-day activities with them.
Teleperformance India has set up a rain-water harvesting unit to recharge ground water levels by adding close to 1.4 million litres of water annually. This initiative will help reduce water logging and improve water efficiency in Gurgaon, with a population of 1.5 million. - IANS

Trending Now: