Hundreds of women in Uttar Pradesh have turned farming into a profitable venture

Renu Agal
&nbsp | &nbsp Uttar Pradesh
19-April-2013
Vol 4&nbsp|&nbspIssue 16
As Sunita Tiwari looks at the gooseberries growing on her 10-bigha farm in Hatkila village in Amethi, Uttar Pradesh, she smiles to herself with satisfaction.
She is happy because all her hard work has paid off – after all, ever since her husband went to Haryana to work, managing the home and farm single-handedly has not been easy for her. Even her children are grown up now and have moved to a nearby town for their education.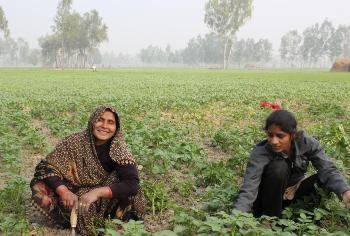 Without even stepping off their fields women farmers in Uttar Pradesh now have access to expert advice through an agri-helpline service (Photo: LifeLines India)
Just a few years back, things were very different for the family. Successive years of poor yields compelled Sunita's husband to migrate in search of better paying work.
When everything, including running the farm, was left in her care she didn't think she had it in her to turn things around. But she has succeeded in doing just that.
What helped transform this quiet housewife into a prosperous farmer? It was an intervention known as the LifeLines Agriculture Service. Launched in 2006 under the LifeLines India project, it provided critical agri-advice and livelihood information to farmers over landlines and mobile phones.
British Telecom, Cisco Systems and OneWorld jointly partnered the project. All that the farmer had to do was to dial his/her designated LifeLines number and record questions with the help of an Interactive Voice Response (IVR) System. There is a nominal call charge and responses are promptly given within 24 hours.
Many families across Uttar Pradesh, a state that tops in net out-migration in the country, have benefited from this service. As per the 2001 census, around 2.6 million people have migrated from the state in search of work.
These are small landowners, who often find agriculture to be an uneconomical livelihood. So they go away to cities like Delhi and Mumbai in search of skilled, semi-skilled or unskilled employment and send remittances home.
Their wives who are left behind have the double burden of not only taking care of the elders and children in the family, but also tending to the fields and livestock. Expert farming tips a mere phone call away has therefore proved to be a big boon.
Sunita remembers the time when the lemon plants in her fields were infected by pests, or when her cattle fell sick. The much needed advice from the LifeLines Agriculture service helped her address the problems.
"Recently, my potato crop was struck by pests. When I registered my query I was told to change the seeds. I have now sown the suggested variety of seeds and am looking forward to a good harvest," she reveals.
Besides aiding farmers to solve problems related to crops, the service also renders advice on what to grow, the best varieties for particular soil types and land area, information on fertilisers and seeds available in the market, and – very important – where and how to sell produce.
It was Sunita's husband who had told her about this service, which she could use without even stepping out of the home. "Based on the advice I got from them I planted Safeda (Eucalyptus) and Amla (Indian gooseberry), which does not require much labour. I have also grown vegetables like cabbage, brinjal and chillies, as they fetch very good prices," remarks Sunita.
Having benefited from this service Sunita also informed her neighbour, Sushila Yadav, about it. Sushila's potato crop was getting destroyed by squirrels and she didn't know what to do. Once again, the LifeLines service came to her rescue.
Presently, the LifeLines Agriculture Service reaches out to farmers in over 2,000 villages across five districts in Uttar Pradesh.
Here's how it works. Once a farmer calls in, the IVR System registers the query as a voice clip. At the backend, a Knowledge Worker (KW), responsible for processing the queries, listens to all the registered queries.
The answers are first looked up in the system's Frequently Asked Questions (FAQs) database – today, the service has a list of 490,000 FAQs with ready answers.
If the answer is available in the database, it is attached to the query in the form of a voice clip or else it is forwarded to relevant experts for their input. Once a satisfactory answer is ready it is also recorded as a voice clip that is played back when the farmer calls the service to get the answer to his/her query. In addition, the system has a provision whereby the farmer can send photographs along with their queries for expert opinion.
In the last six years, the LifeLines Agriculture Service has grown to become a handy and reliable source of reference for more than 1,50,000 farmers. It receives over 350 queries every day and more than 95 per cent them are addressed within 24 hours.
Soni Gupta from Sultanpur may be all of 18 but in the absence of her father, who is working in Kolkata, she is managing their 5-bigha farmland and taking care of four cows.
Soni has been discharging her responsibilities well with a little bit of guidance from experts to whom she accessed through the LifeLines service.
Says she, "This service is not only economical but it also saves the trouble of going far to learn how to manage farms and cattle in a better way. A few years back we owned two cows now we have four.
"Moreover, I have started cultivating spinach and cauliflower, which have a big demand in the towns nearby. Of course, my father is relieved that this service is available to us at our doorstep."
Sunita T, who hails from Sultanpur, has a similar story to relate. She lost her husband ten years ago and at that time it was a challenge not just to bear the loss but take care of the family farm alone.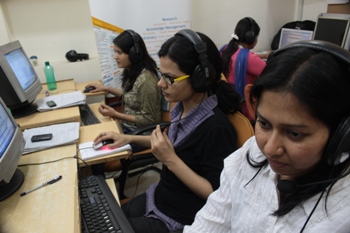 Knowledge workers monitoring the Interactive Voice Response (IVR) System of the helpline (Photo: Rahul Kumar)
"There was no one to tell us about the various requirements of farming. Now, with the help of this service, the family is actually reaping good profits. I was also able to grow more rewarding crops like turmeric," she says, with a smile.
Helping women like Sunita, Soni and others access the LifeLines Agriculture Service are field volunteers like Amit Tiwari.
He helps them use the IVR system, register their questions and then get the responses. He is happy to report that many women farmers can now comfortably use the service.
Vidyavati from Hatkila in Amethi, whose husband works in Delhi, owns five bighas of land. Vidyavati recalls how she increased the milk production from her cows. She also sought a remedy for the diseases that plagued her crop of urad (black gram) and dhaniya (coriander).
Today, hundreds of women farmers across Uttar Pradesh are empowered thanks to this unique helpline. Proficient in new farm practices, they are aware of better crop varieties, disease control, integrated pest management and even animal husbandry.
They are now better acquainted with government schemes and market trends. And, yes, they have also picked up some easy farming tips: Cowdung and buttermilk, for instance, make good pesticides! - Women's Feature Service

Trending Now: