Open a window to well-being, let fresh air enter you homes

12-April-2013
Vol 4&nbsp|&nbspIssue 15
"During childhood, the worst punishment my parents gave me was spending a few minutes in the windowless storeroom of our house in Allahabad. In Delhi, it has become a way of life," says Ritu Priya, a Delhi University student.

Due to monetary reasons, she has to live in a matchbox-shaped accommodation in Delhi. "Over the years, the flat has governed my well-being," says Priya who is unable to pinpoint the effect the compact flat has had on her.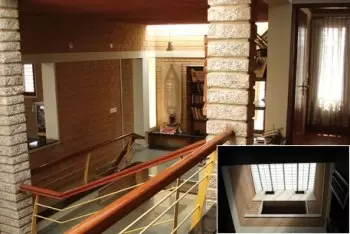 A house in Bengaluru built by Deepak Godhi with compressed earth blocks instead of bricks; (right) skylights minimise use of electricity (Photographs Courtesy: Deepak Godhi/ Down to Earth)
Bhawna Yadav, a clinical psychologist in Mumbai, sheds light. "People working or living in dingy environment are more prone to depression and take longer to recover. Such an environment induces lethargy."

The Journal of Urban Health acknowledges that built environment has direct and indirect effects on mental health.

It states poor quality housing increases psychological distress and insufficient daylight is associated with increased depressive symptoms.

A WHO report says inadequate ventilation is associated with a higher risk of airborne diseases, including tuberculosis, as well as the accumulation of indoor pollutants and dampness, which are factors in the development of allergies and asthma.

Psychological comfort is one of the neglected aspects of modern buildings.
"Provision for adequate sunlight, fresh air and connection with nature can do wonders to the well-being of the occupants of any building, says Yadav.
Natural ventilation and lighting are critical to design and functioning of a building, stresses Neha Aggarwal, an architect in Chandigarh. They affect not only the mental health but the overall health of a person.

Like lighting, ventilation can be achieved through mechanical or natural methods. Today much of the expenditure to make a building functional is on mechanical ventilation and artificial lighting.
In fact, most of the popular trends in real estate, like central air conditioning and glass façade, are attributed to need for better ventilation and lighting requirements.
"If means of natural ventilation and lighting are incorporated in a building, they will help bring down the project cost considerably," says Anupama Kundu, an architect in Auroville, Tamil Nadu.

Traditional building systems like courtyards, verandahs, jaalis (lattice work) and jharokhas (windows) not only help buildings breathe, but also ensure psychological comfort.
But these features are progressively disappearing from the urban built environment.
Even the chhajja (a horizontal slab above windows and doors), once a common building element, has become an endangered species of architectural typology.
"People want rooms that provide enough space for breeze and the sun, but they are a rarity. And houses that have such spaces fetch premium prices," adds Priya.

Chhajja is the simplest of weather control devices for buildings. It projects over a window, primarily to cut down the direct heat from the sun. It doubles up as a rain protector and directs the wind inside the room.

Creatively designed chhajjas can even help increase the penetration of sunlight into the interiors. They even provide space for bird nesting. "To suit the Indian weather conditions, the minimum depth of the chhajja should be 0.6 metres," says C L Razdan, an architect in Jammu.

The most common way of inducing natural ventilation in a building is catching the wind. It relies on the principle that air flows from high pressure to low pressure areas.

Ideally, the inlet openings should be on the windward side (high pressure) of the building and the outlet openings on the leeward side (low pressure). When the wind hits the inlet openings, the low pressure on the opposite side forces the air to flow through the building's interior to the outlet openings.

One can also use a courtyard for ventilation and lighting. When air becomes hot, it becomes lighter and rises and cold air rushes to take its place (called stack effect). That's how a courtyard provides ventilation.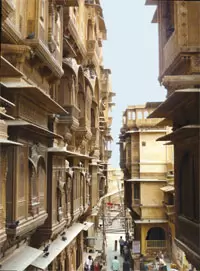 Chhajjas, which reduce direct heat from the sun, are used aesthetically in Jaisalmer (Photo: Avikal Somvanshi/ Down to Earth)
Even vastushastra talks about the various methods of natural ventilation and explains ways to incorporate them in a house or a building.

"According to vastu, ventilation is responsible for the flow of energy through a building," says Aggarwal.

But a building with natural ventilation is challenging to design as the wind direction and velocity varies from time to time.

The National Building Code 2005 recommends the orientation of a building need not be perpendicular to the prevailing wind. It can be oriented between 0° to 30° without losing out on the benefits of the breeze.

However, factors like sun's movement and the surrounding buildings should be kept in mind.

"In today's fast-paced life, the majority of the people opt for mechanical means of ventilation. People rarely understand the importance of using traditional methods," says Aggarwal.

Inputs by Avikal Somvanshi

By arrangement with Down to Earth


Trending Now: