Keeping trouble at bay, a new role that Manipuri women are forced to play

Gaurav Sharma
&nbsp | &nbsp Tamenglong (Manipur)
12-April-2013
Vol 4&nbsp|&nbspIssue 15
They don't wear blue helmets nor are they uniformed, but their attempt to maintain peace in Manipur's most backward district of Tamenglong - riddled with internecine clashes - is somewhat akin to that of a United Nations Peacekeeping Force in a war-torn nation.
Under the banner of Inrilangluang Luh Chujaenj Phum (Women's Peacekeeping Organisation), over 700 women are trying to maintain peace in Tamenglong by just beating iron poles with sticks - creating a loud clanging noise to raise an alarm.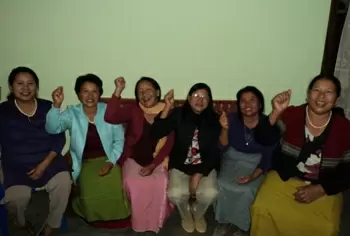 These women maintain peace in Tamenglong by beating iron poles with sticks - creating a loud clanging noise to raise an alarm (Photo: IANS)
The role of the women's peacekeeping force is to spot trouble in the district and to alert other team members so that it could be averted.
Monica, 40, is among these women. Wielding a stick, she stands guard near an electric pole. If she senses trouble, she starts beating the pole with the stick to alert another woman who is deployed at a stone's throw. On hearing the sound, she also starts beating the pole. Thus, the chain continues.
"This is how we alert others if we sense trouble in the area. If one woman beats the pole, the others also start beating it. And listening to this, all of us gather to look into the matter," Monica, secretary of the organisation, told this visiting correspondent.
These women came together to tackle the problems arising out of sparring Naga groups, extortion attempts, drug smuggling, petty trouble-makers and, finally, the ineffectiveness of the law in tackling these issues. The group was formed last October.
"We were fed up with lawlessness and underground insurgents. Extortion and smuggling of drugs also created problems. The worst part was the common man was collateral damage in the fight between the police and insurgents. The peace of the district was being shattered," said one of the founding members of the group, requesting anonymity.
"These problems led us to form this group," she added.
She said that a group of 7-8 women are deployed in each of the seven wards in Tamenglong district and they keep a vigil between 4.30 p.m. and 10.30 p.m.
"We prepare duty rosters every week. All the members have to serve on rotational basis. In case a member is not able to serve, she has to serve food to her fellow women on duty," said Ramakianliu, the president of the group,
The women in the group say that they want to ensure peace by reforming society by their own methods.
"Many a time we nab smugglers and miscreants but we never hand them over to police. We counsel them and urge them not to repeat the offence," said Monica who works as an assistant teacher in a private school.
"Who would want such a group? We never wanted it, but the lawlessness and infighting between groups drove us to form it. It's difficult and needs sacrifice," said 45-year-old Aduanliu, another member.
Locals say that the Naga groups in Tamenglong - Khaplang, Zeliangrong United Front and others - fight one another for supremacy.
"We are harassed by one group if we support its adversary. We were left with no option but to take things into our own hands," said another woman on condition of anonymity.
Asked if the women in the group faced resistance from their family members, Aduanliu said: "My husband had objected to my being a peacekeeper, but he gradually understood. His objection was out of fear for my safety."
"We have been coming across as empowered women in northeast but this empowerment has not come out of choice but has been forced on us," Monica said with a wry smile. - IANS


Trending Now: