Andhra Pradesh women farmers can now seek legal advice free of cost

Usha Turaga Revelli
&nbsp | &nbsp Warangal
29-March-2013
Vol 4&nbsp|&nbspIssue 13
Land issues are among the most commonly contested legal battles across courts in India.
The disputes often go through various twists and turns as the years pass and questions related to inheritance, possession and acquisition come into the picture.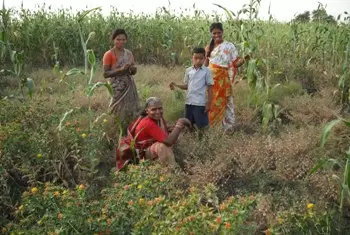 For women, land disputes are even more complex (Photos: Papri Sri RamanWFS)
Ramachandraiah Thotapally of Nustulapur village – a block headquarters in Andhra Pradesh's Karimnagar district – has been tilling five acres of land that had been assigned to his family 40 years ago.
But it appears that he may very shortly lose that land. Thotapally was blissfully unaware of any problem with his ownership claims to the land until a neighbour, who is a lawyer, chanced upon a doctored land record in the Mandal Revenue Office (MRO).
Though Ramachandraiah still has possession of the land and a patta to show for it, it may not be too long before the land becomes disputed property.
Reveals Srinivas Reddy Thuniki, the advocate from Karimnagar, who handles land litigation and had cautioned Thotapally, "I was looking for something else when I stumbled upon Thotapally's survey number and discovered that it was in the name of another person in the village.
"I am sure that person will soon go to court, alleging that his land has been occupied by Thotapally. But the old man refuses to believe me. I am planning to take it up with the MRO."
Thotapally's is not an uncommon problem in Andra Pradesh. Landesa Rural Development Institute, a non-profit organisation, working on securing land rights for the poor, especially women in Andhra Pradesh and elsewhere in India, has identified 63 different kinds of land-related problems that begin with succession and title issues to rectification of errors in records.
Except for the title dispute that needs to be referred to a civil court, all the other disputes fall within the jurisdiction of revenue courts at various levels.
"While Andhra Pradesh has a whopping 190 pieces of legislation governing land, and most of them are pro-poor, the problem is there is no basic information among the poor about laws involving land, whether agriculture, tribal or forest.
The state assigns government land, with about 60 lakh acres having been distributed so far, which is about 28 per cent of the entire government land," points out M. Sunil Kumar, State Director, Landesa India.
For women, land disputes are even more complex – notably because they are not recognised as farmers and hence are often embroiled in legal battles for a share in their husband's or father's property. Laws pertaining to succession have also so far shown no way out of this maze.
Observes Sunil Kumar, "The history of land reform in India shows the key involvement of women at every stage, right from the Telangana armed struggle many decades ago to the Jan Satyagraha that was staged in March 2012. It is only logical that women be granted ownership of their land now to complete the circle."
The Jan Satyagraha, a non-violent movement of landless farmers from across India, has demanded a comprehensive National Land Reforms Bill and effective implementation and monitoring institutions to provide access to land and livelihood resources to poor, landless, homeless and marginalised communities.
Besides it has also advocated the setting up of fast-track courts to settle thousands of land disputes pending before civil courts.
During its extensive research, Landesa found that there are no legal support mechanisms, or very inadequate ones, for the aid of farmers.
The functioning of the revenue courts has not been very effective for various reasons but most often because the process of adjudication took too long and the courts lacked the capacity to tackle the massive number of cases that piled up every day.
"There are many other non-legal issues that plague land litigation. The mismatch between pattas and land records is one of the main problems," says advocate Srinivas Reddy.
Given this scenario, Landesa/RDI – which had earlier worked with the Andhra government's flagship Indira Kranti Patham poverty alleviation programme to implement a para legal programme for assigned lands – decided to work out a mechanism on a pilot basis to streamline the pre-litigation process.
Explains Sunil Kumar, "The experiences in the state proved that facilitating support to the poor, coupled with building capacity of adjudicating officers, can help them gain secure rights to land with minimum cost."
In collaboration with the State Legal Services Authority, whose mandate under the Legal Services Act (LSA) includes offering legal support to the poor even in land litigation, though it has not been doing it, and NALSAR University of Law, Hyderabad, Landesa has recently launched a free legal aid clinic in Warangal.
The clinic, set up in the District Court Complex, is aimed at guiding the poor in identifying the actual issue, verifying the status of their documentation, drafting petitions and approaching the appropriate courts for adjudication of land disputes.
The clinic is the first of its kind in the country and is expected to throw up a replicable model for working as a single window mechanism that clears bottlenecks in the process of owning land.
Women stand to benefit from this service that offers counselling, advice and guidance to petitioners. Interestingly, the law students of Nalsar University will provide free services, with hands-on and voluntary guidance from the faculty as well.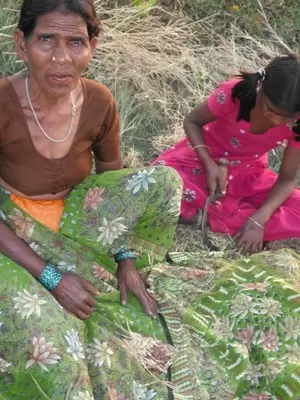 Legal literacy has become a necessity for farmers
The Andhra government is presently all set to implement the landmark SHG Land Leasing Act, which enables the leasing of land to either individuals or groups. In fact, according to Sunil Kumar, the state has many pioneering measures.
For instance, since 1986 it has been mandatory for all land distribution exercises to register in the name of the woman.
Moreover, the government distributed 7 lakh acres of land over the last few years, although it is not known whether women's names have been included in all the transactions.
Women's participation in agriculture has been increasing multifold, whether in terms of direct possession through inheritance, market purchase, or in terms of agricultural labour. Today land issues and disputes involve not just men, but women.
This is why legal literacy for all becomes so important.
Observes Sunil Kumar, "Basic legal literacy, pro-poor land laws and policies, the strengthening of the agency of facilitators and service providers, and augmenting delivery systems have become extremely crucial today." - Women's Feature Service

Trending Now: