An inspiring story of a woman entrepreneur who started a business just for fun

09-March-2013
Vol 4&nbsp|&nbspIssue 10
Rajni Bector was born in Karachi, but spent her early years in Lahore.

"My father was a government servant holding a very high position, but then there was Partition."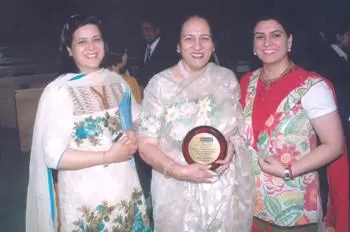 Rajni Bector (centre) has built a business empire though she never planned it that way
The family moved to Delhi where Rajni completed her schooling and then joined Miranda House. In 1957, when she was barely 17, Rajni got married into a business family in Ludhiana. A family very different from the 'service' class family she grew up in but still, a broad-minded one.

"I completed my graduation after marriage," she recalls.

Rajni then got busy raising her three sons. In time, all three went to boarding school in Mussoorie, leaving Rajni with an empty nest. And a lot of free time.

"I was very involved with social service projects through the Lions Club. In fact I started the Lioness movement in Punjab and then helped to open the clubs all over north India."

Rajni also worked with the Red Cross and headed the Ludhiana Ladies' Club, which was the club to belong to in the city.

"Initially I worked as the Secretary, then I was President for two years, then they created a special post of Chairperson so that I could keep contributing!'

So much was the energy and enthusiasm Rajni brought in. To whatever she did.

"Still... I felt, I am not doing something very constructive..." she recalls.

The idea of a woman from a well-to-do family 'working' was unheard of. So what more could she do?

"I was very fond of cooking. So I enrolled for a course in baking at the Punjab Agricultural University."

And she would keep creating occasions to try out her recipes.

"I used to call people over for lunches and evening teas and dinners. And to the little ones I would say, 'Come over for swimming' and bake them some treats!'

Rajni's ice creams, cakes and cookies quickly became the talk of the town.
It was so good, friends would say "You can make a business out of it!"

So just for fun, Rajni did just that. Using a hand-churner she started making different kinds of ice cream and putting up stalls at local fetes and funfairs.

"I remember my first stall was right next to Kwality. I was scared but surprisingly my ice cream was a hit!'

In fact, there was such a crowd at her stall that even the Kwality manager came over to taste her ice cream!

"I got a very good response and then people said — 'can you do catering?"
And so it became a 'business'. Operating from her home kitchen, with one small oven and an initial investment of Rs. 300. Word spread and orders for parties and functions kept pouring in. Sometimes Rajni would refuse but they wouldn't take 'no' for an answer.

They said, "Mainu kuch nahin pata... hamara order to lena hi padega."

Rajni recalls one such early order — for 2000 puddings — at the wedding hosted by the local MP.

"It seemed impossible but somehow I did it. I cannot forget how everybody was coming and appreciating me."

Rajni worked with heart and soul, but neglected the 'head' part. She ended up selling below cost price, and incurred a loss. That's when her husband Dharamvir stepped in with the right advice.

"You are working very hard but you need to see this as a business," he said. "You must expand, commercialise, do everything properly!'

Thus in 1978, with an investment of Rs. 20,000, Rajni set up a small ice-cream manufacturing unit in the backyard of the kothi. Now, she could take bigger orders — for marriage parties. And although she could hire helpers, Rajni preferred to do almost everything herself.

"I never believed anyone else can do the job as well as me. So I used to get up early in the morning, sleep late at night.... I used to work much more than 12 hours a day!"
But there was one golden rule — when the children were at home, they should feel their mother's presence.

"I was very particular... I have to be there with them for every meal, for their studies, whenever they want me!'
………….
1990 was a turning point. Terrorism was still flourishing in Punjab and there was a lot of tension between Hindu traders and Sikh farmers. The Bectors' 107-year-old business in trading food grains, oil and fertiliser was badly affected.

"There was an attempt to kidnap our eldest son — Ajay. Then we thought, maybe this business is not our cup of tea and slowly we wound it up."

By this time, Cremica was a respectable Rs. 5 crore business. The family decided to put all its eggs into this new oven and bake a bigger cake. Rajni's eldest son joined soon after graduation, followed by her middle son Akshay who completed engineering from Manipal. The youngest — Anoop — was preparing for his CA, but left it midway.

"He said, 'Why waste time on qualifications — let me join the business and grow it"

Do se chaar, aur chaar se aath haath — business badta gaya family members ke saath.

With the involvement of her husband and sons, the passion-led business started by Rajni turned ambitious and professional. The business grew phenomenally, touching a turnover of Rs. 20 crore.

At the same time there came a new and very big opportunity. In 1995, McDonald's decided to enter India and was scouting around for local suppliers.
The company zeroed in on Cremica, for supply of buns.
………….
Keeping high standards is a hard thing. But it also makes it easy to get more business, especially from multinationals. Cremica's factory in Phillaur began making the biscuits sold by Cadbury's and ITC Sunfeast.

'We also sell biscuits, sauces and condiments under our own brand name — Mrs Bector's Cremica foods."

The scale and size of the business grew rapidly. By 2006, Cremica was clocking revenues of Rs. 100 crore, with 30% year-on-year growth. Goldman Sachs took a 10% stake, for Rs. 50 crore. The funds were used to further energise and expand the business.

'We now have a unit in Greater Noida and in Bombay. All very modern, fully automated plants.'

Another new plant with a capacity of 5000 tons per month was recently installed at Una in Himachal Pradesh. In 2011-12, Cremica crossed annual sales of Rs. 650 crore. The company now employs over 4000 people across locations.

With highly skilled professionals in all important functions.

"To be frank... I am almost retired now," says Rajni. "The children are managing the business very well."

However there is one thing she still looks into personally — new products and new recipes. After all, taste and quality are the two pillars Cremica stands on.

"I am most involved in the biscuits and bakery section. I am still there to see what we are making, how we are making, let us experiment something — can we do it better!"

At 71, Rajni has some health issues — such as a back problem — which she takes in her stride.

"I never bothered about myself at all.... There were so many days I used to sleep 3-4 hours only. I was balancing all my relations... all my family... work... everything..."

The result has been phenomenal. And so has the recognition. Awards from the government and industry bodies have come raining down on Rajni.

"I have got so many awards that I have lost count," she smiles.

Though she does remember fondly the one she received from the President of India, Abdul Kalam, in 2005.

Abdul Kalam said, "Oh... so you are the ice cream lady, na?"

No matter how big Cremica gets, that is how Rajni will always be remembered.

The lady who stepped into her kitchen yet stepped out of the boundary.

Because evolution is revolution.

And it can quietly start, wherever you are.

Excerpted from Rashmi Bansal's latest book 'Follow Every Rainbow' (Publisher: Westland, Price: Rs.175) which features the inspiring stories of 25 women entrepreneurs

Trending Now: