'She, not Gandhi was the first Satyagrahi'

Nachiketa Desai
&nbsp | &nbsp Ahmedabad
26-February-2013
Vol 4&nbsp|&nbspIssue 8
As a teenager, Mohandas, married to teenager girl Kastur, he was what today's feminists would call a typical MCP - a tyrant who believed in subjugating his wife.
He asserted his conjugal rights and was so possessive of his wife that he told her to seek his permission every time she wanted to visit a temple. Kastur defies the diktat and visits the temple. When confronted by Mohandas, she curtly replies: "No one can stop me from visiting the temple of God."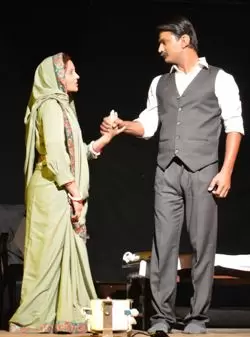 A scene from the play that depicts Kasturba's fiercely independent personality
Mohandas Karamchand Gandhi, thus, learned from his wife Kasturba the first lesson of Satyagraha and non-violent civil disobedience, a state craft which made him a Mahatma.
Though the young barrister Gandhi got the credit for the success of his Satyagraha against the oppressive all-white government of South Africa, it was Kasturba who courted arrest by defying the law which considered as illegal all marriages that were solemnized according to Hindu or Muslim rituals.
She, not Gandhi was the first Satyagrahi. In jail when she was denied fruits and vegetables, she undertook an indefinite fast compelling General Smutts to concede her request for a vegetarian meal.
Gandhi was a libidinous young man who had fathered four children. Realizing that he would not be able to pursue a life dedicated to the cause of the people without taking a vow of celibacy, Gandhi made Kastur to take a pledge with him. She gave her consent willingly.
Since then and till the day Kasturba died in Aga Khan Palace, Pune on February 22, 1944, the husband and wife called each other by the names Bapu and Ba (father and mother).
This and other such aspects of Kasturba's fiercely independent personality and yet complete devotion to her husband's goals and ideals have been depicted in a two-hour play on her, written by the 88-year-old Narayan Desai whose four-volume biography of Gandhiji 'My life is my Message" has won wide acclaim.
This is Narayan Desai's first attempt at writing a full-length play for any professional theatre group. He has been ably helped in this maiden venture by eminent Gujarati theatre director-cum-actor Aditi Desai whose influence on the playwright's pen comes out brilliantly in the dialogues of various actors.
The inaugural show of the play was staged on February 22 at the auditorium of Gujarat Vidyapith, a university founded by Mahatma Gandhi in 1920.
The Hindi version of this Gujarati play is getting ready and is planned to be staged outside Gujarat shortly.
Nachiketa Desai is a Ahmedabad based journalist and son of Narayan Desai


Trending Now: