Bollywood's young bunch of filmmakers creating new cinema

V Radhika
&nbsp | &nbsp Toronto
16-February-2013
Vol 4&nbsp|&nbspIssue 7
Anand Gandhi grew up on a staple of mainstream Hindi cinema and he loved it. But as a filmmaker, he was sure his genre was neither going to be masala movies nor the erstwhile art house fare. He wanted to narrate stories set in urban India, a milieu he was familiar with.
Gandhi is not alone. Many young filmmakers are choosing to tread the independent path that straddles both commercial and art house styles but belongs to neither. Their stories are contemporary, gritty and stylistically global. Most of them are urban or have an urban reference because these filmmakers are from cities.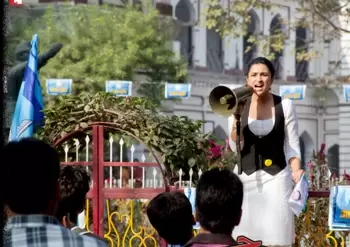 A still from the film 'Ishqzaade', a project of Habib Faisal, who describes himself as an "independent filmmaker within the commercial mainstream" (Photos: WFS)
"It is better to make an honest film rather than a pretentious one about rural India – a space that one is not familiar with," says Vasan Bala, whose debut film 'The Peddlers', was screened at the 37th Toronto International Film Festival (TIFF). The tale of two destitute 20-year-olds who fall into Mumbai's drug trade was also showcased during the 2012 Cannes' Critics Week.
Bala's argument strikes a perfect chord with his colleague, Ashim Ahluwalia, who argues that while cinematic greats like Satyajit Ray and Ritwik Ghatak were pioneers and even found able successors in the likes of Shyam Benegal and Mrinal Sen, in the 1980s and 1990s, "we saw very bad art house cinema where urban filmmakers made films about rural Indians, but were talking down to them."
In the last couple of years, however, independent cinema has found its own dedicated space. The popularity of this genre has essentially been driven by Anurag Kashyap and Dibakar Banerjee. Kashyap's 'Gangs of Wasseypur', a two-part film that centres round the power struggles, politics and vengeance between three crime families, has been described as a film that puts "[Quentin] Tarantino in a corner with its cool command of cinematically-inspired and referenced violence, ironic characters and breathless pace."
'Gangs of Wasseypur' was screened at the 2012 Cannes Directors' Fortnight and at the Sundance Film Festival in January 2013. According to Cameron Bailey, artistic co-director of TIFF 2012, where the film had its North American premiere, "Someone like Anurag is interesting because although 'Gangs of Wasseypur' is dedicated to Tamil action films, this is also a filmmaker who is clearly aware of Francis Ford Coppola's 'Godfather' trilogy or 'Once Upon A Time in America' or crime films/epics from international cinema as well. So you see in this new generation an engagement with commercial and art cinema, which I find interesting. They are finding their own path in the middle."
Hanslal Mehta, who has made 'Shahid', based on slain human rights activist Shahid Azmi, talks about the recent change in attitudes. He says, "When I had started making films that departed from the Bollywood narrative, it was like hitting my head against the wall because there was no way people were going to watch those movies. What Dibaker, Anurag, and Vishal Bharadwaj's movies have done is pushed the borders of what you call a Hindi film. They have tried to create a new language. They are exploring new themes."
It's this change that spurred Manjeet Singh to chuck his engineering profession and pursue filmmaking. Says the director of 'Mumbai's King', "The cinematic language is very different and what we are trying is to create a new grammar."
Some may argue that the middle path is a previously trodden one by the likes of Hrishikesh Mukherkee, Basu Bhattacharya, Sai Paranjpe. But what defines this current crop is their raw and edgy narrative coupled with a different style. Moreover, as industry observers point out, these filmmakers are not content with their stories being shown to a rarefied art house movie buff. They want to reach a wider audience but on their own terms.
Dibakar Banerjee, director of 'Shanghai', which explores the murky socio-political underbelly of "economic development", feels that filmmakers like him have the burgeoning middle class and the multiplexes they frequent to thank. He quips, "The same economic juggernaut that I am kind of criticising is responsible for my existence." The urban multiplex audiences are big enough for filmmakers to make a profit by screening a film in five cities.
Similar reasoning echoes from Anand Gandhi. He adds that while the art house cinema of 70s and 80s had great relevance, what was missing was the "cinema that was relevant to our lives: Those raised in cities and in urban environment and accessing the same cultures that others are accessing world wide".
Shaped by this access and exposure, the current crop of films narrates local stories in a global language and sensibility. The debutante's 'Ship of Theseus', a canvas of three stories woven together with a contemplative undertone received a very warm response at the Toronto Festival and was acquired by Fortissimo films.
Increased market acceptability of independent films has meant that finding the finance to make them has become easier. Guneet Monga, a producer associated with Anurag Kashyap Films Private Ltd (AKFPL), has come to be known for her indie films (shorts and features).
She says, "Our focus is simple: Universal stories told locally and we will find a market in India and outside." And she has managed that. Three of her films, 'Gangs of Wasseypur I and II' and 'The Peddlers' had international screenings and 'The Peddlers' has been picked up by Eros for distribution.
According to Monga, with the "growing ways of distributing a film we're all at a curve of understanding how best to reach people. The key is to contain the cost and keep reinventing ways of putting together a film and bringing it to the audiences."
Vasan Bala's debut film 'The Peddlers' is the tale of two destitute 20-year-olds who fall into Mumbai's drug trade
Private players are entering into the fray, with the likes of DAR Motion Pictures, the content arm of equity firm DAR capital group, investing in seven films and forming a syndicate of three investors to "bankroll another nine." The big studios are not far behind.
Yash Raj Films financed 'Ishqzaade', a project of Habib Faisal, who describes himself as an "independent filmmaker within the commercial mainstream". Bailey, who picked 'Ishqzaade' for a TIFF screening, agrees, "It is a commercial film and is supported by the biggest banner (Yash Chopra), yet you also see the influence of independent cinema in the style. It is as if Disney is influenced by Spike Lee."
There have been some innovative fund raising attempts, too. Vasan Bala and his producer Monga found support on Facebook. When they posted "Frustrated" on the FB status, offers of help came pouring in. In fact, technology has proven to be a special boon to the indie group in more ways than one.
Bala points out that now films can be made much cheaper thanks to technological advancements. "The advent of digital technology and camera has made it easier to shoot a film. It also leads to a different texture and aesthetics." Manjit Singh adds, "Digital technology and the Internet have been a huge resource to me. Earlier, where we needed 10 people to man equipment, now we can do with three. This also helps keep a low profile while shooting."
Besides unusual plotlines, what generally separates independent filmmakers – big and small – from their masala movie counterparts is their strong portrayal of women. Their female characters are strong and determined not passive and docile; they are not there merely for the 'glamour' quotient.
Recall 'Ishqzaade's Zoya, a fearless young student leader with a mind of her own, or 'Gangs of Wasseypur's Nagma Khatoon, a small town firebrand mother of four who isn't beyond confronting her husband in a brothel.
Ultimately, as Bailey puts it, "with this evolution of independent film-making what we will see is that these worlds (mainstream and independent cinema) will begin to overlap and boundaries will blur even more." And this can only spell exciting times ahead for cinema goers. - Women's Feature Service


Trending Now: