The president is keen on making the gardens accessible to public and eco-friendly
15-February-2013
Vol 4&nbsp|&nbspIssue 7
Rashtrapati Bhavan from Feb 16 will welcome visitors to its famed Mughal Gardens to stroll among the dahlias, roses and cyclamens basking in the warm spring sunshine.
Around 2,500 dahlias and 120 varieties of roses are blooming in the 15-acre garden in the President's House.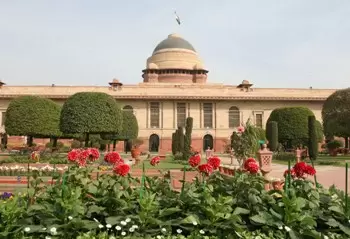 The garden will remain open to public from Feb 16 to March 17
Nigam Prakash Semiwal, officer on special duty (horticulture), said there are scarlet flax, sweet william and rose scentimental in the garden too even though the hailstorm and heavy rain early this month affected the quality of flowers.
Instead of tulips, cyclamens have been planted this year, he said.
The dahlias make up a floral wall encircling the Circular Garden and the credit for the grandeur and beauty of the sprawling garden is being given to the 35 gardeners who work here.
While President Pranab Mukherjee will inaugurate 'Udyanoytsav' (Garden Festival) Feb 15, he strolls around the garden every day, press secretary Venu Rajamony said.
"He likes to take a walk every morning and enjoys watching peacocks dance in the evening."
The gardens will remain open to public from Feb 16 to March 17 while differently abled and the visually impaired people can visit till March 19.
"The president wants Rashtrapati Bhavan to be more accessible to public. He also wants the entire premises to be eco-friendly," Rajamony said.
Rashtrapati Bhavan, the president's official residence, is spread over 330 acres and was designed by British architect Edwin Luteyns. - IANS


Trending Now: