These women racers wait for their F1 break

Bharat Sharma
&nbsp | &nbsp Chennai
11-February-2013
Vol 4&nbsp|&nbspIssue 6
Italian Giovanna Amati is best known for being the last female to enter Formula 1 and her brief stint in big time racing came way back in 1992. This says a lot about how tough it is for the fairer sex to break into the male-dominated sport.
Spain's Maria de Vilotta came closest to competing in F1 last year until she met with a fatal accident while testing for Marussia. F1 supremo Bernie Ecclestone and former World Champion Jackie Stewart have time and again endorsed adding the oomph factor on the grid but it seems the wait will persist.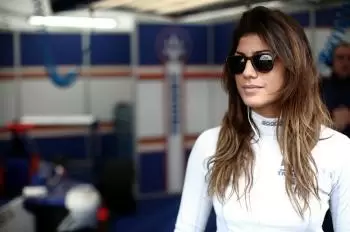 Vicky Piria (above) Carmen Jorda (inset) dream of getting into F1 circuit (Photos: IANS)
Three GP3 female drivers -- Vicky Piria, Carmen Jorda and Alice Powell -- currently here in India for the ongoing MRF Challenge, are also living the F1 dream.
"You get into racing thinking you will get into F1 one day. I am still far from there but confident that I will make my way to the top," says Vicky, who has also raced in Italian Formula Renault and Formula Abarth.
Women are expected to add glamour to the sport and Vicky has surely managed to turn some heads here with her stunning looks. But the glamour quotient also often leads to not being taken seriously by their male counterparts.
"It is a reality and you've just got to get used to it. Most of the men take women drivers lightly in Europe. But if the results are coming your way, they start respecting you," said the 19-year-old Vicky, born to an Italian father and British mother.
But there are advantages of being a woman as well. Vicky has got a bagful of modelling assignments, which doesn't come as a surprise.
"It does help (being a woman) in getting the attention and the publicity but at the end of the day you have to perform to get sponsors. You can't fool them with your beauty."
Vicky is planning to do another season in GP3 -- which costs around 600,000 euros -- after not being able to arrange funds for GP2, considered as the feeder series for F1.
Joining her on the MRF grid is Carmen, who has experience under her belt having been associated with Indy Lights in the United States and Spanish Formula 3, besides GP3. She is also an extremely popular figure in the racing world.
"It is quite different to be in India. I love the culture and I am enjoying my time here. It is nice to be racing here as there is hardly anything happening back in Europe due to the cold weather," said Carmen, daughter of a former racing driver.
Carmen has been around for long to know the environment in motorsports.
"You've got to know the right people and you've got to have the backing of sponsors. Without that, it is impossible to survive. Being a woman driver helps to a certain extent," said the 24-year-old, who is gearing up for another GP3 season and will be off to Barcelona for testing.
Both Vicky and Carmen know that they have a long way to go before reaching F1 and them not scoring a point in the 2012 GP3 season is not going to make their case any stronger.
Few would know about the rest better than Giovanna, whose F1 fame was shortlived after being sacked by Brabham just after three races into the 1992 season. - IANS

Trending Now: