Perpetuating the memory of legendary singer Begum Akhtar

Anjali Singh
&nbsp | &nbsp Lucknow
01-February-2013
Vol 4&nbsp|&nbspIssue 5
Out of sight, out of mind. This adage describes perfectly the lives and careers of numerous artistes and musicians of India. Once the toast of cultural circles, they easily slip out of public memory as soon as they quit the stage.
The late Begum Akhtar may not have become a complete stranger to the world of classical music but in her home state of Uttar Pradesh her soul-stirring voice has all but faded from the minds of music lovers. In fact, even as preparations are on nationally to celebrate her centenary year – which falls in 2014 – the state where she was born and received her musical 'taleem' (education) remains oblivious to her legacy.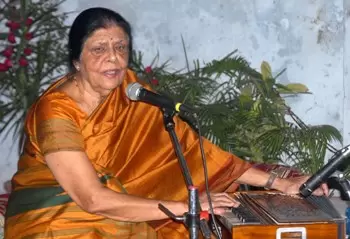 Shanti Hiranand, 80, a student of Begum Akhtar, has restored the latter's grave that once lay forgotten in a cemetery in old Lucknow's Thakurganj area. (Photo: Anjali Singh WFS)
But this will not be for long if 80-year-old Shanti Hiranand has her way. A student of the great vocalist, Hiranand has got together with some Akhtar fans to revisit her work and has even restored her grave that once lay forgotten in a cemetery in old Lucknow's Thakurganj area.
Born in Faizabad, Begum Akhtar came to live in the city and made it her home. She passed away here in 1974 at the age of 60 and is buried at a two grave cemetery next to her mother, Mushtari Sahiba.
Says Hiranand, "Begum Akhtar was my guru, guide and mentor ever since I came to her to learn singing in 1957. She passed away while performing in a concert at Ahmedabad. I was lucky to have been trained under her in the traditional styles of 'thumri', 'dadra' and 'ghazal' but I learnt a lot more from her than just that. She had a charming way of connecting with her audience. But the neglect her memory has been subjected to was painful for me and some other fans, so we decided to do something about it."
Hiranand first set her sights on the restoration of her guru's last resting place. But she knew that she needed to raise a lot of money for this ambitious project. Thus began her numerous rounds of the Ministry of Culture, Government of India. She even approached Prime Minister Manmohan Singh in order to ensure some action.
Her efforts bore fruit when the Department of Archaeology of the Government of India released Rs 5 lakh for the restoration and renovation of the grave. But the sum was not enough to meet the enormous costs that were estimated for this project.
Things started looking up once the Sadbhavana Trust of Lucknow came on board. Madhavi Kukereja is Local Head of the Trust, of which writer Salim Kidwai is also a founder member.
The Sadbhavana Trust's involvement began in 2010, when Kukereja invited Hiranand to perform at a concert organised by it.
She says, "At this concert, Hiranand made an appeal to the people of Lucknow to do something to help revive the Begum's memory in her own city. That's when we decided to support her."
Had it not been for an enthusiastic architect who decided to provide his expertise pro bono for this project, things would not have moved forward at all.
Delhi-based Ashish Thapar, who supervised the entire renovation work, says, "I belong to Lucknow and I have grown up here. Although I moved to New Delhi to study architecture and stayed on I always wanted to do something for my city. So when Madhavi approached me with the concept of renovating Begum Akhtar's grave I was ready. I am a big fan and here was my chance to do something creative for a great cause and that too for my hometown and its people."
But it was not an easy task as the graves lay amidst encroached land. Years of neglect had meant that they were reduced to a tiny piece of land behind a rickety gate that was difficult to approach.
Explains Thapar, "When I saw the condition the graves were in, I was shocked. While the area where the grave was had been a garden at one time, nothing of it was left because of encroachments. Although the entire task was challenging, based on the kind of person she was, the life she led and the ideology she lived by, I got an idea of what she would have wanted for her final resting place. A white and black makarana marble carved in Mughal inlay style was the ideal choice for the grave."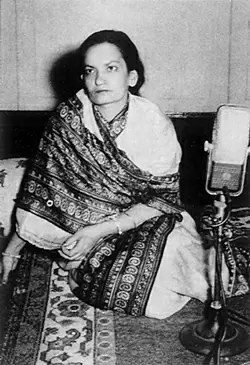 Begum Akhtar (Photo: Naresh WomenOnRecord)
Thapar joined hands with his friend, Parag Pradhan, an architect who specialised in marble inlay work. Says Pradhan, "Having grown up listening to her 'thumris' and 'ghazals' I was more than happy to get involved. When I got to know that the budget was limited and that Begum Akhtar's fans were getting together and donating their services to renovate and restore her grave, I wanted to be a part of the effort. I decided to design the marble inlay work to be used to cover the grave. My inspiration came from the motifs used in the Red Fort in Delhi."
The work was completed in time to mark her birth anniversary. A candle light tribute was organised at the musical legend's grave and it was thrown open to the public in November 2012. That glittering night in the presence of her fans, Hiranand brought the singer's work to life by giving her voice to some popular 'ghazals', 'thumris' and 'dadras' of Begum Akhtar.
Today, Hiranand is a happy woman. Besides keeping Begum Akhtar's work alive through her performances, she has now been able to give Lucknow a permanent monument to the singer's greatness. - Women's Feature Service

Trending Now: