Delhi gang-rape has prompted women to train themselves in martial arts
Prathiba Raju
&nbsp | &nbsp New Delhi
11-January-2013
Vol 4&nbsp|&nbspIssue 2
In the wake of the gang-rape in Delhi that brought thousands of women out on the streets of the capital in unprecedented protests, many women are making a beeline for self-defence classes and getting trained in street-fighting techniques to take on attackers.
"After the brutal gang-rape, many women, particularly working women, approached us for self-defence classes," says Shiv Makkar, martial arts trainer at the 5 Element School of Arts in Rohini.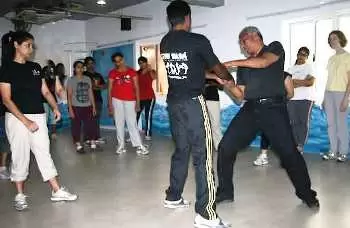 In Chennai, Kravmaga expert S Sreeram training women in self-defence techniques
He said the school had already started two batches since the Dec 16 gang-rape and death of a 23-year-old woman.
"Many want to get trained in mixed martial arts, particularly street fighting," he added.
Street fighting is a self-defence technique an individual is taught to tackle at least five to six people with and without weapons.
Makkar said the most-taught self-defence technique was Aikido that teaches women when, how and where to attack.
"Aikido is an effective self-defence technique that focuses on dislocation of joints and nerve points," he added.
Captain (retd) Jaipreet Joshi of Fitcomb, who conducts self-protection classes in Delhi and the National Capital Region (NCR), said he has been flooded with calls from working women and anxious parents ever since the Dec 16 gang-rape.
"There has been a sudden surge for self-defence and personal protective training. This happens whenever the city sees a major crime against a woman," Joshi said.
It is not just working women who are enrolling for such classes.
"We are getting queries from women of all age groups, right from 15 to 50 years," Joshi added.
A recent survey by industry group Assocham showed a 40 percent fall in productivity of women employees at call centres and IT companies because many were afraid to venture out at night and had thus reduced their hours or had quit.
Roshini Singh, who works in a multinational company in Gurgaon, said she faced tremendous pressure from her parents to leave her well-paying job.
"It was so hard to convince my parents. I drive my own car. But there are days when I get late. As I have to travel for an hour to reach home, my parents insisted that I quit," said Singh who lives in Prashant Vihar in north Delhi.
"I didn't want to do it; so I thought it is better to take self-defence classes. Now I am learning kick-boxing. My parents are fine now," Singh added.
Like her parents, Tanuja Sharma, 50, was scared about her college-going daughter. As she was not able to convince the 20-year-old, she thought it was best for both of them to train together.
"Now she is showing some enthusiasm about these classes," said Sharma, who lives in Malviya Nagar and is a home-maker.
She said the Dec 16 incident was a "real shocker".
She said in the self-defence training, both of them have so far learned moves like how to get away from the grip of an attacker or how to disable an attacker with a punch on the nose or a kick in the groin.
The 23-year-old physiotherapist trainee was gang-raped by six people in a moving bus. She was robbed, stripped and then thrown off along with her friend in the cold December night. She died Dec 29 and was quietly cremated Dec 30.
The attack, which made news around the world, led to an outpouring of grief and outrage, with protesters demanding death for the rapists and stricter anti-rape laws.
According to martial art experts, mixed martial art training is also most sought after and is a combination of Judo, Aikido, Muay Thai and Karate, among others.
The experts said apart from these known techniques, women are also keen to take up kick-boxing which teaches one how and where to punch.
The trainers say their fee ranges from Rs.2,000 to Rs.2,500 per month and classes are flexible according to an individual's schedule.
To instill the feeling of security among young girls, the South Delhi Municipal Corporation (SDMC) also recently launched a self-defence programme. This is, however, only for South Delhi-based corporation schools. "Teachers can also enroll for the classes," says SDMC mayor Savita Gupta.
"We have taken this initiative for the first time. In the self defence programme, teachers and students from 548 schools in our area will be trained to tackle real-life situations and protect themselves from anti-social elements.
"We will also extend it to the east and north corporations' schools later. We are planning to allot a special budget for it," Gupta added.
Joshi lamented that women start attending classes after such incidents but soon lose interest.
"They should continue their training. If they stop it mid-way there is no use," he said. - IANS

Trending Now: