Bengal's Krishnanagar doll makers now have a savior who is an artist himself
Sahana Ghosh
&nbsp | &nbsp Kolkata
04-January-2013
Vol 4&nbsp|&nbspIssue 1
Hoping to inspire the potters of Krishnanagar in West Bengal to revive their dying traditional craft of clay doll making, Kaushik Biswas, a contemporary artist, has taken it upon himself to sculpt and showcase the lost grandeur of the exquisite forms to the masses.
"I am not related to the potters in any way. I live in Krishnanagar surrounded by generations of artists and seeing them make the clay dolls from scratch is like magic. I was spellbound and that influenced me to watch and learn the process.
A vegetable seller crafted in Krishnanagar fashion (Photos: IANS)
"Now it is a dying art form and I feel that I can make some difference by promoting it in my own way," says Biswas, 41.
The clay dolls of Krishnanagar (in Nadia district) are famed for their realistic depiction of everyday village life - fishing, farming, rag picking, basket making, cooking, cleaning and worshipping, among others - and subjects like fruits, vegetables, birds and animals. They have been a part of the legacy of the native potters for over five generations.
The art received international recognition and saw its golden days during the reign of 18th century king of Krishnanagar, Raja Krishna Chandra Ray, who was well known for his fondness of art and literature.
"During his reign, the figures were exported and the artists were even sent abroad to promote and teach the art. The dolls can be found in many international museums. But now, exports have totally stopped. No one knows about them," said Biswas, who holds a postgraduate degree in arts from the Rabindra Bharati University.
History being the witness, Biswas says that after Raja Krishna Chandra Ray's death, his successors did not patronise the art form and the once-glorified artists faded into oblivion.
"Gradually the fame dwindled. The other rulers did not promote it like Krishna Chandra did. The international doors also closed slowly," said Biswas.
Post-independence, with the 'zamindari'(landlord) system abolished, it further lost its appeal.
"The rich landlords used to patronise the craft. But when they lost their status and money, Krishnanagar potters lost their patrons," pointed out Biswas.
"This is a grand treasure and to us artists it is a learning ground. If we can generate public awareness through exhibitions and workshops, it might inspire the Krishnanagar doll makers to afford a second chance to their heritage," said a hopeful Biswas of his effort.
According to Biswas, the realistic depiction of rural life - the calling card of the clay figures - is a painstaking and multi-layered process.
"Each figure takes a minimum of two days to make, since they are extensively detailed. Besides each and every part, from the limbs to the accessories, are separately sculpted from clay and then assembled to complete one piece," Biswas explained.
As a contemporary artist whose repertoire includes abstract sculptures and various modern art forms that are popular today, Biswas empathises with the plight of the potters and their vanishing legacy.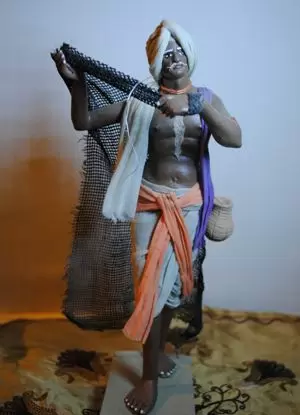 A fisherman crafted in Krishnanagar fashion
"Ever since the art form lost its appeal primarily due to lack of patrons and proper promotion, the money they get by selling them has turned meagre. It is not enough for sustenance and consequently they have lost interest," explained Biswas about the dwindling number of artists.
Seconding Biswas, city-based interior designer Urvashi Basu, who showcases Biswas's work at her The Design Studio, shed further light on the issue.
"Besides the financial dilemma, they receive no support from the government. No one wants to invest in them. This reflects in their workmanship. Nowadays, the figures lack that characteristic intricacy and attention to detail," said Basu.
Add to that, the slew of inexpensive, duplicates cast in Plaster-of-Paris and other raw material, further threatens the artists.
"People are buying the inexpensive duplicates without realising that they lack the exquisite details of the original," says Biswas.
For Biswas who grew up surrounded by the artists, it was "saddening" to see the younger generation abandoning the age-old practice.
"It is only natural that they will pursue other things that will give them a better chance to earn a living. It is saddening to see that the present generation is not interested in it," lamented Biswas, who feels that including the art form as part of the curriculum of art courses might highlight its importance.
Despite limited means and a full-time career, Biswas hopes his efforts will do a lot to boost the confidence of the potters in themselves and their "treasure". - IANS

Trending Now: