Bollywood's defining moment In Indonesia
Shuri Mariasih Gietty Tambunan
&nbsp | &nbsp Jakarta
22-December-2012
Vol 3&nbsp|&nbspIssue 51
Indian films, which have been a part of the everyday lives of Indonesians due to the country's long historical links with India, have become a visible element in Indonesia's mediascape due to their global mediation as Bollywood. But the defining moment of Bollywood's recognition in the archipelago nation came with the successful run of the film, 'Kuch Kuch Hota Hai' at the end of July 2001, which marked the revival of Indian films' market among the Indonesian upper class… An excerpt from the chapter Bollywood Film Culture In Indonesia's Mediascapes by Shuri Mariasih Gietty Tambunan, in the book The Magic Of Bollywood: At Home and Abroad.
Indian films, which have been a part of the everyday lives of Indonesians due to Indonesia's long historical link with India, have become a visible element in Indonesia's mediascapes due to their global mediation as Bollywood.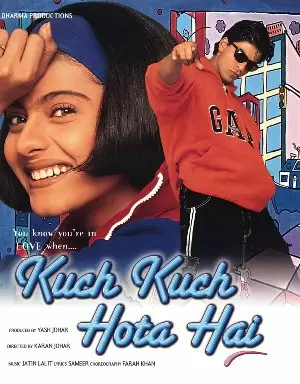 Kuch Kuch Hota Hai was a big hit in Indonesia
Commercial Indian films were first imported into Indonesia by the allied armies in 1945, after the declaration of Independence, as entertainment for the Indian troops who were part of the British army. Indonesian film historians have granted that Indian and Chinese films served as an important model for Indonesian films in the 1950s.
However, the popularity of imported films, including Indian films, posed a "threat" during this period to the Indonesian film industry trying to establish itself primarily due to their low import cost. "It is no wonder that, for business sake, movie theater owners would rather choose imported films which were more promising commercially compared to national films" (Kurnia 2006: 282). It is during this period that Indian films started to proliferate within Indonesia's mediascapes.
In the decades that followed, Indian film culture in Indonesia experienced several changes, especially in terms of how they were consumed and by whom. With the downfall of Indonesian film industry in the 1970s and 1980s, Indian films were still shown extensively in movie theaters in big cities in Indonesia.
But, as they were perceived as low-class entertainment, they were only shown in second- and third-class theaters while A-grade theaters were reserved for Hollywood (or Western) films. Rivoli, one of the movie theaters in Jakarta known as the Bollywood film hub built in the 1950s, mainly showed Indian or Bollywood films until it was officially closed down in 2002.
In a newspaper article, the journalist interviewed a food seller in front of Rivoli, named Sarkan, who eagerly explained to the journalist that Rivoli had been the "it" place to watch Bollywood films since 1976 when he had first set up his food stall there. "This is the 'top' movie theater. If you want to watch Indian film, this is the place. The most crowded time was every Saturday night. I could sell food here until 1 am."
The next stage in the proliferation of Indian films in Indonesia was when the concept of the cineplex (movie theaters with more than one screen) was introduced in 1987. These new movie theaters were centralized in malls or entertainment hubs, which are oriented toward youngsters.
In the beginning of 1990, the movie theater network in Indonesia was subsumed by the 21 Cineplex chain and became the dominant movie theater network for middle- to upper-class viewers in Indonesia. By the year 2000, the 21 Cineplex all across the country started to add the XXI and The Premiere windfall.
Due to the dominance of the 21 Cineplex, second- and third-grade movie theaters gradually lost their importance. Movie theaters such as Rivoli were able to show only two movies at the same time, whereas the 21 Cineplex movie theaters could show multiple films, thus enticing a bigger number of audiences.
A crucial turning point in the history of Indian films during the 1990s was a "dynamic upward mobility" (Bettina David's terminology) they acquired in Indonesia's public culture, or better known as Bollywood.
The early stage was in 1991 and 1992 when a private television station broadcasted Ramayana and Mahabharata, Indian television series based on ancient Sanskrit epics. These television series were very popular and reached a high rating between 48 and 60, confirming the long-standing popularity of Indian popular culture in Indonesia through television.
The private television that broadcasted Ramayana and Mahabharata for the first time was Televisi Pendidikan Indonesia (TPI), which has continued broadcasting Indian films targeting films fans who had traditionally watched Indian films in second- or third-grade cinemas. In addition, in 1996, Indosiar, another private television station, started broadcasting Indian films on weekends.
In the 1990s, there was a wide spread of television in Indonesia and close to 90 percent of the total population had at least one television set in their living rooms, although television was still considered as a luxury item. When Bollywood films "moved" from cinema halls to living rooms through the television set, there was a shift in their consumption. The change of mediascape definitely changed the mode of consumption.
However, Bollywood films were still considered as low-class entertainment in the early years of their popularity on television. Some even mocked TPI by jocularly changing its name from Televisi Pendidikan Indonesia to Televisi Pembantu Indonesia, which literally means Indonesian Housemaid Television. The common assumption about housemaids being the devoted audience for these films could not be validated due to the limited number of research on audience reception of Bollywood films during this period.
But airing the films by the television channel during the daytime broadcast slot when housemaids would have had spare time to watch television strongly corroborates this assumption. Thus, it may be argued that Bollywood films were still considered as low-class entertainment during this period even though they were no longer screened in second- and third-class movie theaters.
The defining moment of Bollywood's recognition in Indonesia's mediascapes is the successful run of the movie Kuch Kuch Hota Hai (KKHH) at the end of July 2001, which marked the revival of Indian films' market among the Indonesian upper class.
KKHH created a flurry in the consumption of Bollywood films and also in the circulation of this cultural phenomenon into every mediascape in Indonesia. "The Hindi film 'Kuch Kuch Hota Hai' (1998) was a bigger box office success than the 'Titanic' when it was screened in Indonesia and when the same film was shown on T.V. (2002), ratings shot through the roof " (Ostepeev 2011).
KKHH's popularity was the beginning of the flows of similar "clean family films" into Indonesia replacing the 1970s/1980s action drama films (Amitabh Bachchan's "angry young man" films). Films such as Mohabbatein, Kabhi Khushi Kabhie Gham, Veer-Zaara, Kal Ho Naa Ho, Koi...Mil Gaya, Chalte Chalte, and several others are examples of the new romantic family dramas characterized by an absence of violence and the presence of affluent characters with Western (then interpreted as modern) status symbols (fashion, cars, lifestyle, etc.).
On the other hand, modern elements are balanced with traditional aspects of the film by emphasizing family values and pure romantic love. In conclusion, these films are highly modern and fashionable, yet thoroughly Indian and melodramatic.
KKHH was not only a box office hit because it reached its success not only through A-grade theaters (and also the second/third-grade theaters for the lower classes' consumption), but also through its repeated television broadcasts and through pirated VCDs circulated from one person to another.
Citing my own experience, I was first introduced to KKHH when a fellow classmate brought the pirated VCD to class and started to tell us how much she had loved this film. Her new Bollywood fetish was quite a surprise for me and my fellow classmates because as an avid art film lover she would never have considered picking up…
(Excerpted from 'The Magic Of Bollywood: At Home and Abroad', edited by Anjali Gera Roy, Department of Humanities and Social Sciences, Indian Institute of Technology Kharagpur, West Bengal; Published by Sage Publications; Pp: 356 pages; Price: Rs 750/Hardback) - Women's Feature Service
Wish to share your story?
Trending Now: