How ordinary villagers turned into catalysts of change
Pranav P Das
&nbsp | &nbsp Gumla
19-December-2012
Vol 3&nbsp|&nbspIssue 50
Gumla, a small district in Jharkhand, has had to contend with more than its share of problems. Around 68 per cent of its population is tribal and endemic poverty has contributed to the district emerging as a site of extremist activity.
It is against this backdrop that ordinary villagers demonstrated how the Mahatma Gandhi Rural Employment Guarantee Act (MGNREGA), the government's flagship rural employment programme, can be made into an instrument of both economic and social transformation.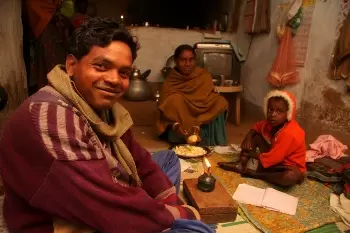 Dhuran motivated other families in the village to demand the digging of a new well under the MGNREGA scheme in his village so that it would benefit the excluded communities as
well (Photo: Ranjan Rahi PACS)
Meet Dhuran Oraon, 28, a dynamic trendsetter in his Suwargurha village, Gumla. His moment of learning came when the Naya Sawera Vikas Kendra (NSVK), a local non-government organisation that works with scheduled castes (SC) and scheduled tribe (ST) communities on rights, justice and livelihood issues, initiated a campaign for getting a well under MGNREGA.
The usual problem with work being sanctioned under this rural job scheme was that the assets created largely benefitted the dominant castes in the village. But this new well was to be different - it could also be accessed by the excluded communities in Suwargurha, including dalits and tribals. So Dhuran promptly joined in the effort, elated at the possibility of doing something that would benefit his large family.
Recalls Dhuran, "We had no means of getting water for irrigation but the gram sabha had not considered our plight, and decided to get a well constructed under MGNREGA at a location outside the village. Although they promised us work if we went ahead as per this plan, all of us decided to say no."
Dhuran also managed to motivate other families to boycott this project. It was only after the decision to construct the well outside the village was scrapped in favour of having it built within Suwargurha, that Dhuran and others from his community signed up in large numbers to build this much-needed resource.
Says Dhuran with satisfaction, "After the project was shifted here it not only created jobs for the local community but also made irrigation water available for everyone."
In Suwargurha, it is not just men who have come to understand the multiplier impacts of an intervention like MGNREGA.
Sita Devi, 38, was a homemaker until the construction of the well changed her status within the family. She may have spent a better part of her life doing back-breaking work from dawn to dusk at home but she was never paid for her effort. Now she earns money for her work in MGNREGA and that makes her feel empowered.
Sita puts it this way, "I have two school-going children and there were so many things they need that we can't afford to buy. After working under MGNREGA, I now realise how important financial independence is for women. What I earned was not a big amount but it gave me the satisfaction of being an earning member apart from my husband."
Like Dhuran and Sita, Budhnath Khariya, 52, from Bangru village in Kumhariya Panchayat, Gumla, has also been able to make use of MGNREGA to build a life for himself. "I got a job card some five years ago but it was only a year back that I became fully aware of my rights under the scheme," remarks the strongly built tribal youth, who prefers western clothes and is invariably clad in T-shirts and trousers like any young adult in the city.
Bhudhnath is one of the many young members of socially excluded communities who have been trained to become catalysts of change as part of an ongoing campaign launched by the NSKV in partnership with the Poorest Areas Civil Societies (PACS).
Local activists and volunteers have been working to empower and mainstream them through effective advocacy. Some like Bhudhnath have been quicker to leverage this new-found training for the benefit of his community. "After interacting with NSKV volunteers I came to know that wells could be constructed under the MGNREGA scheme. We got families to demand the same and were successful in getting the construction started in January 2011," he reveals.
Lack of information and awareness about the provisions of the MGNREGA is still one of the major hurdles in its effective implementation. A common misconception that people harbour is that if one looks too old or frail, one will not be given work under this programme.
Dibla Oraon, a resident of Haruwatoli village in Gumla district, who looks much older than his 54 years, did not even bother to apply for a job card because he was sure that he was ineligible for it. An NSKV awareness camp in his village made all the difference.
Recalls Dibla, "When everyone was applying for a job card, someone in the village told me that I was not eligible because I was too old. Even the gram sabha members did not seem to know. But now I know that MGNREGA is available for every adult who wants to work. I will now make sure I get a card issued in my name."
Dhuran, Sita, Bhudhnath and Dibla, four stories of social transformation in an area where illiteracy and the threat of Maoist insurgency have cast a shadow on the lives of people. But they would have had very different endings without effective awareness and information delivery. As young Bhudhnath puts it, "With a greater understanding about all aspects of MGNREGA, we can effectively demand our rights." - Women's Feature Service

Trending Now: