Fitness coach seeks to make Mumbai's cops lean and strong
Mauli Buch
&nbsp | &nbsp Mumbai
15-December-2012
Vol 3&nbsp|&nbspIssue 50
Mumbai police are set to emerge leaner, stronger. If this fitness trainer has his way with the city's lawkeepers, the force would emerge not only physically fitter, but also more agile mentally and, it is hoped, that much more efficacious.
Mickey Mehta, an expert in fitness, holistic healing and life coaching, had trained many a corporate honcho on managing a large company. These days, he is putting his expertise to work on the city's policemen.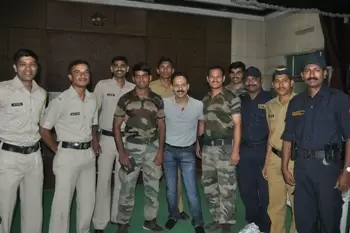 Mickey Mehta (centre, in blue denim, grey t-shirt) with officials from Mumbai Police (Photo: IANS)
For four months, Mehta has been busy training the Mumbai's cops. He offers psychological counselling, diet education and tips on exercise and yoga.
Not only is the training offered free, Mehta also gives letters of appreciation and rewards to those who do well. He has also sponsored cash rewards for obese personnel who lose three kilos of weight or more.
"The biggest (weight) loser, however, will receive either a cash prize of Rs.10,000 or a TV or a refrigerator," said Mehta.
"As a holistic healer, I wish to grow, learn, help and educate every person that surrounds me. I wish to share my knowledge and who better to share it with than the true heroes of our society that readily lay down their lives for us," says Mehta.
"This initiative got formalised when the current Mumbai Police Commissioner, Satyapal Singh, mandated that all police personnel starting from the bottom of the pyramid to the top should be fit and healthy," Mehta explained when asked how it all began.
Additional Commissioner of Police Krishna Prakash said that the personnel needed to correct their posture and exhibit better stamina.
"We felt that policemen in our force need more agility and flexibility. They not only needed training to combat mental stress but also needed to go through a strict and disciplined physical training schedule. Hence we tied up with Mehta and another fitness trainer, Ravi Dixit," said Prakash.
Prakash said that initially all policemen under the age of 40 will be trained and their sessions will include power yoga, martial arts and other physical exercises along with sessions in psychological counselling, stress management, diet and hygiene. Ayurvedic medical camps would also be conducted.
"After all policemen under 40 finish with their training, the programme will be extended to officers over 40," he said.
Mehta said a new batch of policemen is trained each week. "From 7 a.m. to 8 a.m. (three days a week) police personnel undergo physical endurance exercises, yoga and self-defence training. Then from 2 p.m. to 3 p.m. they have lectures on nutrition, ayurveda, self help for wellness, strength and conditioning and psychological counselling."
The lectures are conducted by Yusuf Matcheswalla, a reputed psychiatrist. The session ends with meditation, during which the policemen introspect.
Mehta works with a team of 10 experts, and himself lectures to boost morale and keep the force agile and enthusiastic.
Those who have finished their training with Mehta have positive feedback to offer: "As a participant, I can honestly say that I feel less stressed. In fact I now have the energy to take on more responsibility and have some fun too," one police officer said. - IANS

Trending Now: