Cycling addicts to go on a trip to get their high during last week of the year

14-December-2012
Vol 3&nbsp|&nbspIssue 50
For Vasanth Ramaswamy, a 38-year-old software professional in Chennai, the year always ends on a high note. The last week of December is the season to chase his passion. He would take off from the city mounting his bicycle, to explore the countryside, to breathe unpolluted air, and to discover new places.

Vasanth will hit the road along with other members of the Tamil Nadu Cycling Club (TCC) on December 23 on a week-long ride that would cover a total distance of about 865 km. The ride will start from Chennai and cover the various heritage spots in Kanchipuram, Thiruvannamalai, Thanjavur, Chidambaram, Auroville, and Mahabalipuram.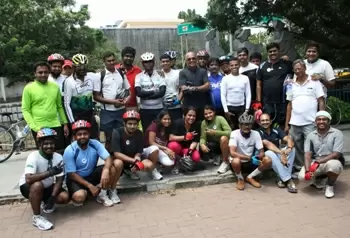 Tamil Nadu Cycling Club's members are geared for their flagship event, Tour of Tamil Nadu
About 40 riders from the club will be cycling around 120 km each day to finish the ride within a week. The longest distance they would cover in a day is the almost 200 km stretch between Thanjavur and Auroville.

The tour is TCC's flagship event. Called 'Tour of Tamil Nadu,' each year the ride is based on a theme and conducted during the last week of December. In 2010, the theme was 'Mountains,' in 2011 it was 'Cuisine,' and this year it is 'Heritage.'

"These rides give you an opportunity to visit various parts of Tamil Nadu and understand local culture," says Vasanth, who has taken part in both the previous editions of the tour.

TCC has been growing in numbers since its formation in March 2010. Before being formed as a club, it existed as an informal group, says Venkatraman Venkatadri, the club's treasurer, who is a senior executive at HCL Technologies, Chennai.

"Since last year TCC's strength has almost doubled. We have about 1500 members now, out of whom around 800 are very active," says Venkatraman.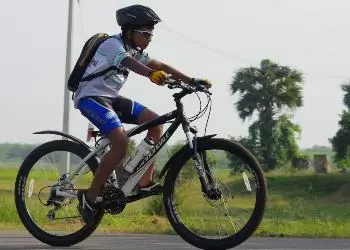 TCC has about 1500 members, including kids
TCC has programs round the year, holding periodical competitive and recreational events for its members. Popular competitive events are the 'time trial' for individuals and teams, and the 'mass start' race.

"We conduct 'time trial' races every alternate month on a 24.8 km stretch on the East Coast Road. In this event participants don't race against each other, but they race against time. They ride from Point A to Point B on a given route and the one who covers the distance in the shortest time is declared winner," says Venkatraman.

In the 'mass start' race, participants start together and the one who finishes a 40 km stretch first wins the race. In the endurance category, a non-competitive event, participants cover distances of 100 – 200 km. Then there are the popular night rides, where the cyclists enjoy riding on near empty roads in Chennai.

"The number of people using bicycles in Chennai is slowly increasing. TCC has played a small role in promoting this culture in the city," says Venkatraman, adding that people of diverse backgrounds join their club.

"We have cyclists riding on a bike costing Rs.5000, as well as someone like Sundar, who has a Colnago bike that costs Rs.1.8 lakhs," he says.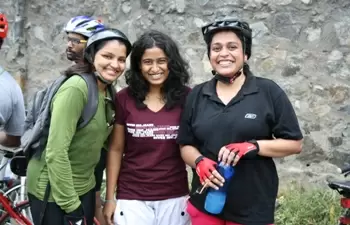 For many in TCC, cycling is an obsession
For many in the club, cycling has become an obsession. Rajaram Pattabiraman, a builder, for instance is up at 4.30 am everyday and leaves his home in T. Nagar and cycles all the way to SIPCOT on the Old Mahabalipuram Road and back, doing a total of 53.8 km each day.

"It is kind of addictive, but it keeps you fit. At 44, when I see myself riding along with much younger people, I feel so good," he says.

The big event for veterans like him is the upcoming 'Montra Tour of Tamil Nadu,' which is growing each year both in terms of participation and visibility.

Trending Now: