Spouses of top cops in Kota on literacy drive
Rakesh Kumar
&nbsp | &nbsp Kota
11-December-2012
Vol 3&nbsp|&nbspIssue 49
Until a few months ago, Pushpa Tanwar, 48, was unable to read or write. But a few months into the special literacy classes being conducted in Kota district of Rajasthan, and she proudly announces: "I can now sign in English, write phone numbers, and withdraw money from the ATM."
Not only that, Pushpa can count till 1000, has learnt tables up to 12, and write the names of her family members in English.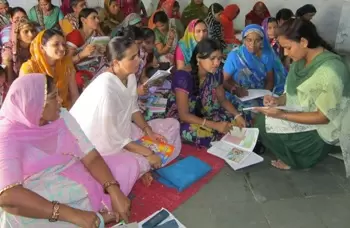 Special literacy classes are being taken at the Kota Policeines for wives of policemen posted in the district (Photos: Rakesh Kumar WFS)
Pushpa is one of the 50 women, who have been attending the literacy classes at the Kota Police Lines. All of them are wives of policemen posted in the district. Pushpa's husband, Gajendra Singh Tanwar, and her younger son are police constables, while her elder son is in the Home Guards.
The women, who have been divided into two batches, are taking lessons from lady constables Anita Yadav, Tara Shakya and Pratibha Shukla. Their daily classes begin at 11 am and get over by 4 pm. The first batch comes in from 11 to 1.30 pm, the second group starts off at 1.30. There's no recess, but there's always homework.
The first batch of 23 women, who didn't take a break during the summer vacations, have now graduated to level 2, with Pushpa being one of the proud members of this group. "I am reading books that are meant for Class III students," she adds with a big smile.
It all began in March this year during the Range Police Sports Meet. During memory games for the police wives, it was realised that some of them were illiterate.
That's when the idea of initiating adult literacy classes came to Varsha Tanu, wife of Kota City Superintendent of Police, Prafulla Kumar, and Dr Radha Maheshwari, wife of additional SP Lalit Maheshwari. Constable Anita Yadav took up the responsibility of conducting a survey of family quarters to select 50 women who were ready to learn.
A hall measuring 20 feet by 30 feet near the canteen in the family quarters was readied for the classes, which began on March 18. Varsha arranged for the books, notebooks and stationery items for these eager students. In the starter's kit, each woman was given three books of Hindi, English and Mathematics for beginners, three notebooks and two pencils and erasers.
Constable Anita, 35, one of the teachers, remembers one of the initial hurdles in teaching these women. "We had to start from scratch as some of them didn't even know how to hold a pencil," she says.
After a few lessons in the first quarter, there were a few dropouts as well. But Varsha motivated them to be regular. "I interacted with them, gave them a few grooming lectures and even organised medical check-up camps. I am happy that now all of them are regular with the classes. We are also getting some civilian women coming for these classes," she elaborates.
Constable Mohan Lal's wife, Laxmi Devi, 50, never misses her classes. An avid lover of 'bhajans' (devotional songs) she wants to be able to read religious texts one day. "If I hear a bhajan that I don't know, I want to write it in a diary and learn it. Earlier, I couldn't because I was illiterate. Now that I am attending these classes, I think in some months I will be able to not only write bhajans but also read religious books," says this mother of four.
Laxmi's second son, Ashish Kumar, is also in the police and is posted at the District Magistrate's bungalow as a guard. Laxmi says that she hasn't memorised the English alphabet so far but "can read them from the book".
Of course, these classes are not just for the older women. Those who have school-going children are now studying along with them and have great plans for their future.
Today, Seema Meena is reading the same books as her five-year-old daughter, Harshita, who is in Class One. "I have never been able to help my daughter with her homework; instead she sometimes helps me finish my class assignments," admits Meena sheepishly.
Besides the two-and-a-half-hours at the literacy centre, Seema studies at night, from 9 to 10.30 pm, even though she has to get up at 5 am the next day to get her two children ready for school.
Similarly, Geeta Bai, 36, sits with her 12-year-old daughter Priya to revise her daily lessons. She says she can now easily do the calculations when she goes out to buy provisions for the home.
Behind all these happy smiles is the hard work put in by their teachers. Pratibha Shukla is the youngest tutor at the centre. The 23-year-old constable did her Masters in History before joining the Rajasthan Police. She agrees that it's not been easy teaching the women. "I have to sometimes scold them," she says, "But our effort is nothing in comparison to their commitment. They have to look after the household, their children and still they have a fire in their belly to learn. Their passion encourages teachers like me." – Women's Feature Service


Trending Now: