Camels, horses, dogs, and a goat, stars of a circus

Sudhamahi Regunathan
&nbsp | &nbsp Nagpur
05-December-2012
Vol 3&nbsp|&nbspIssue 48
A colourful tent, pitched in the remote Maharashtrian village of Paradsinga in Nagpur district, is buzzing with activity. There is an air of anticipation all around as eager crowds throng the premises. This is K. Ramaraju's Om Sai Anusuya Mata Circus that travels through the countryside showcasing the amazing talent of acrobats and other performers.
In India, the circus as a form of live entertainment may almost be on its way out, but as one waits for Ramaraju's show to begin, one realises that the magic and mystery that surrounds a circus tent is very much alive even today in these parts.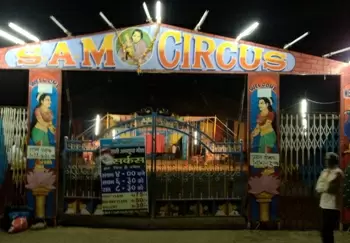 K. Ramaraju's Sai Anusuya Mata Circus travels through the countryside showcasing the amazing talent of acrobats and other performers (Photos: Sudhamahi RegunathanWFS)
Many questions come to mind: How have these artistes managed to survive? Do they still have performing animals? Do they still wear glamorous, star-spangled costumes? Thoughts of runaways finding refuge in the circus, of performers living a life of romantic struggle and wild animals getting loose fill the mind, as do contemporary concerns like child labour, safety of artistes and animal rights.
Says K. Ramaraju, the owner, who doesn't sport a huge moustache – a la Enid Blyton's iconic circus owner Mr Galliano - or wear a colourful costume, "I hail from Madanapally in Andhra Pradesh and have been in this business for more than 45 years. It was my father's company and my grandfather's, before that."
His circus is still doing well although Ramaraju feels that "the glory of old days is gone". He remarks wistfully, "We used to have a cheetah and a lion in our company in addition to other animals. They were our ace performers. But about 15 years ago, when the government banned the use of such animals in the circus, we had to give them up. We faced a major crisis at that time. Before the ban, there had been about 350-360 circus companies across India. Today, only 40-odd small circus companies like ours survive."
Incidentally, Ramaraju reveals that there is a circus federation of India although he is not a member. "There are still some circus companies, which get artistes from abroad, particularly Russia. We face stiff competition from these bigger establishments but we are happy with the people who come to watch us," he says, speaking perfect Hindi.
The tent is now packed and there's a huge round of applause from the audience, indicating that the show is about to begin. Ramaraju's circus is well known in Paradsinga as the company comes here once every two or three years for around 15 days. "In most places we camp for one month. We have a bus, but a lot of our travel is done on foot, as we move from village to village," explains Ramaraju. The tickets are modestly priced - Rs 30 (US$1=Rs 55) for adults and Rs 15 for the seats at the back; there are a few seats that come at Rs 50 and Rs 75 as well.
But now it's back to the show. As cheerful music blares on the loudspeakers, the stars appear from behind a red velvet curtain. Performers walk past the ring, followed by the acrobats. There's also a clown, his face painted white and nose, red. He is wearing the striped clothes of a clown although they are a little faded. After him come the animals – camels, horses, dogs and even a goat!
As if on cue, Ramaraju says, "We have had to improvise. We use only domesticated animals and they perform very well. The camels have stepped in for the elephants now." As the animal acts kick off, everyone is pleased. The camels fill the stage, as they sit, stand and walk around magnificently.
The pack of dogs delights everybody with their tricks, rolling over drums and jumping through rings. But it's the goat that is the surprise package as it walks on the tight rope! "We feed the animals with fodder available in the jungles nearby," says the enterprising owner.
Next up are young girls dressed in bright yellow and green. Points out Ramaraju, "It is not true that we hold our artistes by force. They are professionals who come to us in search of jobs. Sometimes it's the parents who leave their children with us. Most of my performers are from Manipur, West Bengal and Nepal."
The manager of Ramaraju's circus is Raman, who hails from Kerala. According to him, there are presently 60 people in this circus. Everybody, including the performers and the staff, help pitch up the tent and set up the stage. "Circus artistes move from one company to another so we have new people coming in all the time. Mornings are reserved for practice. We have a person who designs the acts. There are three shows daily – at 4, at 6.30 and at 8.30 in the evenings," Raman elaborates.
As one watches these effortless performers do their act, one wonders what their life would be like. Where do they come from? How did they end up in the circus? Do they have children? What are their hopes and dreams for the future?
Raman shares his story. "I ran away from home 60 years ago. In those days a circus was big business so I joined one. I married here and travelled with my wife. Today, my sons are employed elsewhere and my wife is no more but I continue to be with one circus company or another."
In the field opposite the main performance enclosure, there are smaller tents. This is where the artistes stay. Meena (name changed) is willing to talk although she does not want her identity to be disclosed. "In many ways our lives are better than that of our parents. My parents too worked in the circus and met there. My father hailed from Kerala and was a cleaner, while my mother, a Manipuri, performed as a gymnast.
"My mother used to face a lot of social stigma those days as she wore short skirts. Today, we have no such problem but our grouse is that we are not recognised as artistes. The same thing that we do here, we see in cinemas too and those people get better money and greater respect," she says. Meena is married to a man from Bengal who sings in the circus troupe, while her daughter opens the show with her acrobatics. She does not go to school. "We cannot afford it," says Meena simply.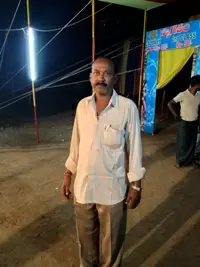 The circus owner, K. Ramaraju, hails from Madanapally in Andhra Pradesh
Unlike Meena's daughter, who has never been in a classroom, Ramaraju has enrolled his eight-year-old girl in a school in Bangalore. "My daughter is not part of the troupe. She only visits during vacations. Others too can find such avenues to educate their children, if they want. This profession is such that it demands a lot of travel – a circus owner cannot be held responsible for that," he says.
While Ramaraju is talking, the field suddenly plunges into darkness. After a few minutes, the lights come back on as a generator springs to life. "We are making a valiant effort to keep our tradition alive. Look at the odds against which we work. Even keeping our costumes attractive is so expensive. It is time people looked at us as artistes and not as a group of adventurers who commit crimes," he states emphatically.
As one gets ready to leave after enjoying the two-hour show and chatting up with the talented artistes, a camp fire comes to life in front of the residential tents. The show over, it's now time to cook, relax, perform the ordinary tasks of life…
The lights may be fading but the romance of the circus remains. - Women's Feature Service


Trending Now: