"It is an annual activity which we have learnt from our forefathers"

Vishal Gulati
&nbsp | &nbsp Keylong (Himachal Pradesh)
23-November-2012
Vol 3&nbsp|&nbspIssue 47
Tiny hamlets spread over the Himalayan peaks in Lahaul Valley in Lahaul-Spiti district are bracing to meet harsh winter conditions.
Residents have been in a tizzy, gathering everything they need to spend the winter in reasonable comfort before snow maroons them and freezes all activity, at least for five months.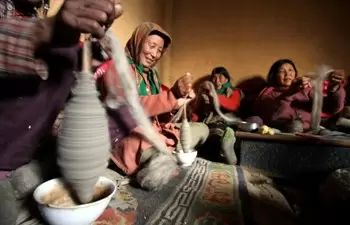 Women busy in weaving ahead of harsh wintery season in Himachal Pradesh's Lahaul-Spiti district (Photo: IANS)
"We are racing against time. Any time now, a moderate spell of snow will close all road links to Keylong and nearby villages and the locals will remain cut off from the rest of the world for months together," said Parkash Bodh, a resident of Keylong, district headquarters of Lahaul-Spiti.
He said the entire family is busy collecting fuel, firewood, eatables, ration and fodder for the livestock. "It is an annual activity which we have learnt from our forefathers," octogenarian Bodh said.
The Lahaul Valley, comprising over two dozen small, scattered villages some 350 km from state capital Shimla, remains cut off owing to heavy snow accumulation in the Rohtang Pass (13,050 feet) -- the only connection with Manali in Kullu district.
It reopens once snow starts thawing after mid-April.
Helicopter is the only mode of transport for the locals; and the people travelling out are usually the sick and elderly, for medical purposes.
Many of the old and sick of Lahaul Valley, however, prefer to migrate to Manali and Kullu towns to avoid the harsh winter.
"Most of the elderly people are now just about to migrate. They will be back only after the spring sets in and plants germinate," said Ramesh Thakur, a government school teacher posted at Thirot village, some 40 km from here.
He said even the rituals for a death in the family will only take place once the whole family reunites at the end of winter.
The Border Roads Organisation (BRO), a government agency that maintains strategically important highways that pass through rugged Himalayan ranges, had earlier issued an advisory to motorists to avoid travelling on the Rohtang Pass after Nov 15 as chances of snow are high.
During snow marooning, the locals can relish only peas and potatoes, the local cash crops grown in summer.
Tashi Dawa, a shopkeeper at Keylong, said no vegetable other than peas and potatoes and fruit reach here once the road links snap.
"Meat is available here in plenty," he added.
But the locals pine for brighter days ahead, with the completion of the 8.8-km-long Rohtang tunnel, considered India's most strategically important infrastructure project.
The tunnel, which will run beneath the Rohtang Pass, will ensure all-weather connectivity between Lahaul Valley and Manali.
The foundation stone of the tunnel was laid June 28, 2010, by Congress president Sonia Gandhi. It is expected to be completed by Feb 2015.
"We are awaiting the historic moment (tunnel completion)," said one local.
The entire Lahaul and Spiti district is populated mainly by tribals. The climatic conditions of the district are harsh as much of the land forms part of a cold desert where the mercury drops below minus 20 degrees Celsius during winter.
The Buddhist-dominated district in the Himalayan terrain at elevations ranging from 15,000 to 20,000 feet above sea level attracts globe trotters not only for nature-based activities but also to ancient monasteries like Tabo and Dhankar.
The district has no town; the population is rural, spread across 521 villages.
Getting to Lahaul-Spiti
How to travel: In summer, by public or private transport. From Manali to Keylong via Rohtang Pass for Lahaul; From Shimla to Rekong Peo in Kinnaur district to Spiti.
Distance: 350 km from state capital Shimla to Keylong and 420 km from Shimla to Kaza (headquarters of Spiti).
Where to stay: Small hotels, guest houses, and even home stays with local people.- IANS


Trending Now: