Italian chef on Indian tour to get a taste of desi cuisine
Radhika Bhirani
&nbsp | &nbsp New Delhi
22-November-2012
Vol 3&nbsp|&nbspIssue 46
Ever since he came to India, Italian chef David Rocco has piled on 15 pounds (6.8 kg) thanks to spicy daals, delectable chicken tikkas and tongue-tingling biryanis. So impressed is he with the desi cuisine that he is planning a new TV series on Indian food.
"I'm working on a series on Indian food. My show 'Dolce Vita' has become of interest for people across the world and I received e-mails from Indian fans asking me to come. So I had talks with FOX Traveller and here I am. I find a lot of similarity between Indian and Italian food and culture," says Rocco.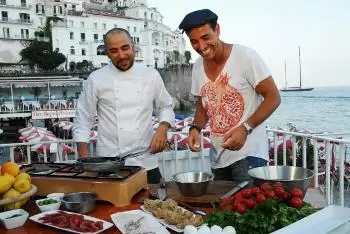 Italian chef David Rocco cooks up a meal (Photo: IANS)
Rocco will begin shooting the series from February.
"The surprising thing in both places is that within a 10 km radius, one can find the same dish being made in 25 different ways. The nature of my current trip is to explore Indian food, the ingredients and find out what makes Indian food tick," he said.
So far, he has been loving the experience and says "it's been life-changing".
"I came to India to explore food. And it is evident that I have loved it. I have put on 15 pounds; I have had no discipline on eating and everyone has just been feeding me - chai, food, snacks, and they keep giving second helpings here! I love it," he said.
The 42-year-old chef, known for his shows "David Rocco's Dolce Vita" and "David Rocco's Amalfi Getaway", says his understanding of Indian food has improved since he came here.
"I have tried some Indian stuff in Italy and North America, and my understanding of it is not very nuanced. It was not very authentic food, but here I have experienced the real food -- I tried Rajasthani cuisine in Jaipur and in Chennai, I tried various 'dosas' and chutneys. They use some amazing spices. In Delhi, I went to the Bukhara restaurant and the 'dal' was amazing," he added.
As of now, he is scouting the locations for his new series and wants to get into the heart of India for interesting recipes and concoctions.
He has especially loved 'tandoori' chicken dishes, tomato chutney and Rajasthan's famous 'laal maas'. He also loves the simplicity of the chapati.
With Indian television currently experiencing a boom as far as cookery content is concerned, what is the best recipe for a good cookery show?
"I think a good cooking show inspires you to cook, and a bad cookery show is the one which only teaches anyone to cook," he said, adding that people must cook with immense love and care because food binds people. - IANS


Trending Now: