DLF chief has credited his success in realty business to Rajiv Gandhi

02-November-2012
Vol 3&nbsp|&nbspIssue 44
Akshya Kumar, chief executive of property consultants Colliers International, has said "Gurgaon is DLF and DLF is Gurgaon." It will be more apt to say the "Gandhi family is DLF and DLF is Gandhi family."

Chaudhary Raghvendra Singh, a pre-independence day civil servant with a keen nose for business launched the Delhi Land and Finance Company in 1946, anticipating the massive migration of population between India and Pakistan and the need for mass housing in Delhi.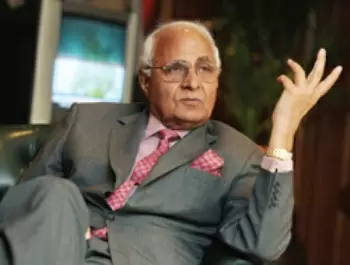 KP Singh acknowledges Rajiv Gandhi's role in DLF's growth (Photo Courtesy: Tehelka)
He developed 21 residential and commercial 'colonies' all over Delhi, including South Extension, Hauz Khas and Greater Kailash which are prized properties today.

The good times ended in 1957 when Delhi nationalised land development. The future of DLF looked bleak. With his son-in-law Kushal Pal Singh, Raghvendra Singh entered the car battery and electrical motors business in collaboration with Universal Electric of Michigan, USA.

The diversification strategy failed to take off. The duo returned to real estate business and vowed to break the State's stranglehold on land usage. As luck would have it for them, Indira Gandhi returned to power in 1980 and there was no looking back for DLF whose day-to-day affairs are now looked after by KP Singh's son Rajiv and daughter Pia.

The 'world-class' city of Gurgaon built by DLF is the very antithesis of urban development. The developers never paid much attention to the city's water resources.

Most homes and buildings today depend on bottled water for drinking and cooking purposes. Groundwater is being sucked dry by every individual. Thanks to the patronage of the First Family, the city is allowed to 'steal' electricity from the national grid on a massive scale to maintain its glitter and air conditioning.

Because of the high temperature for at least eight months in a year, the glass buildings require round-the-clock air conditioning, adding to global warming.

The Gurgaon expressway exclusively for cars serves as the worst example of how road development based on toll gates should not be done. Except for the Delhi Metro for distant connectivity, public transport is totally neglected.

There is nothing for the poor and lower middle class in this 'world-class' city. It is an island of concrete and glass where every green space has been preyed upon.

The DLF city is by the affluent and for the affluent class. It boasts of gourmet restaurants, five-star hotels, a sprawl of office and residential towers interspersed with busy malls, and an 18-hole Arnold Palmer signature golf course, monuments to the country's newfound consumerism.

With the younger generation at the helm, DLF has now gone national. A year or so ago, it made its debut in Mumbai when it paid $ 160 million in a public auction for 17 acres, site of a former public sector textile mill.

In partnership with UK construction giant Laing O'Rourke, DLF is developing this land into a 'futuristic' mall-cum-entertainment complex.

The Union government has been persuaded to open real estate to foreigners for projects exceeding 25 acres. Although the Centre has abolished the Urban Land Ceiling and Regulation Act of 1976, it is still in force in a few States, including Maharashtra.

That is why foreign companies have to seek Indian partners to navigate the bureaucratic and political hurdles to enter the real estate business. DLF is a master at this game.

Having completed projects covering 35 million square feet, DLF today holds a land bank of 3,000 acres in prime city locations across the country. The UPA government's FDI in multi-brand retail policy will benefit the DLF, which has readymade malls at its disposal, more than any multi-brand national or multinational corporation.

To understand the extent of involvement of the Gandhi family in promoting the interests of DLF and the DLF's influence on the policies of the Congress, one should read the autobiography of Kushal Pal Singh titled "Whatever the odds: The Incredible Story Behind DLF."

The author says that on a hot summer afternoon in the year after the tragic death of Sanjay Gandhi on 23 June, 1980, he was chatting with a few villagers on a deserted stretch of Haryana beyond Qutub Minar when a speeding jeep came to a screeching halt.

The man at the wheel got out and asked for a can of water as the engine of his jeep had overheated. It was Rajiv Gandhi who had just given up his pilot's job with Indian Airlines and reluctantly entered politics.

He was on his way to Indira Gandhi's Meharauli farm house. Singh was eyeing an area of about 40 acres of barren land to develop it into what is today's Gurgaon City but the Haryana laws did not allow private companies to develop land and banks were forbidden to give loans to purchase land.

DLF did not have the money to acquire the land. The only asset of DLF was Singh's optimism and determination to make the company a real estate giant. Sensing that Gurgaon could transform a rural wilderness into an international city, Rajiv spent half an hour with Singh discussing the idea of "creating an integrated, world-class township in Gurgaon," the book says.

Singh had a series of meetings with Rajiv Gandhi and Arun Singh in Delhi and it was decided that Gurgaon should become a model city through substantial private sector development.

At the instance of Rajiv and with the blessings of Indira Gandhi, the Haryana land policy was changed and DLF was issued its first licence in April 1981 to develop 39.34 acres. It was followed up with another licence to develop 556 acres in February 1983.

The sudden growth of DLF caught the attention of Haryana Chief Minister Bansi Lal who ordered his officials to cancel the licences and acquire the land around the areas DLF was developing. The idea was to prevent DLF acquiring contiguous land.

Singh says that Bansi Lal cancelling DLF's licences was "akin to a rampaging bull in a china shop." Singh took his problems to Rajiv Gandhi who had become the Prime Minister by then.

Rajiv asked his principal secretary Sarla Grewal to ensure that the orders of the Haryana government were reversed and that urbanisation of Gurgaon continued without any let or hindrance.

When Rajiv visited Haryana to inaugurate a facility, he told Bansi Lal to help and not hinder DLF as it was building a world-class city in Gurgaon.
At one stage Bansi Lal wanted to arrest Singh. Rajiv alerted him through his special secretary Gopi Arora to remain underground for some time and protect himself legally. It would appear Singh was indulging in illegal activities in the name of urban development with the full knowledge of the Prime Minister of the country.
In a chapter titled "DLF Growth and Transition," Singh recounts that sometime in early April 1991, his security guard woke him up around midnight saying there was a call from Rajiv's residence. He jumped out of bed and drove down to meet Rajiv.

He was shown two paragraphs on urban development written by Rajiv to be included in the Congress election manifesto and wanted to know if it was in the interest of urban growth.
"Not wanting to disturb Rajiv, who was busy finalising the manifesto, I left saying what he had written was fine. The Congress Working Committee cleared the manifesto on 6 April, 1991."

Now we know how Congress policies are influenced by real estate manipulators. On Rajiv's assassination on 21 May, 1991, Singh writes: "I lost someone who was instrumental in helping me realise a dream and also made me what I am today. Gurgaon would not have happened had it not been for Rajiv," and concludes,

"Gurgaon's development and Rajiv Gandhi's role in it show what politicians with no ideological baggage can achieve.

"Rajiv was passionate about doing something new. He brought a new hope to people who were disillusioned with the direction of politics in India. I have pleasant memories of meeting him numerous times when he was the Prime Minister between 31 October, 1984, and 2 December, 1989.
"India's urban development story took off only because of Rajiv Gandhi's vision. DLF is what it is today because of the change in the government perspective towards housing and urban development he brought in."

Kejriwal and company should seek the investigation of Sonia Gandhi rather than Robert Vadra for their involvement with the DLF.

Sam Rajappa is Consulting Editor of The Weekend Leader


Trending Now: