For children of goatherds and shepherds of Kashmir, a soldier is a teacher

Binoo Joshi
&nbsp | &nbsp Jammu
02-November-2012
Vol 3&nbsp|&nbspIssue 44
The Indian Army has donned a new role in Jammu and Kashmir, with the border state enjoying a period of relative peace. It has adopted a project to educate the children of Gujjars and Bakerwals, tribal goatherds and shepherds who inhabit the Pir Panjal range in the state's Jammu region.
The classes were held for a month at Bhattadurian, Chhatral and Poshiana villages of Poonch district, about 260 km northwest of Jammu.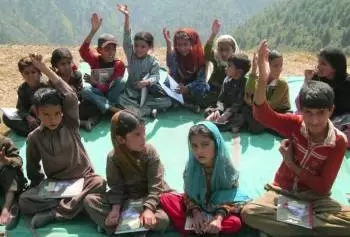 Gujjar children attending the classes conducted by Indian army (Photo: IANS)
The army personnel conducted lessons in elementary arithmetic and reading. For many children, it was their first taste of school and they were left deeply touched by the experience.
Eight-year-old Ameen Hussain of Bhattadurian village said he had not imagined that studying could be such fun. He now yearns to be like his instructor, and become an army man.
"My teacher has told me that if I study, I can become an officer in the army. Now I have made up my mind to do that," he said.
Not all the children, though, have such dreams: Hashim Din, a friend of Ameen Hussain and nearly the same age, said: "One month is good enough. I enjoy being with my herd of goats. That's far better, more free."
Defence spokesman Col. R.K. Palta said that the aim of the classes was to encourage parents to send their children to school.
"The requisite study material, including stationery, books and appropriate teaching aids for these classes were provided by us. The aim was only to encourage parents to send their children to school," Col. Palta said.
The Gujjar and Bakerwal tribes inhabit the Pir Panjal range.
Traditionally, their lives have been nomadic. There is lack of basic facilities like schooling, and children often accompany their parents to graze sheep and goats and gather fuel wood.
According to state government statistics, of a total population of 1.25 crore, there are about 20 lakh Gujjars and Bakerwals in the state, of whom 500,000 continue with their nomadic life. The nomads move to mountainous pastures in summer and spend the winter in the plains, along with their animals.
While the state's literacy rate is 68.7 percent according to the 2011 census, only 21 percent of Gujjars and Bakerwals are literate. Among those who continue to be nomadic, there are barely any literates at all.
Palta said that the army's teaching initiative began after a request was made by the elders of the three villages during one of the regular amity meetings that the army holds.
"Besides providing an exposure to basic education to the children of the area, these classes would also act as a catalyst in kindling the desire amongst children for education.
"We hope to also generate an interest in education in the parents. The immediate benefit of these classes would be only rudimentary knowledge for the tribal children," the spokesman said.
About twenty students attended the classes that the army offered at each of the three villages.
Seven-year-old Zubeda Sayed of Poshiana attended the classes regularly, without missing even one. "It was a happy time for me, studying. I would like to study more," she said.
"The army will continue to hold such classes in future. We would also be only too willing to sponsor students from remote areas so they can attend regular Army Goodwill schools across the state," the spokesman said.
He said the weather will not be an impediment to the effort. "We can continue the classes in winter, even when the place is snowed under. The children have nothing else to do at that time," he added. - IANS


Trending Now: