'Saif Ali Khan' and 'Kareena Kapoor' up for "grabs"

Rahul Vaishnavi
&nbsp | &nbsp New Delhi
24-October-2012
Vol 3&nbsp|&nbspIssue 42
'Saif Ali Khan' and 'Kareena Kapoor' are up for "grabs" for a whopping Rs. 4 lakh (Rs 400,000). Not the celebratory couple, but a pair of goats being sold at old Delhi's Jama Masjid bazar ahead of Eid-ul-Azha. Interestingly, both the two-year-old goats are males!

Weighing 200 kg each, the five feet tall goats belong to the popular Mewati breed and can be bought individually as well for Rs 2.5 lakh each.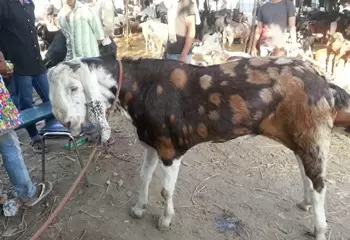 Saif Ali Khan can be yours for Rs. 2.5 lakh.(Photos: Rahul Vaishnavi)
"After Saif and Kareena got married (on Tuesday), we decided to pair these two goats. It is a much better deal if someone buys them together," their owner, Idris, said.

Hailing from Amroha in Uttar Pradesh the goats daily consume over a kilo of jowar, around three to four kilos of fresh green leaves and grass and three litres of milk to maintain their stout structure, Idris said.

However, the star of the show is a goat - also with a price tag of Rs.4 lakh - that has on its back a natural pattern that reads like 'Allah'. This has ensured special treatment for it.

Unlike hundreds of its counterparts that were tied to a rope and crammed in tents as they jostled for space to sit on the dusty ground, the 'divine' goat was seated on a clean cot with a green sheet covering his back.

"This goat is special. It's divine," its owner Abbas said. Hailing from Ajmer in Rajasthan, Abbas is among the dozens of people who have come to sell their goats here at the market for Eid-ul-Azha, which falls on Oct 26.

'Divine' goats like these are not unusual though and there are a few of these show stealers in the market every year and a few more are expected, said sellers.

Last year, a similar goat was sold for Rs.4 lakh, shopkeepers in the goat bazaar said.

But the goats priced between Rs.5,000 and Rs.10,000 constitute 80 percent of the sales at this temporary market which comes up every year during this time and is open 24X7. The huge ground converts into a marketplace during these days and sees a convergence of goat sellers from northern India.

"Goats from Rajasthan, Punjab, Uttar Pradesh and Himachal Pradesh belonging to breeds like Mewati, Barbari, Desi, Punjabi, Totapuri, Sirohi and Himachali are available in the market," said Khalid Khan, another shopkeeper.

Eid-ul-Azha is celebrated by Muslims across the globe in honour of Prophet Abrahim, who was even willing to sacrifice his son Ismail to please Allah.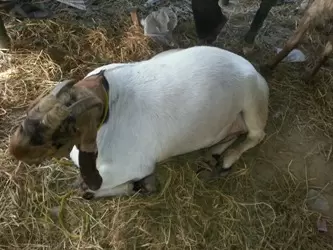 The goat named Kareena relaxing after a heavy meal
According to Muslim belief, Allah replaced Ismail with a sheep just as Abrahim was about to slit his throat - hence the tradition of sacrificing an animal.

According to tradition, a sacrificial goat has to be carefully selected. It should be healthy, with a strong physique, and should not have any deformities.

Despite the recession and inflation, the market is doing brisk business and is set to surge further.

The shopkeepers, meanwhile, are leaving no stone unturned to attract customers.

From painting the goat's horns in bright colours to tying colourful leashes and anklets - the more decorated a goat is, the better are its prospects of being sold at a higher price, said shopkeepers. The owners don't have to go far to buy these colourful decorative items. There are a few shops that sell them at the spot.

Some of the white-coloured goats also carried henna designs on their backs.

Shopkeepers know the best way to sell their goats is to decorate them to catch the customers' eye. - IANS

Trending Now: