Anna University's architecture faculty wins IIA award
16-October-2012
Vol 3&nbsp|&nbspIssue 41
The Indian Institute of Architects (IIA), Tamil Nadu Chapter (TNC) honoured three architects - Ranee Maria Leonie Vedamuthu, Y Gopalakrishnan, and Radhey Mohan Chundur - at a recent function in Chennai for their distinguished service in the field of architecture.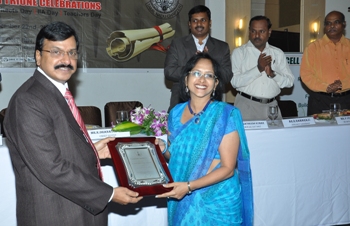 Prof. Ranee receiving the award
Dr. Ranee Maria Leonie Vedamuthu, the Dean of School of Architecture and Planning at Anna University, Chennai was chosen for 'The Honourable Teacher Award 2012' for signing MoU's with international universities and setting up digital and interior design studios in the campus.
'The Honourable Architect Award' was presented to Y Gopalakrishnan, the originator and head of architectural wing, PWD, Puducherry - established in 1990 - for the delivery of appropriate architecture in creation of prestigious and significant landmark public buildings in all four heritage sensitive coastal regions of the Puducherry Union Territory.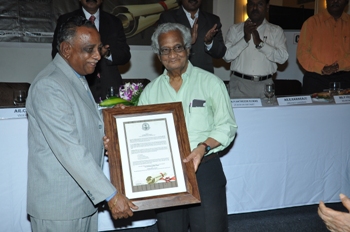 Prof S F Rajaratnam presenting award to Radhey Mohan
Radhey Mohan Chundur who had represented IIA, TNC on several occasions at the chapter and national levels in various seminars and conferences during his tenure as Hon. Secretary and Southern Regional Committee Chairman was honoured with 'The Honourable Member Award.'
The awards were presented on the occasion of the 9th Triune Celebrations of IIA-TNC, an event to commemorate the three special days of Architects Day, Teachers Day and the IIA Day.
"The awards were presented to motivate our members to do better work," said Prof S F Rajaratnam, Chairman of IIA, TNC.
The chief guest for the evening was K Dhanavel, Managing Director of Tamil Nadu Industrial Development Corporation.
Members of the IIA-TNC, ex-president of IIA, staff from Anna University and students of Sathyabama University attended the function. – TWL Bureau

Trending Now: