Deep in Pauri Garhwal hills, at a height of 1,800m, experience a paradise on earth

Sudhamahi Regunathan
&nbsp | &nbsp Lansdowne
12-October-2012
Vol 3&nbsp|&nbspIssue 41
This is a call for you to pack your bags, jump into the car and head towards National Highway (NH) 58 that will take you away from Delhi to a place that can definitely be called a little piece of paradise on earth!
Deep in the Pauri Garhwal hills of Uttarakhand there lies a quaint hill station at a height of 1,800 metres above sea level. Unlike the usually crowded, clichéd getaway destinations in the Himalayas, Lansdowne is full of surprises – it's romantic and quiet, the weather is pleasant and there are plenty of legendary tales that can keep you enthralled and entertained for the entire length of your trip.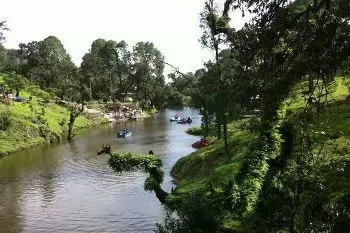 A major tourist attraction in Lansdowne is the Bulla lake complex (Photos: Sudhamahi Regunathan WFS)
Of course, the best part about choosing to go to Lansdowne is that it's a mere five-and-a-half hours drive from the hustle and bustle of the national capital.
The relatively bump-free ride from Delhi via Bijnor and Kotdwar is well appreciated simply because the sights one catches on the way are engaging.
From Kotdwar, on to NH 119, a slow climb at a modest incline will finally bring you to your final destination. Along the way you are treated to some jaw-dropping sights.
For most of the uphill drive you can watch the clear Ganges flow by. In Dogadda, a village that lies halfway up from Kotdwar, you can get out of the car to stretch. If you are game, you can kick off your holiday right here.
Take the trekking path down to the river, sit by the smooth white pebbles and listen to the soothing gurgle of the holy waters. Coming down straight from the mountains, as they rush, cool and clean, they set the mood for all that will unfold in the days to come.
But enough of sitting by the river, it's time to get back on the road…
Lush and green, Lansdowne doesn't disappoint its visitors. It is all that it's made out to be – and more. Once known as Kalundanda – 'Kalun' meaning black and 'danda' meaning hills – you can see why because as you walk around town you realise that the soil beneath your feet is black clay.
Today's Lansdowne may have been named in 1887 after Lord Lansdowne, who was appointed under-secretary of state for India, but here's something not every traveller is aware of: In these beautiful, black hills it's the warrior queen, Rani Karnavati – not to be confused with the queen of the same name in Bundi, Rajasthan – who is the local heroine.
After the demise of her husband, Mahipat Shah, in the mid-17th century, this mother of a seven-year-old took over the reins of the kingdom. In 1640 AD, she valiantly defended her territory against the powerful Mughals.
Karnavati not only defeated them, she eventually came to be known as the 'Nakti Rani' (Nak-Kati-Rani), as she used to chop off the noses of those who tried to invade her lands. A good administrator, she has also been credited with the construction of the first canal in the region.
These days, in the War Museum, a must-see in this cantonment town, the home of the Garhwal Rifles regiment of the Indian Army, it's her lavish portrait that greets the awe-struck visitor.
In fact, the modestly-priced ticket of Rs 150 also throws open a treasure trove of war history for an eager enthusiast. Yet, as you walk past the prized memorabilia and pause in front of rows of magnificent portraits of warriors who have laid down their lives for this region, you do wonder at the purpose of war and the dismal consequences of violence. There was no lasting peace or amity, so were these deaths in vain?
But leave those thoughts behind when you emerge from those hallowed halls. Instead, revel in the beauty that surrounds you. Choose life and happiness. There's certainly no dearth of either here in Lansdowne.
Don your walking shoes, pick any road for trekking and you will not be disappointed. Every pathway leads towards the lush green forests. The best part is that most of the places that are worth seeing are within walking distance.
Limited vehicular traffic and well marked out 'pagdandis' (or trekking paths) make it an enjoyable experience. Of course, all this is still possible here simply because it is maintained by the Garhwal regiment that enforces strict rules and regulations.
Talking of the disciplined 'jawans' – you simply cannot miss them walking around here with their close-cropped hair and brisk gait – one of the most charming things about Lansdowne, which is bound to stay with you long after you return, is the booming trumpet sounds that fill the air every morning and evening, religiously.
Every core of the armed forces has a band and the Garhwal Rifles band is no different. As you hear the snatches of the daily practice of these talented trumpeters, you may even recognise a note or two. What makes this exercise quite endearing is the dedicated effort that the jawans put into it. That practice makes perfect is evident.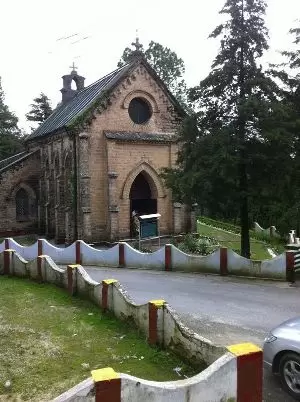 The Church at Lansdowne
Do reserve a day to visit the two charming churches here. It's an uphill walk to the well-known St. Mary's Church. Constructed in 1896, it is located just below the Tip-in-Top point from where you get a great view of the hills and valleys around.
Though the pre-Independence structure has been restored by the army it is no longer actively used for prayer services. It does, however, reveal many interesting stories.
Learn about the wonderful wedding of one Roger Malcolm Durant Wilcocks and Belty Foot or how the church was built due to the efforts of one Mrs Rundall who was wife of a Garhwal Rifles officer, Captain Frank Montague Rundall. St. Mary's has an old-world charm about it and from here the Chaukhamba snow capped peaks can be quite a pleasure to watch.
Despite the many delights, you will encounter some minor hiccups in this pristine town. This is simply because it has not become commercialised just yet. Always book a place to stay well in advance for there are not too many boarding facilities available.
The government-run Garhwal Vikas Mandal offers modest accommodation. Also be prepared to enjoy basic, but freshly prepared food, whether at your hotel or a local eatery. There are not many fast food joints here, nor is there an array of processed foods available in the local market. If you are travelling with children, it's advisable to stock up on biscuits and other ready-to-eat items.
The other disappointment is the Bulla lake complex, a major tourist attraction that has a run down feel owing to improper maintenance. The park is in a bad shape but if you go with children you cannot convince them of how dangerous it is to swing on a poorly aligned swing or a glide down a rusted slide.
The fun trip turns haranguing. The rabbit area is dirty. And the lake...you'll be speechless after seeing the kind of life jackets that are given to wear while taking a ride on the otherwise beautiful lake.
Lansdowne may have a long way to go to catch up with the all the major holiday destinations of the country – and, for some, that is precisely what constitutes its charm.
It's all about silent walks, whispering cool winds and, yes, that very inspiring warrior queen. - Women's Feature Service

Trending Now: