Bachchan family planning a big bash for Big B on his 70th birthday
Uma Ramasubramanian
&nbsp | &nbsp Mumbai
08-October-2012
Vol 3&nbsp|&nbspIssue 40
Birthday presents are for kids. For Amitabh Bachchan, who celebrates his 70th birthday on Oct 11, the greatest gift ever is the intangible love of his family - his wife, children and grandchildren, whose warmth and affection keep him going steady in his personal and professional life.

He also gives special importance to his late parents - the renowned poet Harivanshrai Bachchan and his wife Teji.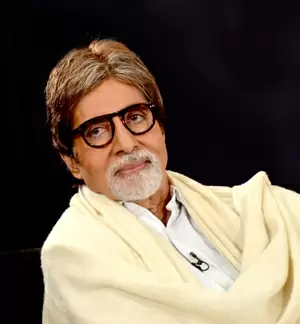 Amitabh wants to make it a quiet affair, but his family has other plans (Photos: IANS)
"I look forward to spending time with my family. All the gifts and presents that I needed have already come my way - the blessings of my parents, which I consider the largest gift, and their presence in my life through all the upbringing that they gave me," Amitabh said in an interview at his office, Janak.

"My family - my wife Jaya and the two wonderful gifts that she gave me - (son) Abhishek and (daughter) Shweta and now the bahu (daughter-in-law) in the house, Aishwarya, and the little (granddaughter) Aaradhya... so these are my wonderful gifts and no one can replace them," added the megastar.

In his four decades in the Hindi film industry, Amitabh has grown to become one of the most formidable names of the country, known internationally.
His active involvement in social issues, as well as his compassionate connect to the masses through TV show "Kaun Banega Crorepati", have given viewers and fans a window to his philanthropic side over the years.

No wonder his milestone birthday is the talk of the town. If the celebrations were in his hands, the busy star would have wanted some rare, quiet time with his family. But close ones of Big B want to make it big - reportedly with a huge dinner party Oct 10, an art show, poster exhibition and book launch on the big day.

"My family this time round wants to have celebration on my birthday. I have heard that it might be celebrated on Oct 10 at night. I absolutely don't have any idea about it and nobody is ready to disclose anything about it (to me)," he said.

Even though he wants to keep it simple, he doesn't want to spoil the celebratory mood of loved ones.

"I just run away from this day. Whenever my birthday comes closer, I inform my family members not to do anything special because I don't like it. A small and peaceful family time is more than enough for me.

"But many a time, one also has to think about one's wife; so this time round she (Jaya) has thought that there should be some celebration. So she is only doing everything, I have not been informed about any preparations. All I know is something is cooking," added the 69-year-old, who came to be known as Bollywood's angry young man in the 1970s.

As a child, Amitabh says, everyone has a reason to look forward to their birthday.

"When you are a kid, you enjoy birthdays not because of anything else but because you are going to get presents and gifts. You look forward to the time what your parents are going to give you.

"But as you grow older the whole concept of maturity keeps in. When I entered films, other people were more interested in celebrating my birthday than I was. I still feel it's another year gone by.

"I don't see why there should be so much fuss, but sometimes you have to go with what friends, well wishers and family wish to do for you and you comply with that."

That's just what the megastar would do for his special day this time. - IANS

Trending Now: