Neelesh Misra plans to hook listeners by telling stories

Priyanka Sharma
&nbsp | &nbsp New Delhi
18-September-2012
Vol 3&nbsp|&nbspIssue 37
Journalist, scriptwriter and lyricist Neelesh Misra dons many hats. And now as a radio jockey, he hopes to revive the traditional storytelling culture, which he says has faded into oblivion due to technology.
Misra has returned as a storyteller for the second season of 92.7 Big FM's radio show "Yaadon Ka Idiotbox".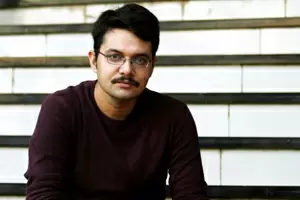 Neelesh believes the traditional culture of storytelling had spread good values
"Traditional storytelling did not stand a chance on its own. I'm fortunate enough that through this show I've had the platform to recreate a modern form of storytelling by interspersing stories and music that will revive this lost art that people are still interested in," Misra said in an email interview from Mumbai.
He laments the lost charm of storytelling.
"Storytelling has always been a part of the rich cultural tradition in India. The art of imparting good values and spreading beliefs through the means of storytelling has existed from time immemorial, in almost all ancient civilisations of the world.
"India is no exception to this culture. But it's very unfortunate to know that this culture is fading with the increasing science and technology. With the passage of time and development, people have found other forms of entertainment like television, films and more," he added.
Born and brought up in Nainital, the multi-faceted Misra reveals he developed multiple aspirations during his growing up years -- the reason why he dabbles in so many things at a time.
"It was these dreams that led me to become a singer, copywriter and theatre personality at the same time. Being a journalist has always been my passion and this has served as a foothold for my vast experiences at various junctures of my life," he said.
"Having pursued an unconventional career, my natural flair for writing and my mantra to do adventurous things enabled me to write stories in various formats, be it orally or through my lyrics," Misra added.
As a lyricist, Misra has to his credit songs like "Jaadu hai nasha hai" from "Jism" , "I love you" from "Bodyguard", "Banjaara" from "Ek Tha Tiger" and most recently "Kyon" from "Barfi!".
He has also co-written the script of this year's blockbuster "Ek Tha Tiger", along with director Kabir Khan.
"Writing was something that came naturally to me, be it in journalism or as a scriptwriter. Penning my thoughts down and not restricting it has helped me immensely in my stories. I have made it a point in life not to set limitations on my thoughts, ideas and opinions and believe it should flow free," said Misra, who was deputy executive editor of a leading newspaper publication.
However, even as he is busy hosting a radio show, Misra has his hands full with four more scripts.
"Currently I am commissioned to write four more scripts by Reliance Entertainment, Viacom 18 and Yash Raj Films. But I cannot disclose any further details," he said.
"At present, Harper Collins is going to publish my books in both Hindi and English to cover a larger market who have interest in stories," he added. - IANS


Trending Now: