Kerala's famous boat race season set to kick off

Sanu George
&nbsp | &nbsp Alappuzha
04-August-2012
Vol 3&nbsp|&nbspIssue 31
They're 120 to 140 feet long, are manned by 120 oarsmen and have attracted global attention. When they race furiously through the backwaters here Aug 11, the snake boats will not only vie for the Nehru Trophy - which itself has an interesting history - and a Rs.500,000 cash reward but also herald the beginning of Kerala's new tourism season.
The 16 snake-boats are the pick of some 100-odd boats that will be seen during the event but they alone will be competing for the Nehru Trophy, now in its 60th edition. The other boats will be eligible for a different set of prizes.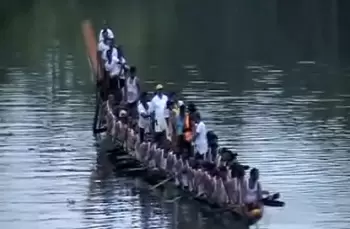 The winning team will receive a reward of Rs 5 lakh
Four other snake-boats will be on display at the event, as would, for the first time, four dragon boats, said Tomy Pulikattil, one of the organisers of the event and a leading operator of houseboats in Alappuzha.
"Boat races have now become the most talked about event by tourists across the globe. The most common question asked by tourists is whether boat races will be happening when they visit Kerala," Pulikattil said.
Kerala's tourist season begins in the second week of August, peaks towards the end of December and continues till the end of January.
Tourism Minister A.P. Anil Kumar said that boat race has now become one of the most popular events for tourists.
"Historically and traditionally, boat races were mainly centred in districts of Alappuzha, Kollam and Kottayam. The popularity of this event has now spread to other districts and we are now planning to have more boat races in districts like Thrissur, Kozhikode and Kannur," said Kumar.
Today, around two dozen boat races are held in the state, with the Nehru Boat Race being the most popular.
Seeing the popularity of the Nehru Boat Race, the state government has extended additional financial benefits for it.
"This time the bonus given to the oarsmen has been hiked by 25 per cent. As a result, the best snake-boat's team in the race will get up to Rs 5 lakh," said Pulikattil.
The history of the boat race dates to 1952 when the then prime minister, Jawaharlal Nehru, visited Kerala and a flotilla of boats accompanied him from Kottayam to Alappuzha.
An impromptu race was then conducted in Nehru's honour and he was so thrilled by the performance of the oarsmen that he jumped into one of the boats.
On returning to Delhi, Nehru donated a silver trophy and a replica of a snake-boat mounted on a wooden abacus with an inscription and his signature. This is the trophy that the winner of the snake-boat race is awarded. - IANS

Trending Now: