Nimma Nimma singer Jaspreet talks about the 'emotion' he was asked to capture in the song
03-August-2012
Vol 3&nbsp|&nbspIssue 31
From Bollywood to the 2012 London Olympics, it's been quite a long jump for Jaspreet Jasz, the writer and singer of "Nimma nimma hans de tu jogiya", the Punjabi track composed by Oscar-winning A.R.Rahman for the recently held grand opening of the sports extravaganza.
The energetic and motivational track, which means 'Smile a little, you fighter', was part of a medley of songs orchestrated by electronic music group Underworld, for the spectacle, masterminded by director Danny Boyle.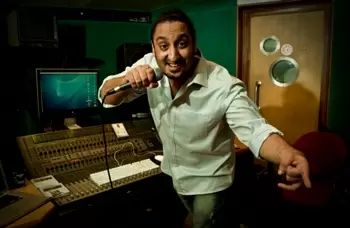 Jaspreet took about three hours to write the lyrics of Nimma, Nimma (Photo: IANS)
Boyle wanted the number to signify Indian influence in Britain.
Only a "segment" of the song was played at the opening ceremony in London July 27. Nevertheless, it was "awesome", says Jaspreet.
"The song was like a motivator for the contingents. It meant that 'Come what may, keep smiling a little during your fight'. That's the emotion I was asked to capture in the song," Jaspreet said over phone from Mumbai.
The 27-year-old is a Sikh by religion, but "Nimma nimma" happened to be his first Punjabi song - a fact that made his parents "extremely proud."
"I studied at a Christian school in Delhi. I trained in gospel singing and R&B singing. I always believe in versatility, and Punjabi is the least you can expect from me. So it wasn't difficult for me at all.
"Rahman sir had already composed the tune and made all arrangements. He was clear about what he wanted in the song. I think I took two or three hours to write the lyrics. That's it. I have got a great feedback for the song," he said.
A YouTube video of the number already has over 30,000 hits even though the track wasn't talked about before it was heard at the opening ceremony of the sports gala.
"I also follow Rahman sir's policy that there's no point of talking about your work. It's always better to let the world see it and talk about it. I think it's the right policy. Besides, all details about the opening ceremony were under wraps."
"I'm only grateful that Rahman sir put my name with the song, and it now features in 'Isles Of Wonder', an album with all the music from the opening ceremony. It has tracks by big guys like Arctic Monkeys. It's a great thing," he said.
A Delhi boy, Jaspreet has been staying in Mumbai the past seven years. His tryst with Bollywood includes songs in films like "Blue", "Dil Kabaddi", "Sahi Dhandhe Galat Bande", "Hide & Seek". He has also sung in southern films and for commercials. - IANS

Trending Now: