Now, you can see Rajpath on a Segway!

Gaurav Sharma
&nbsp | &nbsp New Delhi
04-July-2012
Vol 3&nbsp|&nbspIssue 26
Imagine yourself gliding on two wheels down Rajpath, India's grandest boulevard, at 6 in the morning with the sun's early rays kissing the sky and gentle breeze brushing your face as passersby gape in awe. Grand, isn't it?
Popular in European countries, the battery-powered Segway gives people an opportunity to glide past the palatial Rashtrapati Bhawan and the North and South secretariat blocks, down Raisina Hill with Parliament House on the left, take in the green lawns of Rajpath and turn back at the India Gate war memorial to head back up Raisina Hill.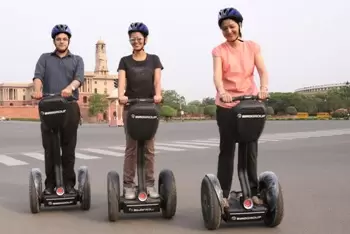 Segway ride has received a good response (Photos: IANS)
On Saturdays one can also take in the change of guard ceremony at Rashtrapati Bhawan.
"Isn't it amazing that one can enjoy the entire Rajpath stretch and the scenic beauty alongside it at 5 a.m. when there is no traffic? You can amble down the road at your own pace," says Sumil Mudgal of Bird Segway, which launched the Segway tours in the capital.
Bird Segway is a unit of Bird Group, which is in the retail and travel sector.
Launched in May, the tour has received good response from people eager to explore this beautiful red sandstone British era buildings on Raisina Hill at a leisurely pace.
It is easy to ride. One can guide the machine with body movements. Lean forward and the machine takes you ahead, lean back and it slows down and stops.
"Anybody who can ride a bicycle can easily maneuver Segway. Riding this amazing machine is child's play," tour supervisor Karan Shahaney said as this correspondent took a ride round the tree-lined stretch that comes into prominence when India celebrates its Republic Day and showcases its defence might.
"We have a problem if someone is light or overweight. A person should weigh between 45 and 110 kg to ride it," Shahaney added.
With a helmet and elbow guards on, riding the Segway on this 4.5 km stretch at a maximum speed of 25 kmph creates quite a buzz among the early morning walkers and joggers and the occassional motorists.
In fact, passersby watch awestruck and even ask marshals - who escort the riders - about the device - hitherto seen only on European roads.
"Presently we are not taking more than 6 people in one tour. Considering it is a pilot project by the company, the numbers are quite satisfactory," said Mudgal.
The tour has generated lot of interest.
For Brigadier (retd) A. Trehan, it was an experience he wants to repeat.
"It was a wonderful experience for me and my 10 year-old grandson. I had a great experience gliding past these magnificent buildings. I will do it again," said Trehan.
For US citizen Bo Raffle, the ride was one of the best things during his India visit.
"The Segway ride is the best part of my visit to India... so much fun riding a Segway and experiencing India Gate with super cool trainers," said Raffle, who visited the capital for the first time.
A ride on this Rs.4.94 lakh machine costs Rs. 1,350 on weekdays and goes up to Rs. 1,650 on weekends. Three tours are conducted every day between 5 a.m. and 8 a.m.
Asked about the idea behind launching the project in Delhi, Mudgal said: "Cities in European countries have their own Segway tours and we chose Delhi because the city has a number of heritage sites and tourist attractions."
Thus, Segway could be seen soon gliding in other areas too.
"We are in talks with ASI for conducting the same tour on the sprawling campus of Humyaun's Tomb. One would surely love to glide through the complex instead of walking through the large area," she added.
"With the launching of this project, people will not have to bank upon third parties to take them to Rajpath as they can buy vouchers online at www.iride.co.in/tours," said Mudgal. The vouchers can also be bought from Ambience Mall in south Delhi's Vasant Kunj. - IANS


Trending Now: