It is advantage women photographers in Indian weddings

Bula Devi
&nbsp | &nbsp New Delhi
14-June-2012
Vol 3&nbsp|&nbspIssue 24
There's a flurry of activity in the room. At one end, a young woman is sitting in front of a brightly-lit mirror with four other women fussing over her.
One is applying the makeup, another is doing her hair, yet another is laying out the clothes and jewellery that she will presently don.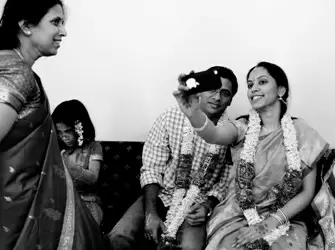 Candid photos are in! Posed pictures are a complete no-no for this tribe of upcoming women wedding photographers. (Photo: Madhavi KuramWFS)
In a little sitting area in the corner, a group of elderly women relatives chat, stopping intermittently to check on the preparations being made for the bride. Every few minutes there's someone coming into the room, slowly filling it with sweets, chocolates, flowers...
This scene is unfolding in the bride's dressing room, which is the nerve centre of all the pre-wedding 'hungama'. But wait, amidst all the action, there's one woman, hard at work.
She's the official wedding photographer, entrusted with capturing the buzz, the fun and the tender moments that make up the big fat Indian wedding.
In the male-dominated world of professional photography, not many women have been able to make their mark. But this is changing thanks to a growing clan of women professionals who specialise in candid wedding photography.
Sensitive, persuasive and passionate, women wedding photographers are natural partners for brides, who sometimes feel shy, awkward, and at times even embarrassed, while posing for male shutterbugs. They bond easily with family members and get complete access to the bride's dressing room and other areas of the marriage venue so that they can unobtrusively immortalise, on film, all the landmark moments of the big day.
Most women, who make up this select group, come from professional backgrounds. Some are graphic designers, others are computer engineers. They have chosen to give up their stable, well-paid jobs to pursue their passion.
Take Rakhee Yadav, 40, who is now based in the Netherlands. After working as a graphic designer for almost two decades, this mother of a six-year-old daughter is now freeze framing the true essence of an Indian wedding which she considers "so colourful, vibrant and full of emotions".
Yadav took up wedding photography because "marriage is the most important day in a person's life". She prefers to employ a documentary style while she shoots.
"There is so much emotion when it comes to Indian weddings. This is one occasion when not just the immediate family but distant relatives also come under one roof, something that is rare everywhere else in the world. It is not just the emotions of the big day, even the build up to it is momentous," she elaborates.
An avid traveller, Yadav, who is currently in India, likes to document every small incident and activity leading up to the wedding day: The dinner mess left from the night before, the mother directing the domestic help; the bride speaking to a friend on her mobile phone as she is being dressed by two other women; the father rushing around to complete one of the million chores that just have to be done.
Explains Yadav, "The real wedding is just a small part of the whole event. I like it when nobody is looking directly at the camera, otherwise it looks posed and I do not like to put a mask on a photograph. I like to shoot wedding pictures like I'm shooting a reality show!"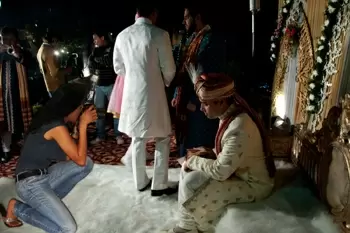 Rakhee Yadav shoots at a wedding in India. (Photo: Rakhee YadavWFS)
Like Yadav, Priyanka Sachar, 35, a computer engineer based in Gurgaon, has switched careers recently. She was looking for a way to escape her nine-to-five routine so she left her secure job in 2009 and took up photography full-time.
Sachar decided to take the plunge because she was sure of her talent – she had spent hours taking pictures as an amateur, quite a few of which had been sold at exhibitions.
In the last year-and-a-half, Sachar, who sees her photographs as "fine art", has already travelled across the country to shoot weddings. "The marriage season, from October to February, is crazy; I'm always on the move then. Shooting a wedding is only a small part of what I do as a photographer.
"Being a one-woman army, I also have to market my work, approach new clients and remain up-to-date with what's in vogue and what are the latest equipment in the market in order to provide top notch results," she says.
Sachar takes niche, arty pictures that convey an array of emotions, from nervousness to excitement to laughter. "No 'sanitised' group shots on stage for me; those are done by studio photographers," she says. Incidentally, according to Sachar, studio photographers are often very curious when they spot a woman photographer around, and many assume that "we may be there because of the leverage and accessibility that we have, vis-à-vis the family".
Of course, while impressive technique and a unique style do matter, what sets these women apart is the fact that they can easily mingle with the family, especially among elderly female relatives who immediately take them under their wing.
Hyderabad-based wedding photographer Madhavi Kuram, 40, explains how these interactions work, "The first two hours are just ice-breaking time; from then on half my job is done because the family is able to relate to me better and are more relaxed in my presence."
Kuram lived and worked in the United States as an IT professional for 13 years before she decided to head back home. In Hyderabad she did not return to her place behind a desk and instead started doing street photography, her "real passion".
Taking pictures at weddings followed because to her "they are an extension of all the drama one encounters on the streets". She says, "In the IT industry one works day and night. Now I can give time to my children as well. On an average I do three or four assignments in a year."
In getting the right kind of work, Kuram has employed her considerable IT skills to full advantage. "With the help of the Internet and Facebook things just started taking shape; once I started getting appreciation for my wedding photographs I went all out."
To Kuram, too, posed pictures are out – precisely because, like Sachar, she believes those kinds of pictures can be taken by any studio photographer. She likes to value-add. "I present unconventional photos because I capture candid moments," she emphasises.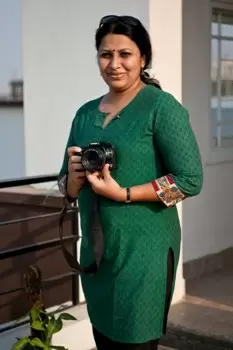 Hyderabad-based Madhavi Kuram is a full-time wedding photographer. (Photo: Madhavi KuramWFS)
According to Kuram, these days it has become easier for women to take up photography as a viable career because they enjoy greater freedom of choice. Equipment and other materials, besides, have become more affordable.
No one can vouch for the talent and quality of work of women photographers better than Mekhla Choudhary, who runs a wedding and events business from Gurgaon.
She noticed the trend of getting natural wedding pictures clicked nearly two years back and she feels that the demand for women professionals has only increased steadily.
She says, "Women photographers have a better rapport with the bride; they take amazing shots. Now we also come across couples getting into this profession – if the wife is taking photographs of the bride's side, the husband shoots the groom's family. It also becomes easy for the couple if they have to travel out of station or for late night wedding shoots."
Truly then, these women wedding photographers are trendsetters, who have managed to break through long-held gender biases to focus on a promising future. Women's Feature Service

Wish to share your story?
Trending Now: