Scam-riddled Commonwealth Games official reveals what went wrong in book

Madhusree Chatterjee
&nbsp | &nbsp New Delhi
13-June-2012
Vol 3&nbsp|&nbspIssue 23
H.P. Singh Rishi, a former head of a Japanese MNC, quit his well-paid job to chase his passion for sports and public good. But little did he know that his desire to live his dream would land him in a mess - thanks to his stint with the Organising Committee of the "scam-riddled" 2010 Commonwealth Games (CWG).
Rishi joined as a deputy director general for a year with the Organising Committee of the CWG, which started off as the nation's desire to nurture its young sports talent, but ended up as the nation's shame. Rishi is today "regarded as a managerial failure" by prospective employers because of the "dubious reputation" the New Delhi Games acquired.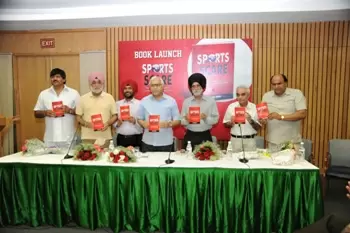 H P Singh Rishi (left) and chief election commissioner S Y Quraishi with the book (Photo: IANS)
He says there are "several others" like him, including IIT-educated engineers, who quit their jobs "to gather experiential training at the Commonwealth Games but returned disenchanted".
In his just-released book, "Sports Scare - The Ghost That Haunted Commonwealth Games Delhi (Diamond Books)", Rishi has analysed his stint at the CWG committee in the context of the lessons learnt and the pitfalls to avoid while playing host to such a mammoth international sporting event.
"The book begins with a personal obituary where I mourned the death of my dream. I realised I had made a blunder in the first month and I resigned. I know of at least seven other people who resigned, but then withdrew. We had to stay on because we had left our jobs and had nowhere to go," said Rishi.
The experiential nightmare began with "wrong delegation of work.
"I was a pilot and I was assigned to pull bullock carts. As a corporate executive, I was a stickler for time. I walked in to office at 9.30 a.m. and I would see people walking in at 10.30 a.m.

"The top bosses needed a crash course in decency. They could not take people with intelligence seriously...People with expertise had to report to those who knew nothing. A lot of egos were bruised day after day," Rishi said. It took a toll on organisation and performance.
For the writer, who was "rejected by 10 publishers before being accepted by Diamond Books", the trauma spilled to his children's life as well. "I had to write the book to die in peace," he said.
The 2010 Commonwealth Games gave India 101 medals - one of its highest tallies - and drew more than 7,000 athletes from around the world - but that's of little consolation to Rishi.
"The Games could have become the launching pad for the Olympics," he said, adding, "Perhaps one of the greatest ironies in the history of Indian sports is that what starts off as the nation's desire to nurture its young sports talent ends up as the nation's shame," Rishi said.
"India won 101 medals but the medals were forgotten because the investigating agencies took over soon after the Games ended," Rishi said.
"My 10-month experiential stint with the Commonwealth Games was the biggest blot in my career. I have appeared for several MNC job interviews but everyone wanted to know why I decided to work for the scam-riddled Games. They tend to look down upon those who have worked for the Commonwealth Games," Rishi said.
Rishi is still without a job and makes ends meet through small-time consultancies. His wife also works. Rishi also rues the opportunities lost.
The book was released by Chief Election Commissioner S.Y. Quraishi. - IANS


Trending Now: