Indian fashion designers take to pop-up retail

Nivedita Sharma
&nbsp | &nbsp New Delhi
12-June-2012
Vol 3&nbsp|&nbspIssue 23
They pop up, and then vanish! Pop-up shops, a concept popular abroad, has caught the fancy of the country's fashion designers and retail houses that are adopting the trend to create hype for their brands, to offer customers a different environment, and for lucrative business.
Pop-up shops, popular in countries like Canada, the US, Britain and Australia, are temporary shops, which sell goods for a limited period of time, then shut down and move elsewhere.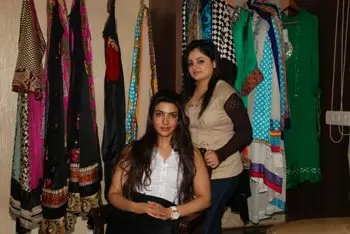 Mandira Lamba and Ridhi Bhalla believe in pop-up retail (Photo: IANS)
Delhi-based Mandira Lamba and Ridhi Bhalla have a design house Fab Connection, through which they offer collections of designers like Anand Bhushan, Rimjhim Dadu and Shivan-Naresh. But they decided to be different in their retail style.
"Pop-up retail allows a company to create a unique environment that engages their customers as well as generates a feeling of relevance and interactivity," said Lamba.
"The concept has been in existence in the West for a while now. When Fab Connection was thought of, we decided to follow this trend rather than a mere retail store," Bhalla added.
US-based retail company Target was the first to start the pop-up shop concept around 2003. It set the momentum for other big retailers to adopt the trend.
In 2006, Walmart tried the concept when it introduced its fashion line Metro 7. Five years later, cosmetic brand MAC and consumer electronic company Apple adopted the strategy to launch their new collections.
Even lifestyle brands like Tommy Hilfiger and Louis Vuitton adopted the concept in the past and organised pop-up stores in several cities.
For many, the concept of pop-up retailing gained more significance at the time of global recession in the year 2008-09. It was during that time when most commercial real estate companies started offering empty spaces in malls and shopping centres on lease.
"Today, this concept has turned out to be a marketing tool to drive customers. With limited stock and time constraint, customers take quick decisions during purchase of products," says Shubham Gupta, a designer, who toyed with the idea of organising pop-up shops in cities like Hyderabad and his native Bangalore.
Bhalla says the pop-up concept also adds exclusivity to a brand.
"The whole idea is to brand ourselves as a pop-up shop, different from a retail store. This makes us exclusive. From the feedback, we can confidently say that with the concept we have developed, clients wait for 'What's next'," she added.
In India, this concept has been successfully tried by Obataimu, a design studio based in Mumbai. Last year it opened a pop-up store in Colaba, offering an eclectic collection of menswear, accessories and knick-knacks.
Pocket Electric, a part of Bombay Electric, a fashion store, also tried a pop-up store in Delhi's Garden of Five Senses for three months in 2008.
Another name backing the concept is Pernia Qureshi, who feels shopaholics are attracted more towards items that aren't easily available.
"Fashion should be accessible to all. As India grows, so do the aspirations of young people everywhere in the country. People like what's not available to them. When something is available for a limited period of time, hype surrounds the brand. That not only attracts more customers but also assists in marketing," says Qureshi.
Qureshi also plans to organise pop-up shops in cities where there is limited access to design wear.
"Over time we will scale up the structure and increase the number of designers. I'm planning to do an online limited edition soon with some of the known designers. This collection would also be part of my pop-up shop. I want to take the designer wear to cities which don't have huge potential for designer collections," she said.
While many believe such concepts give a push to business, does it affect their devoted clientele?
"The pop-up shops will open and shut, but we as a brand will always be there and people can visit our other branches to buy their pieces," said Gupta. - IANS


Trending Now: