Billionaires' club to focus on societal development
02-June-2012
Vol 3&nbsp|&nbspIssue 22
Billionaires Bill Gates, Ratan Tata and Azim Premji Friday held a brain-storming session here with other billionaires and millionaires on the need to integrate philanthropy and social service for societal development.
"At the initiative of (Wipro chairman) Azim Premji, about 40 philanthropists and business leaders from India Inc and abroad met over an extended luncheon session to discuss issues related to societal development through philanthropic activities," a spokesperson of the Azim Premji Foundation said.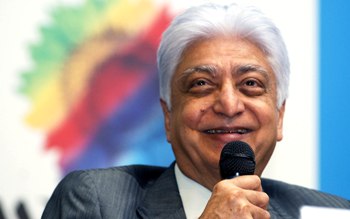 Azim Premji took the initiative to organize the billionaires' meet (Photo: Saggere Radhakrishna)
The 'billionaire-turned philanthropic club' exchanged ideas and endorsed a consensus view that philanthropy and social service were integral to the development of any society.
"They focused more on social work in areas of education, health, water and agriculture than on making or announcing pledges (funds) on this occasion," the spokesperson said.
Acknowledging that India had a hoary tradition of philanthropy and social service, the articulate group was of the view that there was vibrant thinking and action on philanthropy across the country.
The peer group also discussed on the need to set up a pan-India foundation to facilitate more Indian firms to work together for the betterment of humanity and society.
After visiting Lucknow and New Delhi, Gates came-calling to the garden city for roping in as many billionaires and millionaires to take up philanthropic activity for improving the quality of life and improve living standards with affordable education and health care, housing and jobs for the less deprived and the vast millions of people in the countryside.
The meeting has also been convened as part of 'The Giving Pledge' initiative of Gates and billionaire Berkshire Hathway chairman Warren Buffett as in 2010 in New Delhi.
The US-based global non-government and philanthropic organization (Giving Pledge) beckons billionaires and millionaires in the Americas to pledge a substantial share of their wealth in achieving the MDGs (Millennium Development Goals) through local societies. - IANS

Trending Now: