Tuning in to music to keep stress at bay, Bollywood stars' way
01-June-2012
Vol 3&nbsp|&nbspIssue 22
"I often think in music. I live my daydreams in music. I see my life in terms of music," Albert Einstein once said. And many of our Bollywood stars, who wake up to a tune and sleep to one, would agree.
Music is the essential stressbuster for many Bollywood stars, trying to cope with erratic shooting schedules, hectic travel and long hours under the arclights, not to mention the unrelenting paparazzi gaze.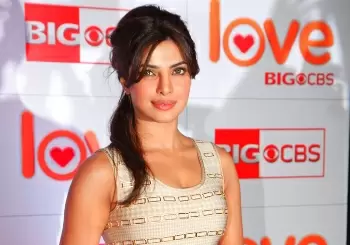 Priyanka loves tuning into house, hip-hop and pop music (Photos: IANS)
The tastes are eclectic. If Amitabh Bachchan's tastes range from classical to the more contemporary Coke Studio, son Abhishek likes Jimi Hendrix and Bob Dylan; Bipasha Basu loves it all, soft rock and Sufi both; Priyanka Chopra loves old Hindi film music as does Sonu Sood; and Shahid Kapoor favours progressive house music.
And it stays with them - in the gym, in the car or during a make-up session.
As Bipasha put it, "music has to be a part of an actor's life because it's too taxing a profession".
"If I am stressed, I tell my manager, 'Give me 30 minutes. I'll just go and work out and listen to my favourite music.' When I take a massage and listen to some soothing music, I get very energetic," says Bipasha.
"From the time I wake up, music stays with me. My alarm is always my favourite song, and then right from the time I start brushing my teeth, I hear all kinds of music according to my mood.
"My driver, my spot boys get fed up of my music. Right from the vanity van to my car to my house to my terrace, music follows me," said the 33-year-old, who especially loves soft rock, Irish bands and Sufi songs.
At 69, veteran star Amitabh enjoys listening to classical and instrumental music.
He often mentions on his blog his love for traditional music and how he likes tuning into evergreen melodies before he slips into bed. But he also enjoys new age, fusion music from Pakistan's Coke Studio during his make-up sessions.
Son Abhishek listens to international musicians like Tom Petty, Cat Stevens, Bob Dylan, Jimmy Hendrix and David Guetta while driving - and he listens to it all at top volume.
Former beauty queen Neha Dhupia admits music either makes or breaks her mood each day.
"Music defines my day. The first song that I listen to at the start of the day sets the mood for me. It defines my night and helps me decide if I want to go out," said Neha, who listens to a lot of rock bands, contemporary pop as much as Bollywood music and old classics.
Shahid prefers progressive house music
Bollywood's new kid on the block Parineeti Chopra is a trained singer like her cousin Priyanka.
"Music is my stressbuster. I enjoy listening to music, but there is no specific kind of music that makes my mood. I listen to all kinds of music. I am a trained singer; so music certainly keeps me going," said Parineeti.
Priyanka, who recently returned from the US after working on her debut music album, loves tuning into house, hip-hop and pop music. She gets her dose of Bollywood music as well and wakes up many mornings to evergreen numbers by Mohammed Rafi, Lata Mangeshkar and Asha Bhosle.
Priyanka's rumoured former beau and now her "Teri Meri Kahaani" co-star Shahid Kapoor is as much a music fanatic.
"Music is a part of my life... I can't do without that. Music keeps us all going," says Shahid, who prefers progressive house music.
Actor Sonu Sood is reserved in his choice.
"I am a great fan of R.D. Burman; so I still listen to his songs; I love the melodies he gave in films like 'Ijaazat', 'Masoom' and 'Yaadon Ki Baraat'," he said. - IANS

Trending Now: